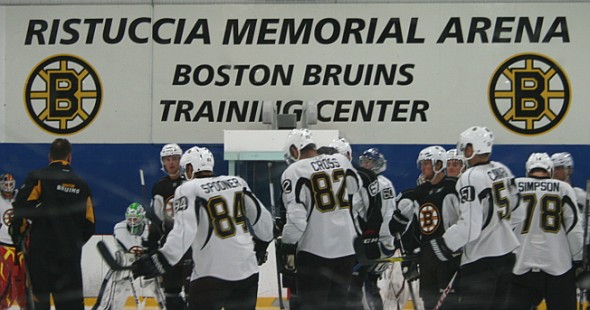 It's been less than three months since Union College's first-ever Frozen Four appearance ended in heartbreak, but two of that program's leading scorers are back at work and taking-part in the Boston Bruins' 2012 Development Camp.
It's an impressive showing – particularly for a program that's just twenty-one years old, particularly because the Bruins have gone to this well before.
In 2011, the B's invited Josh Jooris, who'll be a junior in the fall, to their fifth Development Camp in Wilmington, Mass. This year, two young Dutchmen are attending the annual event: Dan Carr (entering his third year with the Dutchmen) and soon-to-be-senior, Wayne Simpson.
Carr, a native of Sherwood Park, Alberta, scored the Dutchmen's lone goal in their season-ending 3-1 loss to Ferris State and has scored twenty goals in each of the past two seasons.
Simpson, a local – born in Boxborough, Mass. and a graduate of Lawrence Academy – tallied fifteen goals and thirty points in both his sophomore and junior seasons for Union.
Looking to build on their experiences in 2011-12, these invitees hope to use the lessons of this Camp to further Union's lofty goal of a NCAA Championship and help them turn into solid pro-hockey prospects.
After Day Three of Development Camp concluded, both Carr and Simpson were kind enough to answer a few questions on Union, the Camp and their games.
I asked each if their Camp experience was a welcome 'turn-of-the-page' to transition from their lofty (if ultimately, disappointing) 2012 finish.
Carr said, "I think it's good – it's something a little different – seeing the guys from Major Junior and different styles of hockey and the kind of things you need to work on at the next level."
Simpson responded, "Yeah, I think it's going to help me prepare for next year and I think with team success you get more looks – so I guess it works both ways – we had a real good team and because of that we went a long way. I was lucky enough to get invited here and I'm just looking to learn the professional game and get better for next year."
When queried if their successes in the spring of 2012 made them hungrier, they agreed.
Carr said:
"In the NCAA tournament we saw how every little detail matters, with one-game elimination you have to be dialed-in for sixty minutes or more and more every night to move on… there's a lot of distractions… getting into the big rinks with all the media. Guys have to learn to just focus on hockey… and just be there to play."
Simpson replied:
"Yeah, definitely. The [Union College Hockey] program has taken steps. Seems like every year [they're progressing] and we're just hoping to continue that. One of our goals was to make the Frozen Four last year – and now we want to take it a step further. I have one more year left, and that's what I'm focused on."
I questioned each if the talent and skill-level at the Bruins Development Camp increased their motivation for improvement and they concurred. Carr stated: "Yeah. It gives you an idea [about] what you have to work on to get better and move onto the next level…" Simpson offered, "… It's definitely going to be a good preparation for the college game next year."
The duo hasn't been lost in the sea of talent at the Development Camp. Like Jooris before them, their effort-level has earned notice. Displaying consistently solid skating-games and excellent finishing abilitie, the pair's performance is certainly praiseworthy.
The young men – both of whom have been prolific goal-scorers in Schenectady – were asked about their "ideal" goal-scoring scenario. Both asserted that scoring from hard-work and effort down-low would make them the most pleased – but Carr hinted (with a grin) that "Wayne's a bit different… He kinda likes to take guys one-on-one a little more and he's had some success with that the past couple of years…"
I inquired if teammate Josh Jooris had helped prepare for Development Camp. Both implied he had, with Carr also creding fellow camper and Bruins' 2009 draft-pick, Ben Sexton. Simpson said, "We talked about the fitness testing… but really he just said, 'It's a good experience'. He enjoyed it a lot."
After another solid showing from two Dutchmen in Ristuccia Arena, followers of Union College Hockey can look forward to seeing more from their program invited to NHL camps.
The inclusion of Jooris and now Simpson and Carr portends well for Union's future. Perhaps that dream of NCAA glory isn't far from reality.
Bob is a Boston Bruins Correspondent for The Hockey Writers. He lives in the Boston Metro Area with his wife, Amanda and their five-year-old son, Cormac.