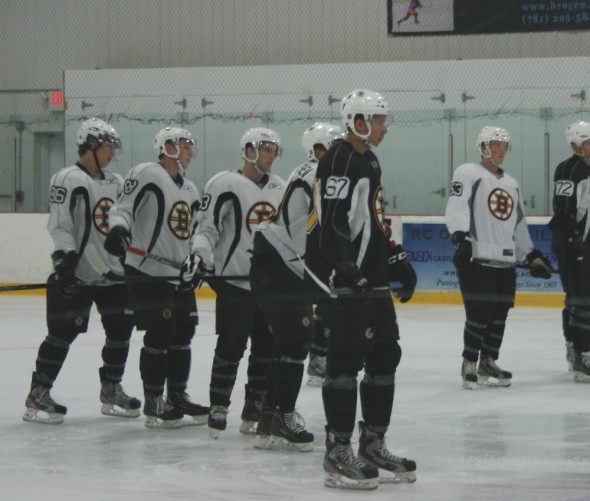 For those intrepid fans who dared the icy bleachers at Ristuccia, dozens of talented young players were on-display on Day Three of the Boston Bruins 2012 Development Camp.
Again, Besa Tsintsadze led the players in power-skating drills to open the proceedings. While this "Skatin' Satan" (as I heard a fellow bleacher-bum refer to him) continued to press the youngsters in ever more dynamic (and let's face it, hilarious) drills – they seemed to grasp them far more fully than in Friday's event.
After 2012 seventh-rounder Colton Hargrove took the first spill of the day – much to the delight of his fellow campers and the hundreds in-attendance, the players seemed to commit to the drills with much more intensity than the day before.
These routines were right in the wheelhouse of several of the Bruins prospect – particularly the swift and nimble smaller players like Torey Krug, Ryan Spooner and Matt Grzelcyk.
However, a few of the larger participants opened eyes with their truly outstanding mobility. Chief among these were defensemen Rob O'Gara, Dougie Hamilton and Zach Trotman.
O'Gara's hook has always been his skating-game. Even last year – right after his junior year of high school ended – he wowed spectators in Wilmington with an impressive array of speed, agility and balance.
Hamilton's third day of Development Camp was far superior to his second. He attacked the ice and demonstrated his monumental wheels even in the toughest of drills. Despite a slightly-odd-looking upright skating-stance, Dougie's movements seemed effortless and his speed and quickness were constantly noticeable. Even with the puck on his stick he remains agile: He dangled past several opponents bringing "Ooohs" out of the crowd during the afternoon.
Trotman's foot-speed has really jumped over the course of a year – to the point where he seems to keep up with any opponent he's paired with. On several occasions he even surpassed O'Gara in the mobility drills.
When you combine Trotman's truly dimensional shot with what appear to be borderine-plus wheels and his size – this Providence-bound blueliner has an opportunity to make some noise. Among the skaters, the former Lake Superior State Laker might be the biggest surprise of Camp.
The power-skating hour ended, the team retired to the locker-rooms as those outside anxiously awaited their return. After a brief respite, these Proto-Bruins resumed the training session with several non-Besa drills.
Yet again Spooner's dazzling skillset highlighted the afternoon. Midway through the second session he took the puck up the wing on a two-on-two break-in and blew by O'Gara before deftly slipping the puck through Adam Morrison's five-hole.
Providence Head Coach (and primary Dev. Camp coach) Bruce Cassidy remarked that: "…Very creative… can make some no-look passes that some of the other players in our club just don't have the ability to make… the difference is his attention to detail away from the puck – he's becoming more of a student of the game… He shoots the puck better than he did a year ago."
Spooner handles the puck at top-speed better than many campers do at a standstill. If his two-way play and physicality can handle the rigors and expectations of the NHL – he might just make the team.
Knight's day was similarly impressive. His vision appears to have taken another step in the past year: He was able to find several campers with hard and accurate cross-ice passes for doorstep tap-ins.
Said Cassidy on Knight, "He's a straight-line guy, drives the net, great release… for him it's will he be able to create the separation he needs to, to get those chances – and until he gets to training-camp with men, I think it's hard to speculate on [whether he's close to making the NHL club]."
The OHL Champ consistently drove hard to the net with and without the puck. Unfortunately it was this drive that caused him to have yet another run-in with the net (as he has at previous Development Camps). He winced and hobbled after he returned to his feet. Even though Knight didn't leave the ice following the incident, his overall jump and effectiveness seemed to be hampered.
Malcolm Subban's glove had been described by several scouts and analysts as anything from 'wonky' to downright 'poor' – but on this day, the Boston Bruins' first-round draft-pick in 2012 made some nifty safes with his left hand.
Cassidy noted that Justin Florek, who has been one of the most impressive campers thus-far, had made some impressive strides in his mobility. He said, "He's already skating better than at the end of the year – so he's obviously done some work on his legs … that's a noticeable difference for me."
Florek's hands look outstanding early-on, catching even extremely difficult passes smoothly and dishing soft feeds to teammates. With his heavy shot and immense 6'4 frame, he's bound to draw some looks in Providence.
For the rest of the Campers – here are a few notes from the day that was in Wilmington:
Torey Krug's ability to dispossess opponents at-will certainly earns him some Brownie points. Of course, his distribution and skating skills are equally noteworthy – as were several artful dangles past the opposition.
Lars Volden's name came up several times in my notes for eye-catching saves and one incident where he held the goal-line with his left pad extended and multiple opponents trying to force the puck through unsuccessfully – love that kind of battle.
Ohio State Buckeye forward Darik Angeli had his stick in the right position to tap home a number of chances and made some impressive moves with the puck. The 6'3, Colorado-born Angeli's best moment came when he unloaded a bone-rattling hit on Matt Benning along the boards.

Colton Hargrove waits for instruction at the Boston Bruins 2012 Development Camp. (Photo: Bob Mand)

Speaking of Benning – this was arguably his best day of camp thus-far and his skillset favors actual gameplay more than simple drills. The next days' scrimmages will be telling.
Bruins' 2011 fourth-rounder Brian Ferlin was moving like a man on fire today. He's got a separation gear that took me by surprise as he raced in past the blue-line on a net-drive. Considering his potent shot, above-average puck-skills and willing physical component – he's a young man to watch this year.
Tommy Cross played with some snarl and even got into a bit of a scuffle with Knight after the whistle. With his frame (and lack of an electric skating-game) that's a good sign and something he ought to further develop.
Anthony Camara looks good skating-in on the rush and he's certainly no afraid to get into physical battles as Colton Hargrove will no doubt attest-to.
Matt Grzelcyk's wheels are impressive – but the fact that he'll go to war in the trenches and work hard to steal pucks, win battles and block shots (all things he did on Day Three) bodes well for a NHL future.
Zane Gothberg tracked the puck very well throughout the day. He was beaten – but only with the best of shots or after top-notch cross-ice passes. It's easy to like what he's shown so far.
Some positive performances from both Union College forwards (Wayne Simpson and Dan Carr) foreshadow professional hockey futures from both players after their team went to its first-ever Frozen Four in 2012.
Cody Payne is a high-effort kid with some significant grit to his game along with a solid shot. My notebook contains multiple instances where I laud his net-drive. If the puck isn't on his stick during zone-entry, he just goes to the top of the crease – hard.
Colton Hargrove has brought a solid north-south game each day so far.
Didn't see a ton of him for one reason or another – but Seth Griffith could stick-handle his way out of a Porta-Potty.
On a lighter note, the 'Bromance' between good friends from the OHL, Knight and Spooner, was on full-display as the two were observed messing with each-other repeatedly throughout practice. However, the goofy antics and budding friendship between Alex Khokhlachev and Malcolm Subban had the many in the audience chuckling.
Khokhlachev, who was not allowed to participate in contact-drills because of his recovery from a lacerated kidney, spent much of the second half of practice firing shots at the netminders. After a series of moves that had even the hyper-athletic Subban tangled and lost, Khokhlachev celebrated his goal with some exaggerated (some suggested Anisimov-esque) fist-pumping celebrations.
Not to be outdone, Subban robbed Koko and proceeded to engage in a hearty celebration far beyond the crease. Undoubtedly many in the crowd left Wilmington hoping to see the duo wearing the spoked-B in the very near future.
Thanks for reading! Check out Friday's and Thursday's wrap, too! I'll be back tomorrow with another day of Dev-Camp notes! Follow me on Twitter for even more!
Bob is a Boston Bruins Correspondent for The Hockey Writers. He lives in the Boston Metro Area with his wife, Amanda and their five-year-old son, Cormac.