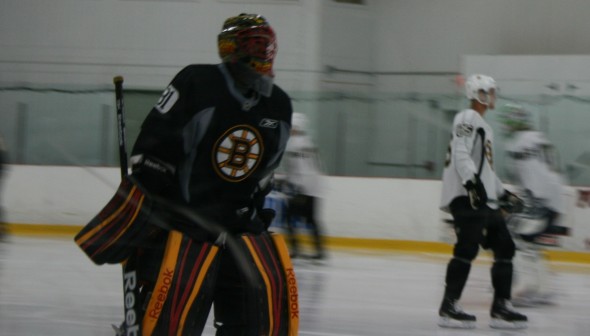 A steamy afternoon in Wilmington, Mass. saw hundreds of spectators scrambling into Ristuccia Arena to watch 29 Boston Bruins prospects participate in the second day of Development Camp 2012.
However the respite of the audience was the bane of the prospects, as the second hour of their on-ice training session was conducted by none other than Besa Tsintsadze. While his might not be a 'household' name here's a glimpse of what he does for a living:
Those of you who attended 2011's Development Camp, which Mr. Tsintsadze also attended, would recall the effect that the power-skating coach had on the campers. Bambi's first steps looked more elegant.
There were some attendees whose participation the power-skating drills was eerily reminiscent of a vaudeville comedy. However, some managed to impress despite the high difficulty levels. Alex Khokhlachev's improvement from last summer has been eye-opening. The 5'10 Russian looked much quicker with a cleaner, longer stride after a cumbersome showing in 2012. His stride appears longer and cleaner (as well as add some size and strength) since the summer of '11.
Khokhlachev's visible improvement came on a day where the Bruins announced an agreement with the 18 year-old on an entry-level contract. He will still head to Russia in the fall (barring his unlikely jump to the big club in Boston) but the B's will retain his rights.
At a press-conference, GM Peter Chiarelli stated:
"We've come to terms with Khokhlachev… he won't be participating in contact… for another seven to eight weeks [because of his injury – a lacerated kidney]… the plan is now for him to play in Russia. He'll attend our camp and then he'll go back and play for the Russian team [Spartak]… and then after one year he's under our purview… He wants to be a NHL player."
Khokhlachev wasn't the only remarkable showing in the power-skating drills.
Other standouts included Ryan Spooner (who continued to show his advanced skillset throughout the afternoon), Jared Knight, Zach Trotman, Matt Grzelcyk and Torey Krug. To these eyes, they represented the top of the heap in these mobility-testing maneuvers.
Another of the standouts was the Bruins top-prospect, Dougie Hamilton. Hamilton's skating is arguably superior to anyone in this group (when he wants it) On one occasion he caught-up to a sprinting Krug, stopped on a dime and accelerated faster in the other direction than the nimble 5'9 blueliner.
Dougie was asked what he felt about heading into this season with so many expecting him to make the team, he replied, "I think it's more exciting… it puts a smile on my face and makes me want to work harder and try my best."
When asked about what he's improved over the course of the year, Hamilton responded, "I think … I'm a little bit bigger and stronger and more skilled as well – anytime you can get that confidence, I think it helps."
Dougie spoke about how much "it sucked" to have to spend time in the press-box watching the games after he was suspended in the winter for a check to the head of an opponent. He believes he's done a solid job adding a physical element to the game.
I asked Hamilton how he was looking forward to the upcoming Canada-Russia series (which he will take part in), he replied: "Definitely, I think any time you represent your country, putting on that jersey anytime you can do that is pretty special. I think it will be kinda cool – I've never been to Russia, so… I think both places [Halifax, NS is the other location of the four-game tourney] will be fun, I know a lot of the guys, too now and I'm more comfortable as well."
In the pre-Besa hour, a few individuals made waves with their play. The following are some of my notes:
Zach Trotman has a shot and a half. His wrister screams off the stick and might be the best of all the campers.
Brian Ferlin made some strong defensive moves in the one-on-one and two-on-two drills, dispossessing opponents cleanly and smartly. His solid shot (with a fine release) was on display yet again.
Tommy Cross knocked 2012 draftee Matt Benning off the puck so effectively, the latter lost control of his stick as well as the puck.
Jared Knight's hand-eye coordination appears to have progressed. He looked stronger on his skates than on Day One (Besa's drills later seemed to take a toll on the winger who's still recovering from an ankle-sprain).
Ryan Spooner's jukes left a trail of jock-straps hanging from the rafters.
Matt Grzelcyk and Torey Krug really look sublime on their skates. Outstanding acceleration and dynamic open-ice speed. Grzelcyk plays bigger than his 5'9 frame and showed a nice, active stick defensively.
Niklas Svedberg's lateral movement was on-display and he effectively sealed the far-post.
Colton Hargrove has been one of the biggest revelations at this camp. He's primarily north-south (as Besa's drills evinced) but his reasonably nimble, has a solid shot and the vision to make passes through opponents. The grit and heavy-play is still there, I'm just impressed with his versatility and effort.
Cody Payne's determination in traffic deserves praise (as does his potent wrister) – but he's even more north-south than Hargrove and needs to work on his first few steps.
In one of the best sequences of the afternoon, Ryan Spooner found Jared Knight with a dandy of a pass, who then dished it through-traffic to Ben Sexton on the doorstep, only to be denied on a shocking save by Zane Gothberg.
Malcolm Subban continued to amaze on denial after denial. This kid was certainly a high-risk selection – but the reward could be monumental.
Thanks for reading! Check out yesterday's wrap, too! I'll be back tomorrow with another day of Dev-Camp notes! Follow me on Twitter for even more!
Bob is a Boston Bruins Correspondent for The Hockey Writers. He lives in the Boston Metro Area with his wife, Amanda and their five-year-old son, Cormac.