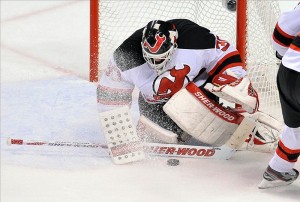 Just when Roberto Luongo fans thought the spotlight was on them, one of the greatest goaltenders of all time has stepped up and stolen the show.
It was announced on Friday morning that Martin Brodeur, the legendary netminder for the New Jersey Devils, has hired recognized player-agent Pat Brisson to represent him. Players who are currently represented by Brisson include Shane Doan, Claude Giroux, Evgeni Malkin, Daniel and Henrik Sedin, and Sidney Crosby.
Brodeur becomes an unrestricted free agent on July 1st, and though he has played his entire career in a Devils uniform, it's unknown whether he'll be heading back to New Jersey for upcoming season.
"Marty will be a Devil as long as he wants to be. I don't think there's ever something he and I have trouble with. I don't want to see him put on any other uniform. I don't think he wants to," said Lou Lamoriello, the Devils' president and general manager.
The sure-fire Hall of Fame netminder was stellar for the only NHL team he's ever known during the 2012 playoffs, and helped lead his team to the Stanley Cup Finals. Rarely did Brodeur appear to be showing his age – it was hard to tell sometimes whether in fact the man standing between the pipes was indeed forty years old.
A native of St. Léonard, Quebec, which is just outside Montreal, Brodeur has made it known in the past that he'd love to be a New Jersey Devil for his entire career. That career's coming to an end – the question now is whether or not it ends in the place it all began.
He's been a fan-favourite for years, and he's come a long way since making his NHL debut back in 1991 against the Boston Bruins. In the video clip above, and in all of his interviews, it's still obvious Brodeur loves coming to the rink everyday.
Brodeur has negotiated every NHL contract he's ever had on his own, meaning the hiring of Brisson raises some interesting questions. Speculation began within minutes of the hiring's announcement regarding possible destinations for Brodeur next season. But based on the season he just had, and the Stanley Cup run he just took part in, the timing for him to leave town seems uncanny.
A lot of teams would surely love to have Brodeur, but not many are necessarily great fits. The first teams which come to mind when thinking of one that needs a goalie include the Florida Panthers, Tampa Bay Lightning, and Toronto Maple Leafs, but not all of those are ideal situations either. Yes, Toronto is a hockey-hotbed, but would the constant media attention be something Brodeur wants at this point in his career? Would he want to go to a team like Tampa, who just traded for a goaltender in Anders Lindback? The answers to those questions aren't known, leaving many ideas still in the heads of die-hard hockey fans.
"Marty is an unflappable person," Lamoriello said. "He has a personality that never looks back. He loves the game, he plays it because he loves it. He works at it. He's changed his game accordingly to the way the style is."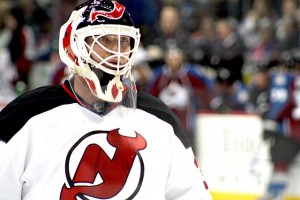 Everyone knows he loves it, and everybody knows he works at improving constantly. Add in that he's already considered the greatest netminder ever, and it becomes even more impressive that Brodeur is able to consistently perform at such a high level.
Luongo is expected to be moved in the near future, and Brodeur has made that entire situation a lot more interesting. It's reasonable to suggest that Brodeur could wait for Luongo to be traded before he signs anywhere, and it's also fair to say Luongo will wait until Brodeur signs before he gives the go-ahead to Canucks general manager Mike Gillis.
While Brodeur earned $5.2 million this past season, he isn't likely to bring in similar money next year. He's still one of the top puckstoppers in today's game, but his age will absolutely be a concern for all interested teams.
There's no doubt he's one of the best to ever strap on the pads, and he's a great ambassador for the game. It's just incredibly difficult to imagine Brodeur without a Devils logo or a Canadian maple leaf on the front of his sweater.
________________________________________________
Follow me on Twitter: @DavidOConnor95    "Like" my page on Facebook: David O'Connor
David O'Connor is a managing editor with the Sunbelt Hockey Journal. His writing has been on the Los Angeles Times' website, among other places. O'Connor also does some scouting work for the local Junior B hockey club. Please feel free to contact him at davidoconnorhockey@gmail.com.