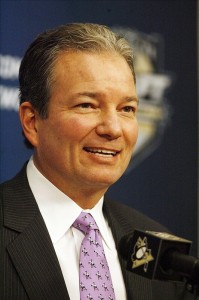 That Sidney Crosby received a monster contract extension, in both term and value, surprised no one.
That Penguins GM Ray Shero might continue to break a seven-year ethos of avoiding lengthy contract offers should come as no surprise, either.
"It was a deal that we talked about, and the longer term we thought was better for both the player and the team," Shero said of the extension. "This is his third NHL contract with the Penguins, and it just felt appropriate that it would take him to a certain level in his career, to the end of his career."
Until the recent offers made to Crosby and Jordan Staal were reported, Shero had been traditionally restrained in his contract dealings. Even his best players (some of whom also happened to be the league's best players) received modest contract extensions, especially in lieu of their colleagues' weighty agreements.
Few general managers in this NHL would feel comfortable offering a five-year extension to a twenty-something Art Ross winner when that player's upside still remained so high.
Shero felt comfortable doing so. Twice, in fact.
In 2008, Crosby signed a five-year extension. In 2009, Evgeni Malkin signed an identical five-year deal. Precedent suggested they could have signed for 15.
However, such deals just weren't Shero's style. Marc-Andre Fleury, a first-overall pick and franchise goaltender, signed a seven-year contract extension in 2008. Marian Hossa, perhaps the most skilled scoring winger the team has signed in the post-lockout era, turned down a deal that could have gone as long as seven years.
For players of their strata, those deals were relatively short. Jordan Staal's rejected 10-year offer was the first sign that Shero was aiming to lock up his core players, in their primes, for the rest of their forseeable careers.
Suffice to say, Crosby's deal was one everyone expected.
But with his 12-year extension to be signed Sunday and the reported 10-year offer made to Staal, was the change in philosophy only a matter of time?
Rather, the Penguins may have just seen the writing on the wall.
A sticking point of the current talks between league officials and the NHLPA, "retirement deals" could very well meet their end with the next CBA. More than individual player circumstances, this could drive a shift in Pittsburgh's free agent philosophies.
Shero's offers, until this summer, had reached as far as the seven-year mark only twice. The looming start of free agency could be Pittsburgh's last chance to sign its still-young core players to long-term deals.
There's a growing sentiment that no team will be able to do so under the terms of a renegotiated CBA, as Yahoo's Nicholas Cotsonika reports:
A number of other issues will come up. Here are just a couple of them: The owners want to limit contracts to six years; you can bet the players won't like that.
The current free agent system allows players to sign until-retirement-do-we-part contracts that navigate deftly around the spirit of the league's salary cap, highlighted by notable deals belonging to Roberto Luongo (12 years), Ilya Kovalchuk (15 years) and Rick DiPietro (15 years).
These contracts can be crippling, even with payments spread out over such long terms—hence, the wishes of owners to put a cap on such deals. And while it's not likely to sit well with the NHLPA, it's not the most egregious concession likely to be requested by the other side of the table
It's almost guaranteed that total salaries—the upper dollar-value limit of the salary ceiling—will be thrown into play. A number of NHL franchises operate in the red each year. A select few are in a permanent state of bankruptcy limbo. Total payrolls, the competitive salary link that says there may be no gap greater than $20 million between the salary floor and ceiling—these are far more harmful to owners' bottom lines than decade-long individual contracts.
Keeping total salaries at a rate commensurate to the league's record revenues (some $3.3 billion last year) is more valuable to the NHLPA than total length of contracts, making limited-term contracts a more likely concession.
With that in mind, Pittsburgh could be looking to lure free agents to the team with extended terms while they're still able to offer them.
The next iteration of the CBA, at least as far as the owners want to see it done, would weaken a team's ability to offer term as an alternative to total salary. For teams like Pittsburgh, which annually spend to the cap ceiling, that could mean a great loss of leverage in dealing with potential free agent targets.
So, will Shero use this period of free agency to do what he's never done and sign a few franchise players to lifetime contracts?
It's certainly possible. Minnesota has made it clear that they'll outbid other teams for Zach Parise's next deal, unflinchingly, to the upper limits of allowable contract values. Detroit has greater need for Ryan Suter, as well as more available means to attract him, than Pittsburgh.
The Penguins have long leaned on the intangibles of stable ownership and competitiveness as alternatives to richer deals from higher-spending, less-successful franchises. Starting Sunday, Pittsburgh may stray from its well-worn path of term-stinginess, and offer contracts which would keep potential free agents in the city for a comfortably long time.
It could very well be their last chance to do so.
James was a Penguins contributor at THW and SB Nation Pensburgh and owns the Pittsburgh sports blog Slew Footers.