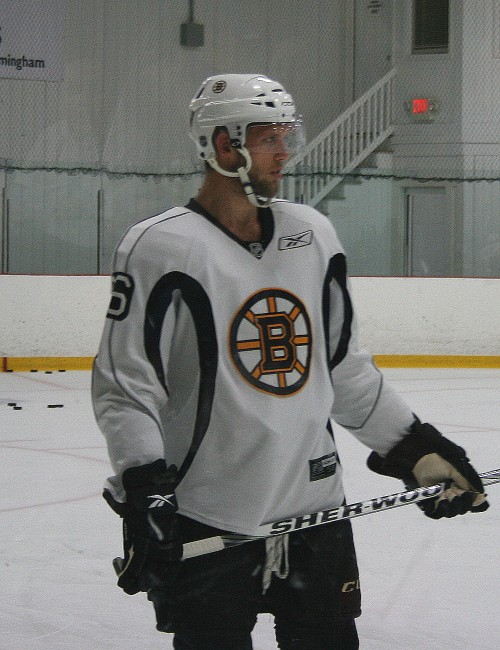 Boston Bruins' draft picks and former Fargo Force teammates Colton Hargrove and Zane Gothberg shared two years at Scheels Arena on their path to the 2012 Boston Bruins Development Camp.
Since its inception in 2008, Fargo has seen a half-dozen players drafted by NHL franchises. This season, forward Hargrove (seventh-round) joined defenseman Brian Cooper (fifth-round, Anaheim) as late-round selections. Back in 2010, the B's selected goaltender Gothberg (though he hadn't suited-up for Fargo, yet) in the sixth round.
Hargrove's displayed a sound north-south game during Development Camp. He's got a heavy shot, plenty of grit and softer hand's than you'd imagine from his 140-PiM stylings.
Gothberg's aggressive but cerebral presence in-net makes him tough to beat. He's challenged shooters well, tracked the puck capably and come up with more than his share of impressive saves this week.
Of his draft-day, Hargrove said, "I got a call from my mom – she was in tears… I was with a bunch of guys at [Western Michigan University] and they were all congratulating me, so…I'm happy just to have the opportunity."
Both Hargrove and Gothberg will be attending colleges in the fall: Zane will patrol the crease for the University of North Dakota Fighting Sioux while Colton will lace 'em up for the Western Michigan University Broncos.
Speaking of his goals as a freshman at UND, Gothberg said he wants to, "… Come in, put my best foot forward and try and get the starting job there….It's the competition that brings out the best in you and it's only going to make myself and my other goalie partners at North Dakota better. I just want to step up and prove that I can take the full bulk and be the starting goalie."
Hargrove hopes to help the Broncos (who've made the NCAA tournament two years in a row) return to the event – and advance even further: "…I think I can bring some physicality, I have some skill, size and I'm working on my speed… I think I can help this team."
Each feel challenged and motivated by their Development Camp experiences. Colton said that while he hadn't ever done anything exactly like Besa Tsintsadze's power-skating drills that, "I've done a few things similar … I used to work with an old coach of mine – Eric Silverman – on power-skating and he helped me a lot with my explosiveness… but I was at the back of the line [for the drills], so I saw some other guys doing it <laughing> and I figured it out…"
The goalies have been having fun at the skaters' expense during Tsintsadze's drills. Gothberg laughed and said that while they're laboring through the difficult power-skating routines: "We're just kinda BS'ing a little bit between each other…  just trying to keep it fun and keep it entertaining I guess."
Gothberg's work during Development Camp with goaltending-coach Bob Essensa has focused on "…competing – and working your butt off." He also mentioned some time spent on glove-positioning.
Hargrove was grateful for Gothberg's help in training for the Camp, stating: "… He let me know some of the things that were going on – that it was going to be tough and that I should get ready. I've been working out for a while so I was prepared…"
Of course, being teammates means more than a little trash-talking. When I asked Gothberg what he'd do if Hargrove was coming in all-alone on a break-away, the goaltender chuckled and said with a huge grin, "I'd probably just sit there, 'cause he's more than likely going to miss the net…"
Informed of this slight, an incredulous Hargrove with a long glance at Gothberg's stall and retorted, saying: "I'd have to disagree. We did a lot of shootouts this year [in practice] and I'm pretty sure I scored on him in the majority of them, so, I think he's wrong on that one."
Asked about how he would beat Zane in that situation: "Well, he knows my one-hand move… maybe go through the legs, top drawer…"
Hargrove is the first member of the Boston Bruins family from Texas. When questioned about what (if any) Lone Star State sensibilities he could bring to the franchise that he might have been lacking, he replied with a smile, "I wear boots occasionally – I don't know if anybody does that. I have a cowboy hat…"
The Texan believes that the USHL and the Fargo Force, specifically, are growing more and more into a solid pro-hockey pipeline. He stated:
"There's a lot of talent developing in the USHL, especially with the coaches in Fargo like Dean Blais, Steve Johnson, Jason Herter and Coach Marks this year… Great coaches, and great teachers … Byron Pool helped me with my skating as well. It'll be good for upcoming draft-years."
Still, both players see plenty of room for improvement in their games. Gothberg spoke of his need to improve athletically, "… just getting bigger and stronger…" and also taking steps to better his movement in the crease (though he believes this goes hand-in-hand with the improved fitness).
Hargrove said that the Boston Bruins Development camp is "… definitely very fast-paced – a lot faster than the USHL, obviously."
He thinks he needs to work on his overall skating game, "… consistently moving my feet; getting a little faster, quicker and stronger so that I can make it to this League…"
With the skill, effort and intelligence on-display from these two, that arrival could be sooner than you'd think.
Bob is a Boston Bruins Correspondent for The Hockey Writers. He lives in the Boston Metro Area with his wife, Amanda and their five-year-old son, Cormac.