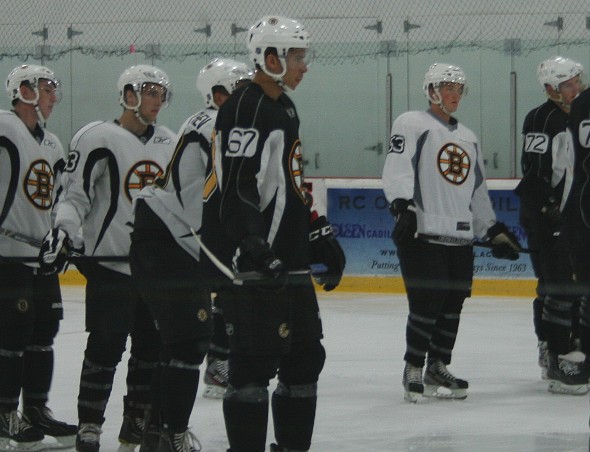 With their second fifth-round selection in the 2012 NHL Entry Draft the Boston Bruins selected Plymouth Whalers' winger, Cody Payne. One of the more eye-opening competitors at the Boston Bruins 2012 Development Camp, this young forward has impressed with his drive and compete-level.
In his time in the OHL, Payne hasn't found the numbers one might expect from a pick – even a late one, but his physical game – including some pugilistic prowess – is certainly noteworthy. It's an aspect of hockey that Payne certainly relishes and it's one of the things we spoke about after Sunday's scrimmage.
Cody said that he embraces defending his teammates. If he saw a teammate get hit from behind – you can bet those gloves would be off lickety-split.
During the first scrimmages of this camp, we saw Payne's confrontational nature in full display as he engaged physically, verbally and otherwise with several members of the opposition. The 6'2, 200 lbs. winger went back and forth with top-prospect Ryan Spooner and the 6'3, 215 lbs., Justin Courtnall of Boston University.
There were no 'takers'.
Afterwards he said (of the non-fistic scraps): "You know what? It's a very competitive camp. Things happen out there – everyone's competing for a job. Still, we've got a good group of guys [so they leave it on the ice]."
Even for his relatively skinny frame, there's a wiry strength. He drives the net hard – with a purpose – almost every time down the ice. Payne goes in heavily on the forecheck with nearly reckless abandon, forcing turnovers and creating havoc.
Looking back on my notes through the week there are dozens of instances of: "Payne drives the net, hard," "Payne a force on the forecheck," and similar. He's got a very impressive motor – even if his wheels haven't caught-up just yet.
Asked if his nearly-continual presence in the dirty areas was something Boston Bruins fans can expect to see more of down the road, he replied, "Yeah, definitely. That's a big part of my game. I'm not afraid to go to the dirty areas and get the puck and take what's mine and set-up my teammates… I'll finish off the plays, too."
I asked Providence Bruins coach Bruce Cassidy about Payne' performance and he was encouraged:
"I liked him. I thought earlier in the week… he was struggling, but today he grabbed it. You know, it's funny that [Alex] Khokhlachev is a center… so we're a little short with [centers], … So Payne all of a sudden is in the middle of the ice as this bigger, I don't want to say gangly, but he's you know got length, and I thought he looked good."
Cassidy Continued, "You know, he's going through the middle of the ice with speed with his head up with the puck, so I liked his game today. He's a guy that I thought was better in the scrimmages than he had been during the week in some of the practice drills."
Pegged as a 'sleeper' by a number of scouting-services before the Draft, Payne possesses considerable 'untapped' potential. I questioned him about which particular ability he would like to 'tap' into the most, and he responded, "I'd like to show off my hands – I know I got 'em and I have a pretty good shot, too… I'm not just a fighter. I can put pucks in-net and I have good vision."
Payne agreed that there is some considerable competitiveness and trash-talk going on between the plethora of current and former OHL players at Development Camp: "It's all good fun and the camp's got a high compete-level so things happen on the ice… but once you get off [the ice] its all left there…"
Obviously, Cody's goal is to make the Bruins. But if he was sent back to the Whalers for the 2012-13 season, he described his goals:
"[I want to] help the team out a lot – do what I can and do what I'm asked to do… get some points and help the team on the score-sheet as long as the hits [and the physical play is maintained]… just keep protecting my teammates and putting the puck in the net."
If Payne brings the effort and physicality that he's displayed thus-far at Camp – the player that returns to Plymouth will be a potent weapon, indeed.
Bob is a Boston Bruins Correspondent for The Hockey Writers. He lives in the Boston Metro Area with his wife, Amanda and their five-year-old son, Cormac.