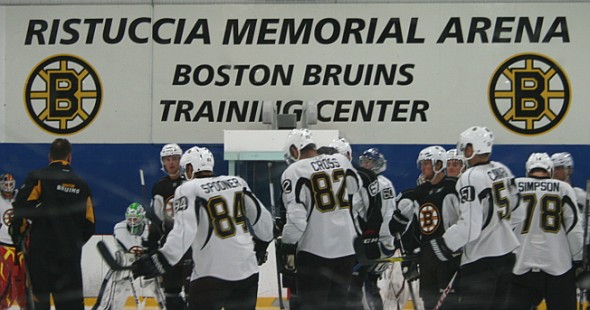 While "Free Agent Frenzy" hit the NHL world, a 'frenzy' of a different type broke in waves over the bleachers of  Ristuccia Arena in Wilmington, as a crowd gathered to watch twenty-eight young men took part in the first scrimmages of the Boston Bruins 2012 Development Camp.
The house was packed in every sense of the word – fire marshals miles away were likely furrowing their brows in disdain from the mere aura of the sardine-like stands at the rink. The young men on-display didn't disappoint: The action rose throughout the morning into the afternoon – with a few near-miss confrontations as the mercury rose.
Of the campers participating in the drills – few showed more than winger Justin Florek. Despite not registering a tally in the match (which Team White won, 2-1), Florek was a physical force down low, looked smoother skating through the neutral zone and handled the puck very well for his 6'4 frame.
However, perhaps the highlights of his afternoon were two hits that he took – and redirected. The first, early in the opening 'frame', saw Torey Krug attempt to step up and slam Florek entering the offensive zone. Florek had none of it, using his seven-inches (and 25-plus pounds) to run right over the defenseman, sending him onto his tuchus.
The second saw the nearly-equally diminutive Ryan Spooner take a hard cut toward Florek, but the big P-Bruin braced and bounced Spoons to the ice.
Providence Bruins' Head Coach (and Boston Bruins Camp Instructor) Bruce Cassidy said of Florek: "He has the ability to score because he's got a good stick… [He's got a] big body, so he'll get some tips and deflections… [and] get some stuff in front. … He's a straight-line player."
Cassidy suggested he needs to improve his foot speed and add some upper body strength for the battles in the dirty areas. He said, "…He's a pro-style player… Hopefully [Florek] adds a physical element to his game because of his size, but that's not in his makeup…."
"I think he's a guy that's going to need a little bit of time to grow into that body, figure out how he can best protect the puck, and … create his open ice and then in a year from now we'll have a better discussion about him…."
Spooner's day was underscored by some superlative puck-pursuit and forechecking pressure. With his elite wheels and quick hands, he forced opponents to make hurried passes. These produced turnovers and several chances for the shifty center.
The much-maligned (at least, if you listen to some sources) Tommy Cross had a solid day at camp yet again. He played a gritty game below the hash-marks and displayed some efficient possession-play.
Yet, Cross's afternoon was highlighted by his ability to recover to deny Spooner on what looked to be a nearly-clean break from the red-line. Keeping pace with the decidedly-speedier forward, Cross harried his attack before adeptly denying Spooner with a smartly-timed sweep-check in the slot.
Among the other chief notables, Seth Griffith continued his admiral camp performance with some excellent moves, solid puck-possession play, and decent forechecking pursuit. He earned one of Team White's two markers after picking-up some garbage near the crease, deking quickly and stuffing it past Malcolm Subban's outstretched left pad.
Colin Campbell (no not that Colin Campbell) – an undrafted invitee and junior left-wing at Lake Superior State – dangled through several opponents (including Matt Grzelcyk), stole pucks on multiple occasions and made himself generally difficult to play against.
Torey Krug's distribution skills were on full-display in all three zones and despite his failed check on Florek, he showed good grit and toughness in the corners and out-muscled several significantly bigger opponents for pucks. He and Dougie Hamilton were partnered for a time – and controlled the pace of the game when they were together.
Hamilton's scrimmage went by relatively quietly. He did have a nice dangle and rush through the neutral zone and he jumped into the attack like a forward whenever an opportunity presented itself. However, with Claude Julien's defensively responsible system waiting on the other side of July, it's easy to see he's got a ways to go.
Further notes on the day's festivities:
Jared Knight's motor just keeps running. Sometimes, you'd wish he'd slow down. I'm not the only one concerned that he's pushing his ankle too hard too soon. The young man had a solid scrimmage and created some chances with his seemingly-improved vision and distribution-skill but I'm holding my breath each time he drives to the net like a bat out of hell.
Union's Wayne Simpson had a solid afternoon – he's a patient puck-possessor and capably creates time and space to distribute or release a surprising shot.
Dan Carr – also of Union College – scored White's second goal of the afternoon, pulling the Forsberg move on Parker Milner much to the delight of the crowd. He was a solid north-south down-low presence for White all day.
Anthony Camara is always seeking out the big hit – sometimes to the detriment of his overall game. He does connect frequently, as Chris Casto of Minnesota-Duluth found out. He drove Casto into the neutral-zone side-wall and the defenseman came up grimacing. Still, Camara's much more rounded and less raw than in 2011, even if he's got a ways to go.
I've yet to find something I don't like about Matt Grzelcyk's game…
Zane Gothberg comes out of his crease quite far to challenge shooters – but still has the athleticism to recover when the puck is passed or the attacker makes a move.
Cody Payne lived up to his name with some chippy play – drilling Darik Angeli in the corner and getting into separate tiffs with Spooner and B.U.'s Justin Courtnall. He fought through multiple opponents to get in on the forecheck and turn the puck over, creating a few near-miss chances.
Speaking of Darik Angeli – this kid looks to be a player. Soft hands, size, and an understated skillset – not too shabby?
Matt Benning appeared to re-tweak the groin injury he told me about yesterday and was unavailable for the scrimmage.
Alex Khokhlachev wasn't allowed to participate in the scrimmage due to his recovery from a lacerated kidney but in the pre-scrimmage drills he looked 'as cool as the other side of the pillow'.
Thanks again for reading. Follow me on Twitter for even more info. Be sure to check-out my wrap-ups of each day of camp so-far (Day 1, Day 2 and Day 3), check out my interviews with Union College's Camp attendees (Wayne Simpson and Dan Carr) and 2012 Draft Pick, Matt Benning and be sure to check back later for more interviews and commentary as Boston Bruins Dev. Camp closes-shop tomorrow!