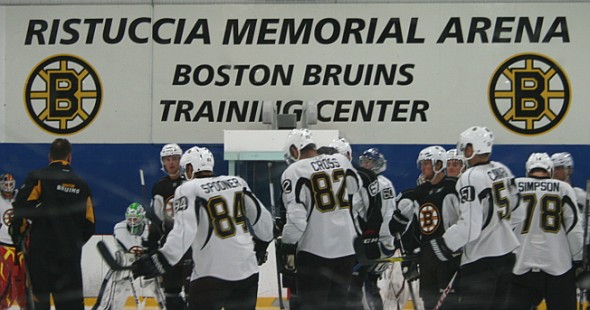 With their sixth-round selection in the 2012 NHL Draft, the Boston Bruins picked defenseman Matt Benning. If that name sounds familiar – it should be: Benning's Dad, Brian, played over 500 NHL games as a defenseman and his Uncle, Jim, is the Bruins Assistant General Manager who suited-up over 600 games in the League during his playing career.
The youngest member of the Bruins' family, Matt turned eighteen just over a month ago. Despite being drafted in the second-round of the 2009 WHL Bantam Draft by the Kootenay Ice, he stuck with the Spruce Grove Saints of the Alberta Junior Hockey League (AJHL) to preserve his NCAA eligibility.
Despite some struggles with the skating-intensive practices, Benning has shown promise in just a short time in Wilmington. He moves the puck well, has taken hits to make plays and sticks to his man diligently in his own zone. Displaying a timely sweep-check and solid defensive awareness, there's good long-term promise in this 6'0, 218 lbs. rearguard from Edmonton.
Without question, Benning should be categorized as a raw blueline talent – but a talent nonetheless.
I caught up with the soft-spoken rearguard after Day Three of Development Camp and asked him about his family, his game and his future in hockey:
BM: What was it like growing up in such a hockey-crazy family?
MB: It was great – they gave me a lot of support and told me what it takes to get [to the professional ranks.]
BM: Did you feel any pressure to follow in your Dad's footsteps or was it something that came naturally?
MB: Yeah, he influenced me a lot… basically taught me [my] whole game. He actually went the WHL-route and he wants me to go the college route.
BM: Have you ever done anything like the power-skating drills that Besa Tsintsadze was running out there?
MB: Kinda like that – but not exactly. He's a great power-skating coach and if you work with him, you'll definitely improve.
BM: You seemed to get hurt in one of the drills [Benning staggered a bit after losing an edge in one of the power-skating drills. He left the ice momentarily before returning and participating in the remaining drills]– are you ok?
MB: Yeah, I just tweaked my groin a bit but I'm ok.
BM: The Tri-City Americans traded for your rights (from Kootenay) before the start of the last WHL season. Beyond cursory consideration, did you think you'd ever go the WHL route or is it not something you considered?
MB: When I was younger I definitely considered it. But now that I'm older – if I went there next year, I'd be [an 18 year-old] rookie playing against eighteen and nineteen year-olds… there's certainly a possibility but I don't know – I guess I'll have to wait and see.
BM: How would you describe your game to someone who hasn't seen you play – what are your primary strengths.
MB: I guess my defense, my first pass and ability to get the puck out of the zone.
BM: What aspects of your game do you think need more development – especially given your experiences this week at Camp?
MB: My speed. I'm not used to the speed coming from [the Junior-A, AJHL]. I definitely need to work on my skating and my fitness-level and my shot.
BM: Were you more excited or more relieved to hear your name called in the sixth round of the 2012 NHL Draft?
MB: Both. Still, it's an exciting time and I love being part of the Boston Bruins organization.
Bob is a Boston Bruins Correspondent for The Hockey Writers. He lives in the Boston Metro Area with his wife, Amanda and their five-year-old son, Cormac.