By now, any hockey fan who hasn't been living in a cave knows that New Jersey Devils captain Zach Parise is the hottest commodity on this summer's free-agent market. Parise, one of the league's top forwards, is fresh off a Stanley Cup Finals appearance and will certainly command top dollar.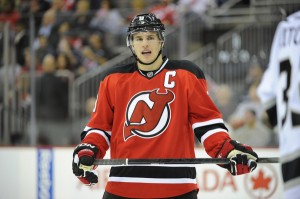 However, on Friday, news came out that Parise's high-profile teammate, Martin Brodeur, could be joining him on the market. According to TSN, Brodeur will look for a new home if he does not get a deal by Sunday.
In theory, it seems highly unlikely that both Parise and Brodeur would leave New Jersey, but on the outside chance it did happen, it would be a disaster for the Devils.
For one, the team would need a new face of its franchise. But who would that be?
Patrik Elias is the most recognizable player still on the roster, as he won the 2000 and 2003 Stanley Cups with New Jersey and went to the finals in 2001 and this season. He is still productive, as he was 10th in the NHL this season with 78 points. But, he is 36 years old and is only under contract through 2012-13. Although many older fans recognize him, he would not be the most marketable player with the younger generation.
Ilya Kovalchuk has finally left behind his days with a struggling Atlanta Thrashers team and gotten comfortable in Newark. He led the Devils with 83 points this year and was first in the NHL with eight playoff goals and third with 19 points. Now that he has a Stanley Cup appearance under his belt, he would be a good choice to represent the team as it moves into a new era.
Perhaps the most marketable player would be center Adam Henrique. He had 51 points in his rookie year and was first in the NHL with four shorthanded goals. In the playoffs, he had three game-winning goals, including two series-clinchers, to lead the league. His regular season performance earned him a finalist nomination for the Calder Trophy, which he lost to Gabriel Landeskog of the Colorado Avalanche.
The Devils' easiest problem to solve would be picking someone else to represent their team. But there are some other obstacles if Parise and Brodeur are no longer in New Jersey come next season.
New Jersey is coming off its first Cup finals appearance in almost 10 years, and as a result, its fanbase has grown. In 2011-12, 90 percent of Devils season ticket holders renewed their ticket packages, and about 2,000 new fans purchased season tickets. This is big news for a team that has had financial problems this season.
But if Brodeur and Parise don't come back, some of these new fans could lose interest, feeling like they don't have a player to get attached to or cheer for. It could also hurt general fan morale, as losing a top talent would hurt for any team, but more so for a squad that just had one of its best seasons in recent memory. Plus, imagine the unanswered questions if Brodeur signs elsewhere and doesn't get one more chance to win a Cup with his original team. It won't feel right to Devils fans to watch him pile up wins in another uniform, as he'll never be a true member of any other team.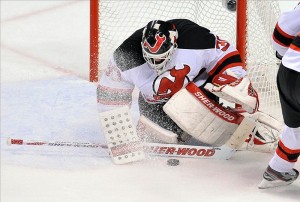 Brodeur's possible departure would also remind fans that loyalty rarely exists in the modern-day NHL. For a player like Sidney Crosby, who signs a mega-contract to stay with a team for the rest of his career, or Nicklas Lidstrom, who recently retired after 20 years with the Detroit Red Wings, you have a top free agent like Brad Richards, who is coveted by teams looking for a big name to lure in fans and bring championship glory. These days, the talk of free agency is which teams can spend the most money rather than who can convince players to stay around and build loyalty in the locker room and in the seats.
While it may be too extreme to picture the Devils' star players leaving the franchise, today's NHL is a game of never say never. And should it happen, New Jersey needs to have an immediate plan of action to minimize any fallout from its fans before the season starts in October.
Alison is currently covering the Wilkes-Barre/Scranton Penguins of the AHL for The Hockey Writers after writing about the NHL's New Jersey Devils from 2011-2012. She is currently employed for the fast growing sports website Bleacher Report as a quality editor and hopes to one day have a media relations career with a professional hockey team. Follow her on Twitter @AlisonM_110.