BOSTON — Rick Middleton raised his No. 16 to the TD Garden rafters Thursday night, nearly three decades after playing his final game with the Bruins.
Middleton, nicknamed "Nifty," spent 12 seasons with the black and gold from 1976 to 1988, scoring 402 goals and totalling 898 points. The right wing ranks third in goals and fourth in points in Bruins history.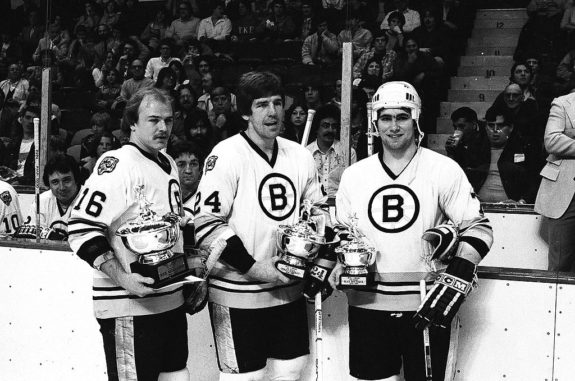 "I've had four months to think about it, and I hate repeating myself, but honestly, I believe it is the biggest honour that certainly a retired athlete can get in his career," the 64-year-old Middleton said before the Bruins faced the New York Islanders.
The Bruins announced in July that Middleton's number would be the 11th retired by the team, the first since longtime forward and current Bruins president Cam Neely's No. 8 was hoisted to the rafters in 2004.
In all, 19 players have worn No. 16 for the Bruins — including centre Derek Sanderson, who Middleton said he wore the number in honour of. Kaspars Daugavins was the last to wear it in 2013.
Related THW Content – Hockey Hall of Fame Debates: Rick Middleton
"In the last six or seven years, I've been seeing that it's not out there; nobody's wearing it," Middleton said. "All of a sudden, it happened. In July, a phone call in July; I never thought it would ever happen that way, but I just have to thank Cam so much for doing it. … It culminated tonight."
Middleton was joined by Neely, Ray Bourque, Johnny Bucyk and Terry O'Reilly — whose numbers have all been retired by the Bruins — along with former Bruins coach Don Cherry at centre ice for the pregame ceremony.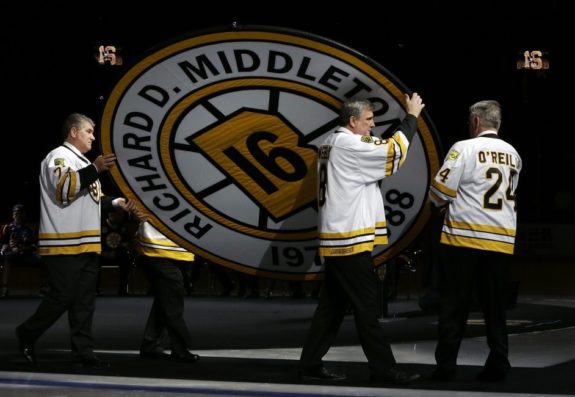 A first-round draft pick of the Rangers in 1973, Middleton played his first two seasons in New York before being traded to the Bruins.
The three-time All-Star led the Bruins in goals for six consecutive seasons from 1978-84. He scored a career-high 51 times in the 1981-82 season, the same year he took home the Lady Byng Memorial Trophy.
Middleton holds the NHL record for most points in a playoff series, totalling 19 (five goals, 14 assists) in a 1982-83 second-round series against the Buffalo Sabres.
___
More NHL hockey: https://www.apnews.com/NHL and https://www.twitter.com/AP_Sports
Gethin Coolbaugh, The Associated Press