OTTAWA — Craig Anderson stopped all 27 shots he faced for his first shutout of the season as the Ottawa Senators blanked the New York Rangers 3-0 on Thursday night.
It was Anderson's 10th win of the season, his first shutout since Dec. 16 and 41st clean sheet of his career.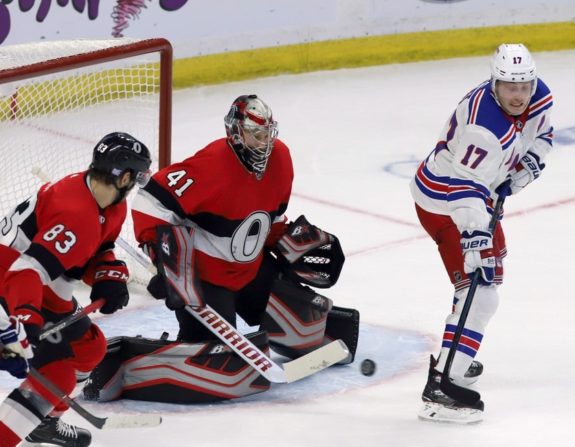 Matt Duchene led Ottawa (11-12-3) with a goal and an assist.
Drake Batherson and Magnus Paajarvi also scored as the Senators won their second game in a row, having beat Philadelphia 4-3 on Tuesday.
Henrik Lundqvist had a rough start, but finished with 31 saves for New York (13-11-2).
Trailing 2-0 the Rangers thought they had cut the Senators lead in half near the midway point of the season, but the goal was waved off as the referee had blown the whistle prior to the puck crossing the line.
With the Senators dominating most of the action Colin White nearly made it 3-0 ringing a shot off the post.
Ottawa did take a 3-0 lead late in the second off an impressive passing display that ended with Duchene scoring his team-leading 12th.
With an assist on Duchene's goal Ryan Dzingel picked up his 100th career point.
The Senators jumped out to a 2-0 first period lead.
Batherson scored his third of the season off a great pass from Duchene in the second minute of the game, while Paajarvi made it 2-0 with his second of the year and first point in 11 games as he snuck a shot under Lundqvist's right arm.
On Saturday the Senators will host the San Jose Sharks marking the return of former Ottawa captain Erik Karlsson.
Notes: Max McCormick was a healthy scratch for the Senators.
Lisa Wallace, The Canadian Press