The Boston Bruins look back on an intensive off-season. New General Manager Don Sweeney didn't wait long to change his Bruins organization, which failed to make the playoffs last season. Several trades and questionable draft picks made NHL fans go berserk. The reactions were strong and the Bruins were laughing stock. There aren't many outside of the Bruins organization who defend Sweeney's off-season actions, not even Bruins fans themselves.
In case you need a refresher on all the Bruins transactions, visit the FA tracker.
What if I told you that the Bruins didn't do as badly as everyone thinks? I might be one of few people but I will try to show you the Bruins logic and why most of those trades actually make sense.
https://twitter.com/TylerMastello/status/618611298511798272
Entering this off-season having missed the playoffs and with a new General Manager was a tough situation for the team. The Bruins were not able to do much ahead of the season 14/15 because of cap issues plus core defenders of their cup winning team like Dennis Seidenberg and Zdeno Chara are over their peaks and need to be replaced at some point. Furthermore, Milan Lucic, Brad Marchand and David Krejci struggled last season plus Loui Eriksson never matched his Dallas numbers since he arrived in Boston. Sweeney felt the need to change something in order to be competitive again next season and his actions were radical.
Fan Favourite Lucic Goes to Hollywood
The most hurtful trade for the Bruins fan base is the one that sent Lucic to Los Angeles. Lucic, a heart and soul guy who is probably the fan favourite in any city he ever plays, will be missed in Boston and there is no one who can replace the tough guy. The return the Bruins got in emerging goalie Martin Jones, Colin Miller and the 13th overall pick in this year's draft was good enough for Sweeney to seal the deal.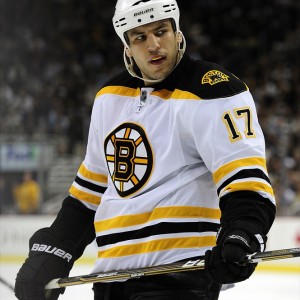 While lots of Bruins fans are still in shock about Lucic leaving, you need to consider his massive cap hit of $6mio as well as the fact that he becomes an UFA next summer. The risk of losing him for nothing in 2016, Lucic's dropped off performance last season, his huge cap hit and his market value made him the perfect trade bait for Sweeney. So if Bruins fans switch off their feelings for a second and think rationally, this trade makes sense, even if the Bruins retain $2,750,000 of Lucic's salary for the next season.
Boston's Most Talented Defender Leaves Town as Well
Hamilton had a break out season with 42 points and was considered the organization's top prospect on the blueline. Therefore the timing seems odd that Sweeney sent him to Calgary in exchange for the 15th overall and two second round pick in this year's draft. The return the Bruins got is fair as the 2015 draft was considered a deep one. Hamilton himself was a first round pick and to receive two second round picks on top for him was a solid deal by Sweeney. Especially as it is believed that Hamilton was asking for a deal which would pay him $7mio in one of the years.
Dougie Hamilton says having the Canadian flag on his shoulder is a "dream come true"

— Josh Cooper (@JoshuaCooper) July 17, 2015
The Bruins obviously wanted to keep Hamilton: "We wanted Dougie," Cam Neely said. It is believed the Bruins made Hamilton an offer not far off the deal which he signed with the Flames, a six-year pact that'll pay him an average of $5.75 million per season. "We certainly didn't want to make that move," Neely said of trading Hamilton. "It was apparent that we had to do it." The Bruins offered Hamilton a fair deal, but what can they do if he doesn't accept it? Boston simply didn't want to pay him as much as he asked for and although it hurts them that their most talented defender is gone, they didn't had much of a chance than trading him. If Hamilton really wanted to stay in Boston he would have signed instead of signing a similar deal in Calgary.
Soderberg Leaving Too & Jones' Very Quick Stint with the Bruins
The Bruins decided not to offer Carl Soderberg a contract extension and traded him to Colorado just days before he became an UFA. He obviously asked for too much and finally signed a deal with the Avs which gives him an annual average cap hit of $4,750,000. This seems to be very high for a third line center and a number the Bruins were never able to match, not even coming close. Instead of letting him walk away for nothing, they managed to get a sixth round pick in 2016.
Jones didn't stay long in Boston. After the Bruins acquired him in the Lucic deal, they decided to ship him to San Jose in exchange for a first round pick 2016 and prospect Sean Kuraly. This gives the Bruins an additional first round pick in the coming draft and the chance to bring in another top 20 prospect to refresh their system. With Tuukka Rask protecting the net in the coming years and Malcom Subban as one of their top prospects, the Bruins are fine on the goaltender position. There is no apparent need for Jones; a goaltender who is hard to predict and has a lot to prove in the coming years.
Beleskey Should Produce Offence
The Bruins were in need of scoring, especially as Lucic left the team and the player who should fill the hole is Matt Beleskey. He scored 22 goals in 65 games with an average TOI/GP of 14:28. Beleskey is looking to play on a bigger line than with the Ducks and will fit well with playmaker Krejci or Patrice Bergeron. The good news for Bruins fans is that they signed him for an annual cap hit of $3,800,000, less than most would have expected.
Matt Beleskey and Carl Soderberg are among the recent free agent signees who could disappoint … http://t.co/XG1p6XJ6jm #FantasyHockey

— Dobber (@DobberHockey) July 16, 2015
Finally Savard's Contract Is Gone
Marc Savard's contract was a thorn in the Bruins side for a long time. They finally found a taker in the Florida Panthers. Boston-native Jimmy Haves joins the Bruins in exchange for Savard and Reilly Smith. The important piece within this deal for the Bruins was to get rid of Savard's contract and in Hayes they have received a big forward who had a good season and scored 35 points. He fits into one of their top lines and brings a physical edge to the game. Although Smith showed promising numbers, he was inconsistent and the Bruins didn't seem ready to continue paying him a cap hit of $3,425,00.
Questionable Draft Picks by Boston
There were rumors that the Bruins wanted to trade up in order to pick one of the three high-end defenders, Noah Hanifin, Zach Werenski or Ivan Provorov. But that didn't work out and they selected Czech defenceman Jakub Zboril instead. They were in need of a defender and Zboril is a Bruins type of player. He has good size and isn't afraid to get involved physically. Maybe not as high-end as one of the above mentioned defenders and not the number one Bruins target but still a solid selection and a player who could help the Bruins filling the holes on the blueline. So far so good.
With the next two selections at 14th and 15th overall the Bruins surprised everyone, including me. They went off the boards and selected Jake DeBrusk and Zachary Senyshyn. Muttering started to fill the BB&T Center, especially because no one had Senyshyn nowhere near the first round. DeBrusk shows good goal scoring instincts but wasn't projected before 20th overall by scouting rankings. The Bruins must be very convinced in those two prospects as they passed by high caliber players like Mathew Barzal, Kyle Connor, Colin White and Travis Konecny. I am quite sure that one day the Bruins will regret not picking one of the above mentioned prospects.
Bruins Had to Escape from Cap Hell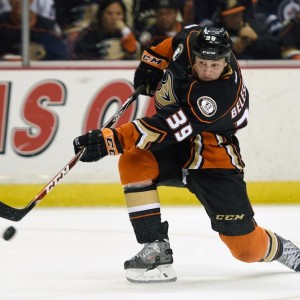 To summarize again, I think that all in all the busy off-season of the Bruins didn't go as bad as you might think. I do like the trades they made as described above. They needed to make changes in order to escape from cap hell. They missed the playoffs last season, some of their core guys had point slumps this season and Sweeney felt in need of bringing in new energy. Therefore the trades with Lucic's and Hamilton's involvement might hurt the team and fans, but if you break them down and re-think the Bruins situation, they make sense. They also managed to get rid of dead meat with Savard's contract and still got a decent player in return, plus brought in scoring abilities with Beleskey.
The only part where I agree with most critics, is the poor draft pick selections. The Lucic and Hamilton deal both involved 2015 first round picks which ended up being DeBrusk and Senyshyn (not literally but since the Bruins had three consecutive picks the order doesn't really matter). Afterwards this affects the evaluation of the trades in a negative way, even though we first need to see how prospects like DeBrusk and Senyshyn develop. However, I still believe the harsh criticism of the busy Bruins off-season is misplaced and that the Bruins aren't any worse off than last season, especially if they would manage to sign defender Cody Franson to add more defensive depth.