During his tenure in San Jose, Sharks general manager Doug Wilson has believed in the importance of having Stanley Cup winning experience on the roster, and on the coaching staff. He believed that having individuals who had 'been there and done that' was a key to getting a Stanley Cup.
The concept was simple enough. Cup winners, through their understanding of what it takes to win a Cup, would help the Sharks establish a culture that would allow the team to win a Stanley Cup. It made sense. Talent+Culture=Cup. It did not work.
The Wilson era began in 2003. By my quick count, Wilson has brought in well over a dozen individuals that have won Cups. On average, they have been part of the Sharks organization for about 3 years. That Cup experience has been weighted more towards recent years.
For this upcoming season, Wilson has abandon that approach.
The Recent Past
If one were to look at the Sharks bench during the 2013 playoffs, one would see plenty of individuals who had won a Stanley Cup. Head coach Todd McLellan and assistant Jay Woodcroft had each won a Cup in Detroit. Associate coach/living legend Larry Robinson had won Cups nine times. On the roster, Antti Niemi, Brad Stuart, Tyler Kennedy, Adam Burish, Dan Boyle and Scott Gomez had all been on Cup winning teams.
Gomez departed San Jose in 2013, shortly after the season ended. After the reverse sweep in the 2014 playoffs, Wilson committed to getting younger. Both Boyle and Stuart were traded early in the offseason.
This past season, it became apparent that the Sharks were likely to miss the postseason for the first time a decade. Tyler Kennedy was traded mid-season in March, 2015. When the disappointing season concluded in April, Wilson continued to clean house. There was no serious attempt to re-sign unrestricted free agent Antti Niemi, who went to the Stars shortly after free agency began. The Sharks bought out the remaining season on the contract with Adam Burish.
The most dramatic changes were reserved for the coaching staff. Larry Robinson decided to remain with the Sharks, but in a less active and far more distant role. Most of his time would be spent away from the team and closer to his home in Florida. He called the final games of the season in April 2015 his 'swan song.'
The Sharks parted company with the rest of the coaching staff. Whether McLellan was fired or left on his own accord seems to be a semantic issue. McLellan chose not to return for the final year of his contract, which seemed to fit both his own agenda and that of Sharks management. If McLellan had chosen to stay, it is unlikely the Sharks would have allowed it. The league concluded McLellan was not fired, which resulted in the Sharks being awarded a draft pick to compensate for his departure. Once McLellan announced he would not return, the remainder of the staff, including Woodcroft, was let go.
Going Further Back
Accumulating the level of Cup winning experience the Sharks had in 2013 was clearly not an accident. It was part of a process, Wilson had been steadily bringing in Cup winners over the years. Among those that had played in San Jose and left prior to 2013: Bill Guerin, Kent Huskins, Rob Blake and Niclas Wallin. The Sharks best team during the Wilson era was perhaps the team that fell to the Vancouver Canucks in 2011 in the Western Conference Finals. In addition to coaches McLellan and Woodcroft, Stanley Cup winners on that team included Boyle, Wallin, Huskins and Ben Eager.
And Now
The Sharks do have Cup finals experience in house and even a pair of Cup winners on the roster. As we examine that experience, it becomes clear that an asterisk might be appropriate.
Raffi Torres is the Shark with the most finals experience, by a good bit. He played for Vancouver in their finals loss to Boston in 2011 and for Edmonton during their finals loss to Carolina in 2006. Whether Torres can be a factor this season, or for that matter ever again, is unclear. Torres, who will turn 34 at the start of the upcoming season, has missed most of the past two seasons. In that time, he has undergone multiple major knee surgeries. The last time Torres played healthy, competitive hockey was in May, 2013. He likely won't be fully healthy again until early 2016.
The coaching staff has two individuals who were on a Cup finals team together. Current Sharks head coach Peter DeBoer coached the New Jersey Devils to a Cup finals in 2012, a six-game series which they lost to the Kings. The back-up goalie for that Devils team was Johan Hedberg. Hedberg is now the Sharks goaltending coach. Hedberg backed-up Martin Brodeur, which meant he didn't play in the Cup finals.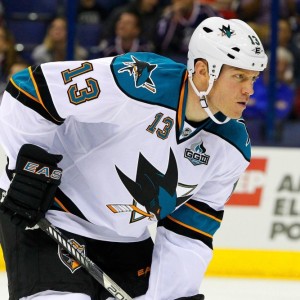 As for Stanley Cup winners among Sharks players, the cupboard isn't barren, but it is darn close. The Sharks have two players on their roster who have won a Cup. Ben Smith won a Cup with Chicago. In the finals, he managed to play in one game, garnering 10 minutes of ice time against Boston. Ten minutes exceeds the championship series ice time of the Sharks other Cup winner, newly acquired goalie Martin Jones. Jones served as the back-up goalie to Jonathan Quick during the Kings Cup run in 2014. Jones did not play at all in the Cup finals.
Looking at the Sharks bench in the 2013 playoffs, one could spot nine individuals that had won a Stanley Cup. Most of the nine played major roles in those championships. A similar look at the Sharks team currently projected to open the season in October 2015 season tells a different story. There are just two Cup winners and they have a combined 10 minutes of Stanley Cup Finals experience.
It is definitely a new chapter for the San Jose Sharks with new approaches in several respects. Will they miss having the experience and know-how of what it takes to win a Cup? That remains to be seen.