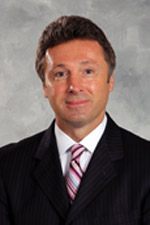 When you think about the San Jose Sharks over GM Doug Wilson's tenure (dating back to 2003), who are the biggest names to lace up for Team Teal? Let's just run through them for a moment: Joe Thornton, Patrick Marleau, Logan Couture, Brent Burns, Joe Pavelski, Dan Boyle, Marc-Edouard Vlasic, Rob Blake, Dany Heatley, Jonathan Cheechoo, Milan Michalek, Brian Campbell, Craig Rivet, Christian Ehrhoff, Douglas Murray, Evgeni Nabokov, Antti Niemi, Bill Guerin, Ryane Clowe, Martin Havlat, Matt Carle, Scott Hannan, Josh Gorges, Brad Stuart, Kyle McLaren, Tomas Hertl, and Jeremy Roenick.
Those are most of the big names off the top of my head (although I'm probably forgetting somebody obvious). Almost all of them are either home grown players or were traded to San Jose. Only Blake, Niemi and Roenick were unrestricted free agents but neither of them were top of the market guys signed to long-term deals. Blake and Roenick each signed multiple one-year deals while Niemi signed for two years originally. 
Enter Paul Martin
Long time New Jersey Devils and Pittsburgh Penguins defenseman Paul Martin signed with the Sharks on Wednesday as an unrestricted free-agent. At a cap hit of $4.85 million for four years, Martin instantly becomes the Sharks' biggest free agent signing not only of the Doug Wilson era but of the entire history of the franchise.
While the four-year term for a 34-year-old defenseman is a bit concerning, most Pittsburgh followers rave about Martin's skill set defensively. The following tweets are from colleague Michael Pityk who covers the Penguins on a regular basis.
@ViewFromBensch Martin was the only reason why the Pens defense didn't implode down the stretch. He's great for at least 2-3 more years.

— Cat Lover (@cats240000) July 1, 2015
@ViewFromBensch honestly, Martin was outstanding for the Pens, I wished they would have kept him and thanks!

— Cat Lover (@cats240000) July 1, 2015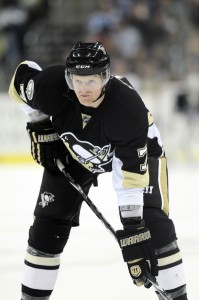 Words like "outstanding," "great" and a comment like "wished they would have kept him," couldn't be a more glowing scouting report. From the sounds of it, the Sharks are getting a tremendous skating defensive defenseman who can make a solid breakout pass. Martin can be the ying to Burns' yang on the Sharks' second defense pair.
Good Market Value
When you consider the fact the Colorado Avalanche signed a less effective 35-year-old defenseman in Francois Beauchemin to a three year deal at a $4.5 million dollar cap hit, the Sharks look to have made a solid investment in Martin. It is also $1.15 million less than what Mike Green got for three years from Detroit. Slightly more cap flexibility is always a good thing.
The Sharks defense struggled during the 2014 playoffs and the 2014-15 regular season largely because they didn't have a guy like Martin on the second pair. Behind Vlasic, the only other left-handed defenders the Sharks have played the last two years are Hannan, Stuart, Matt Irwin, Brenden Dillon and the not yet NHL ready Mirco Mueller. Last year also saw a down year from the usually reliable Justin Braun and Brent Burns struggled in his own zone in his first year back on the blue line after two years up front.
With Martin in the fold, Vlasic as studly as ever, and Braun and Burns both likely to make big improvements, the Sharks should have a really solid top-four defense. Wilson may not have knocked his first ever free-agent splash out of the park, but the Martin deal looks like a solid line drive double.