The Carolina Hurricanes bought out Alexander Semin's bloated contract earlier this week, placed him on unconditional waivers (which he cleared) and ultimately sent him into the free agency world. He'll likely sit there for a while as GMs grapple with the risks associated with hiring the enigmatic Russian. However, as outlandish as it might seem to some, the Washington Capitals should seriously contemplate bringing Semin back to D.C. – he's not that bad despite his recent stint with the Hurricanes.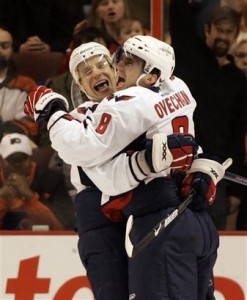 Ask any informed audience to describe Semin and most would reply with words like 'lazy' or 'passive' (along with some more colorful statements). I don't believe that is a fair assessment of a player whose years in the NHL include one 40-goal season and two 30-goal seasons. He scored 22 goals just two season ago and has topped 20 goals for a term on six other occasions.
He had an awful season with the Hurricanes, but he had wrist surgery in 2014 that hampered his shot count, and many players in NHL history have performed extremely well for one team for multiple seasons only to fail at their first try with a new team – Semin is just another example.
.@NHLCanes Ron Francis on waiving Alex Semin. "As an organization this is not an easy thing to do but it's the right decision."

— Jeff Gravley (@jgravleyWRAL) June 30, 2015
Semin's NHL career began with the Capitals in the 2003-04 season. He scored 10 goals and 12 assists that year. After spending two years back home to fulfill his Russian military obligations, he tallied 38 goals and 35 assists in the Capitals' 2006-07 season. After that, he was in the top three on the Caps' scoring charts for all but one of the next five years. Semin is the fifth all-time Capitals' goal scorer with 197 and most of those goals came with Nicklas Backstrom and Alex Ovechkin on the ice.
So, could Semin return to Washington – and would he be welcomed home with a flourish of excitement from the fan base and local media? Well, let's just say that he could return to Washington – and leave it at that.
Semin's agent Todd Diamond teased us by saying "Without question Semin will play in the NHL and will have a great season … We've already received calls on him." I'm glad Diamond clarified that Semin will play in the NHL – since most fans in North Carolina believe he's more suited for the AHL. Personally, I thought that Semin would play in the KHL next season. He may still, depending on what happens in the coming days.
The Hurricanes gave Semin a five-year deal in 2013 worth an average of $7 million a year. At 31, there is no way that any team would pay him that much now or even offer him a long-term contract. However, a team (including the Capitals) could see fit to offer him a short-term one- or two-year deal worth $3.5 to $4 million a year – and given the current stage of his career, Semin should take the pay cut and then prove to a new team that he deserves more next time around.
The Caps signed the L.A. Kings' UFA Justin Williams to a two-year deal worth the bargain price of $6.5 million – fulfilling GM Brian MacLellan's promise of acquiring a new top-six forward. But, why not get another in Semin? It's feasible that Semin and Williams could end up as interchangeable commodities on the first and second lines at right wing.
Here is a reminder of how good Semin was (and could still be):
On paper, Semin's numbers are outstanding and – ultimately – there are 28 teams that will likely balk at Semin and one team who knows all about him already and the 197 goals he scored for them: The Washington Capitals.