Brady Tkachuk is facing a big decision this summer of whether or not to jumpstart his NHL career or rejoin Boston University for his sophomore season. The forward was drafted No. 4 by the Ottawa Senators in the 2018 NHL Entry Draft in June. Reports indicate that he is expected to make the potentially career-altering decision by Aug. 12.
WJSS update: Brady Tkachuk has informed me that he will announce whether he will return to @TerrierHockey for his sophomore season or sign with the @Senators by August 12.

— Mike Morreale (@mikemorrealeNHL) July 29, 2018
The 18-year-old will soon have to finalize his decision of either inking a deal with the Senators or remaining in Boston for another season. Both options have a number of pros and cons, and Tkachuk plans to consult his family before committing to either team. "Their opinion and the opinion of my brother and sister are important," said Tkachuk, according to NHL.com. "But it'll be my decision in the end."
Currently, the St. Louis native is representing the United States squad in a four-team development camp featuring opponents Sweden, Finland, and Canada. Tkachuk stated that he wishes to go over the options with his family in person as opposed to discussing matters over the phone: "It's tough for me to be on the phone with my parents because we're not in the same city," he said. "I want to talk to them face-to-face." This is precisely why the decision will have to wait until the middle stages of August.
In May, it was originally expected that Tkachuk would rejoin the Terriers before the draft. However, that was before he became a top-five selection and was given the opportunity to make an immediate impact on a struggling NHL team.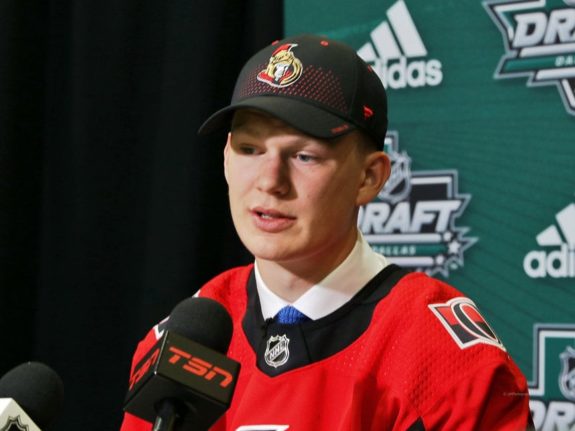 The decision is certainly a tough one to make – just ask Tkachuk himself: "It's one of the biggest decisions of my life," he said. "It's tough and stressful but when it happens it'll be nice to have it off the shoulders." There are certainly a number of factors to consider in making this major commitment, making the decision that much harder.
Senators Pros & Cons
Pros
The Senators are falling into rebuild mode. After skating past the Boston Bruins and New York Rangers during the 2017 NHL Playoffs, Ottawa took the Pittsburgh Penguins to seven games. The Penguins went on to win the series thanks to a double-overtime goal and went on to win the Stanley Cup. Though it didn't end the way the team would have preferred, it was a successful campaign nonetheless.
The 2017-18 season, however, ended in utter disappointment. The Senators missed the playoff boat altogether, finishing with a record of 28-43-11, earning themselves the fourth overall pick in this summer's draft. Luckily they were able to land Tkachuk who, if he decides to join Ottawa this fall, has the potential to make an immediate impact.
The 18-year-old could be giving himself a chance to improve a struggling team going through a revolution of sorts. "I want to make an impact wherever I go and be able to contribute and play my best," noted Tkachuk. Making an "impact" likely translates to ice time for the young winger.
Cons
Ice time could, however, be a problem for Tkachuk in the NHL. A top-six role is not necessarily a given as he will have to compete for such a spot. Tkachuk has stated that he is making his decision based on "what's best for my development short and long-term," and finding himself with limited minutes would likely not meet his criteria. He could very well find himself receiving a big chunk of ice time, especially if he were to earn a spot among one of Ottawa's special-teams units, but it is simply not a guarantee.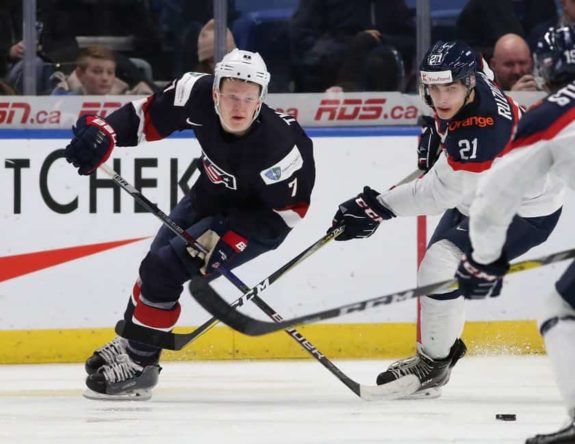 There is also the fact that Tkachuk produced just eight goals and 28 assists over the course of 40 games with the Terriers during his freshman campaign. While those are solid stats for a college player in his first season, they may not translate well into the NHL right away. Take Brady's brother Matthew Tkachuk for example. The 20-year-old potted a whopping 107 points in 57 games with the London Knights of the OHL during the 2015-16 season but went on to produce less than half that total (48 points) in 76 games with the Calgary Flames the following year.
The OHL and NCAA are obviously different leagues, and the two brothers are different players. Matthew's performance was certainly strong for a rookie, but his production was a fraction of what it was in the junior leagues. That same trend is likely expected from Brady if he is to step on NHL ice this season which may not meet his own expectations and desires.
Boston University Pros & Cons
Pros
While Ottawa is currently a struggling organization, BU is trending upwards. The team finished fourth in the Hockey East standings last season with a conference record of 12-8-4. The Terriers, however, went on to win the conference title by topping a powerhouse in Providence College. The win earned them a spot in the national tournament.
Tkachuk must also consider his growth – not only as a player but physically as well. As a sophomore in college, he will also gain more experience playing with and against older players. Obviously, he would receive that chance by joining the Senators this fall, but sticking with the NCAA will surround him with players at his skill level. Rejoining BU for the 2018-19 campaign will also guarantee him a solid amount of minutes which is essential in helping him reach his full potential.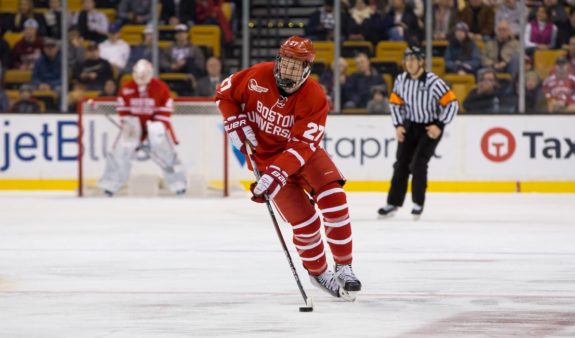 There is also a trend of 2018's early draft picks sticking with their NCAA team. Quinn Hughes will rejoin Michigan this season and Oliver Wahlstrom has decided to join Boston College for his freshman year. With the choices of the Vancouver Canucks and New York Islanders respectively, both players found themselves in a similar situation as Tkachuk in deciding between a struggling NHL team and an NCAA team on the rise.
Cons
The NCAA pales in comparison to the NHL – not only skill-wise but in terms of the league's bells and whistles attached. The NHL is the peak of the hockey world; the biggest stage in the sport. While returning to BU has its benefits, the chance to play in front of tens of thousands of fans and on national television is very tempting.
There is also the level of difficulty to consider. BU will give Tkachuk plenty of ice time, but will the competition be tough enough to challenge the young winger? Though he is just a sophomore, Tkachuk has the potential to walk all over opponents coming off of a stressful year of earning a draft pick in the 2018 draft. Now with the ability to relax and focus on his game, which will have improved since last season, there is a chance that the NCAA may not be challenging enough which could potentially stunt his growth in some capacity. If the 18-year-old feels as though he wants a bigger challenge, the NHL is the place where he will receive the toughest test which, if he performs well, could raise his ceiling.
I cover the Boston Bruins and NCAA Hockey here at The Hockey Writers. Born and raised 10 miles north of Boston, I developed a love for the game of ice hockey at a very young age. There's really nothing better than this sport, though steak is a close second.