Rasmus Sandin is an intriguing prospect with the Toronto Maple Leafs, and like all first-round draft picks, he will be given every chance to make the squad at this year's training camp. However, he'll be hard-pressed to earn a final roster spot, especially on a lineup as deep as that of the Leafs.
Sandin stood out in his first year with the OHL's Sault Ste. Marie Greyhounds, recording 45 points (12 goals and 33 assists) in 51 games before adding 13 points (a goal and 12 assists) in 24 playoff games as the Greyhounds reached the OHL final. The Leafs gave him a long, hard look ahead of the draft in part because of the connection with Leafs general manager Kyle Dubas, who served as Sault Ste. Marie's GM before he was hired by the Leafs in 2014.
On draft night, the Leafs were confident enough in their chances of landing their guy that they moved down four spots after a trade with the St. Louis Blues and picked up Sandin with the 29th overall pick. He signed his entry-level contract with the Leafs a few weeks later.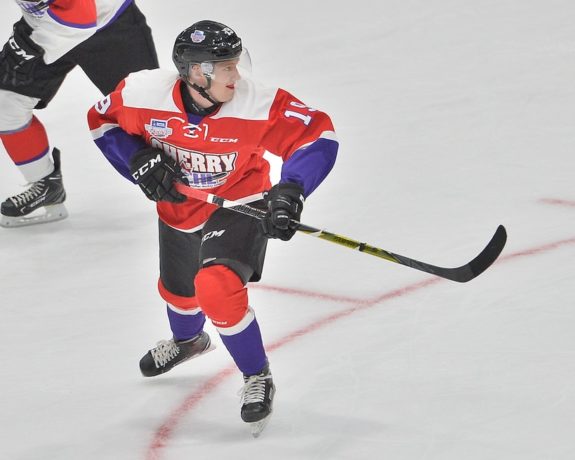 The likelihood of him suiting up for the Leafs in 2018-19 is slim, but there are a number of possible options on where the Swedish defenceman can hone his craft this coming season.
No Need to Rush Sandin Into the AHL
These days, it's very rare for teenagers to make the jump to the NHL. We usually only see the first two or three draft picks from any draft make the transition in the ensuing season. As well, most players from Canada's major junior loop can't play in the AHL until they turn (or are about to turn) 20.
Since Sandin was on loan to the Greyhounds from SHL club Rögle BK, he's not subject to the NHL/CHL agreement that prohibits teenagers from going directly to the AHL. Sandin could be assigned to the 2018 Calder Cup champion Toronto Marlies if the Leafs feel that's best for his development.
In recent years, Julius Honka of the Dallas Stars and Buffalo Sabres prospect Alex Nylander were both on loan to CHL clubs and were assigned to the AHL by their respective NHL teams a few months after they were drafted. Last season, Juuso Välimäki, Calgary's first-round pick in the 2017 draft, was on loan to the Tri City Americans, so could have played in the AHL, but was assigned back to Tri City instead.
With the Marlies having a deep defensive core, which includes Swedes Andreas Borgman, Calle Rosen and Timothy Liljegren, there doesn't appear to be much, if any room, for Sandin next year. Seeing as he's only 18, there's lots of time for Sandin to develop and it doesn't make much sense to put him in a crowded Marlies squad right away.
Returning to Sweden is an Option
As stated earlier, Sandin was on loan to the Greyhounds from Rögle and could return to Sweden, where he would play against grown men. When he was drafted by Sault Ste. Marie in the 2017 CHL Import Draft, Sandin was hesitant about coming to Canada and spent the first five games of the season with Rögle before committing to the Greyhounds.
Even though he's only 18, Sandin has played for several Swedish clubs already, including MODO, Almtuna and Brynas, before signing with Rögle. His older brother, Linus, signed with Rögle at the same time and completed his first season in the SHL last year. It's expected that Rasmus will return to Rögle to play along with his brother.
Rasmus Sandin addressed Toronto media comfortably and professionally. He'll attend development camp in Toronto next week and is expected to play in the SHL for Rogle BK next season where he is under contract. #tmltalk

— Paul Hendrick (@HennyTweets) June 23, 2018
Sandin has earned high praise for his skill level. He's a coveted playmaker and has great vision, which helps him make calculated outlet passes. He's also a smooth skater, so perhaps some extra time on larger ice surfaces in Sweden will help him develop further in that area.
However, he will have to eventually transition to the smaller ice and physicality of the NHL. His year in Sault Ste. Marie last season could be helpful in that regard.
Still Questions About Return to the Soo
Sandin made an immediate impact in the OHL last season on a stacked Greyhounds squad, earning a spot on the OHL First All-Rookie team. Midway through the season when Conor Timmins, the Greyhounds' star defenceman, went down with an injury, Sandin stepped up to fill in that void.
Thanks in part to Sandin's efforts, Sault Ste. Marie was the top-ranked team in the CHL for most of the season and was considered a top contender for the Memorial Cup before they were eliminated by the Hamilton Bulldogs in the OHL final. Whether or not he returns to the Greyhounds is questionable, as it's been suggested he's leaning more towards playing in Sweden.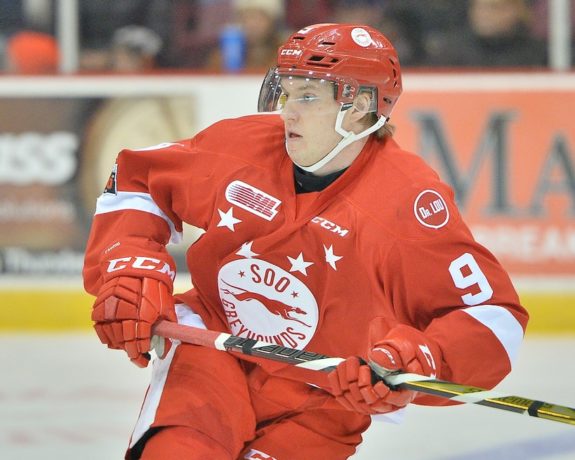 If he were to return to the Greyhounds, he would play a much larger role. Last year's team boasted veterans such as Timmins, Taylor Raddysh and Boris Katchouk, all of whom are moving on to the professional stage. Those are big losses, but the Greyhounds should still have a decent number of NHL prospects such as Morgan Frost, Barrett Hayton and Matthew Vilalta expected to return.
Rögle or Sault Ste. Marie appear to be the best options for Sandin's development next season, and he can't go wrong either way.