Fans of the Ottawa Senators had no idea what their team would like after Monday's trade deadline, and many were fearing the worst. However, with several key players supposedly up for grabs, including captain Erik Karlsson, the Senators approach to deadline day showed that they aren't willing to fully rebuild—at least not yet.
The deadline came and went without any major players being traded. Johnny Oduya was placed on waivers and claimed by the Flyers, opening up a roster spot for a younger defenceman. Ian Cole and Nick Shore were both traded after incredibly short tenures with the Sens, but none of the longtime Senators who were expected to be moved actually got traded.
While trading Dion Phaneuf and Derick Brassard in the last few weeks took some of the pressure of general manager Pierre Dorion to make a ton of moves on Monday, the Senators were still expected to be busy on deadline day.
Pierre Dorion's Plan Remains Unknown
One of the big storylines surrounding the team since the Phaneuf trade was how the Senators were seemingly cutting costs at every chance. All the moves the team has made recently can be traced back to money reasons, including the rumored Karlsson trade that never came to fruition.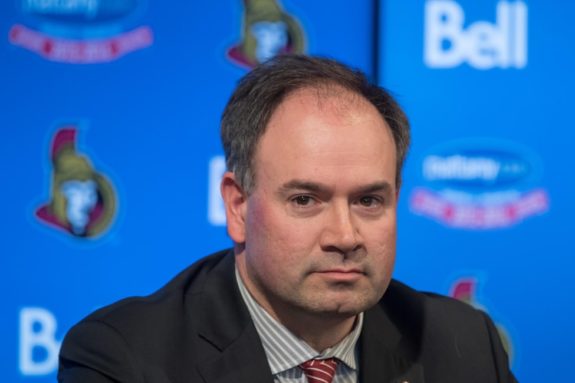 Without the luxury of counting on playoff revenue this spring, the Senators would need to save money. This led many to believe that a few players would be traded on Monday, even if Dorion couldn't get the return he wanted. Based on how the GM approached the deadline, it's clear Dorion was not dead set on blowing up the team.
In his post-deadline press conference, Dorion said that he is excited about the future of the team, but did not actually say that the plan was to rebuild.
"We have some really good top end prospects that are coming, and that excites me, but at the same time, I think there still could be changes to come from now to September. We have to remold our roster."
Dorion says the goal is to build a team that is competitive year in and year out, and considering how the Senators have failed to make the playoffs in consecutive seasons for the last five years, this should be reassuring to fans. It also came as a relief to much of Sens Army that the team survived the trade deadline without trading away valuable assets for pennies on the dollar.
Is A Rebuild Unavoidable?
However, this passive strategy means the tough questions that the Senators have faced since their season started to go downhill will remain unanswered.
Since the Senators were so recently in win-now mode, they have already dealt away a number of draft picks, most notably their first rounder either this season or next. The Sens successfully acquired a few draft picks and a top goaltending prospect in Filip Gustavsson, but the team still does not have the necessary futures required for a proper rebuild.
Without Brassard and Phaneuf, they also lack the key veteran players that a consistently competitive team would need. While Dorion will use the offseason to fill in the gaps, it's anyone's guess as to which direction he'll take.
Keeping Karlsson a Small Victory
One of the biggest factors in Dorion's offseason decision-making process is Erik Karlsson's contract status. By not trading him at the deadline, the Senators have bought themselves a bit more time to see if they can keep their franchise player in the fold.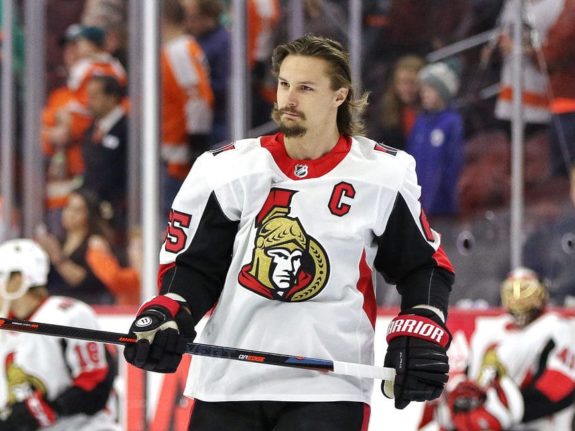 According to Karlsson, whether or not he remains a Senator is up to management. During his media availability on Tuesday, Karlsson said he wants to stay in Ottawa and that he never asked for a trade.
While there is a willingness from both Karlsson and Dorion to make a contract extension happen, the Senators' finances might prevent this. Despite Karlsson's uncertain future, keeping him past the deadline looks like the right move. The fact that Dorion was not forced to make a franchise-defining trade purely out of financial reasons shows that his price for Karlsson is understandably high.
This allows Dorion to make a trade in the offseason if the two parties are unable to come to an agreement. While teams were lining up to inquire about Karlsson at the trade deadline, a deal of this magnitude should be done in the summer, particularly if a third team is involved.
While the team that acquires Karlsson's services would only have him signed on for one year, there will likely be more teams interested in trading for him around draft day in June. While keeping him around for the rest of the season will only make the rumors and speculation worse, keeping the team's options open is well worth dealing with this distraction.
Even if this is Karlsson's final season with the Senators, fans will at least now have a chance to say goodbye to one of the greatest defencemen of this generation. While Sens Army will take little comfort in this, it was the best outcome they could have hoped for heading into a very bleak deadline day.
A Carleton University journalism graduate, Jacob joined The Hockey Writers in 2017. As an Ottawa native, Jacob has been following the Senators since the days of Radek Bonk. You can also find Jacob at ComicBookMovie.com.