Hockey fans and analysts alike were stunned by the trade of Blackhawks' Artemi Panarin to the Blue Jackets for Brandon Saad. A fan favorite in the Hawks' 2015 Stanley Cup victory, the Hawks traded Saad to the Blue Jackets shortly after he hoisted the Cup. There is much more than meets the eye to the young two-way forward. Here are five quick facts about Chicago Blackhawks left-winger Brandon Saad.
1. Syrian Roots
At 18, Saad's father, George, immigrated to the United States from Syria. Saad told The Guardian of his extended family coming to the United States: "It's definitely an eye-opener with them coming over and getting adjusted to the lifestyle and the new language and things like that, it definitely puts things in perspective for you."
Saad used his NHL salary as an opportunity to sponsor family members immigrating to the United States: "You try to help out as much as you can. My dad has worked hard to be successful so he can help them as well. But any way I can help I'm always here for them, they know that. I've gotten pretty close with them over the short period of time."
2. International Play
Saad has had some success on the international level. He won the gold medal for Team USA at the 2010 IIHF World U18 Championship and placed seventh with Team USA in the 2012 IIHF World Juniors. He played for Team North America at the World Cup of Hockey which was comprised of both American and Canadian players 23 and younger. Saad said: "I'm excited about the experience of playing in an international tournament and this time being mixed in with Canadians that I usually wouldn't get the opportunity to play alongside with."
3. Calder Trophy Finalist
Despite the NHL lockout, Saad had the rookie season any NHL player would dream of which ended in his first Stanley Cup.With 10 goals and 17 assists in a shortened season, Saad had plenty to be proud of. He was also named a finalist for the Calder Trophy alongside Canadiens' Brendan Gallagher and Panthers' Jonathan Huberdeau. The trophy ultimately went to Huberdeau, but Saad likely didn't mind due to the Stanley Cup victory.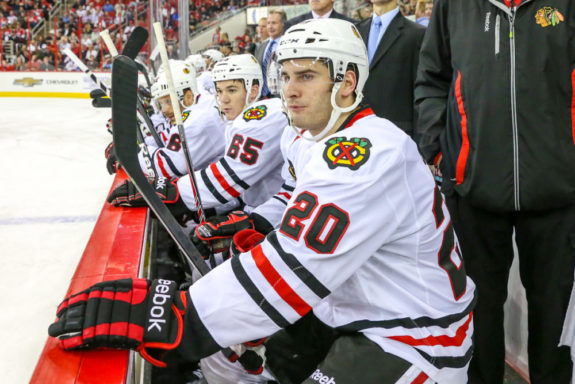 4. Improvement Since First Trade
Saad's stats have improved with the Blue Jackets. Saad had 23 goals and 29 assists in his last season with the Hawks. He improved with 31 goals and 22 assists in the 2015-16 season with the Blue Jackets and 24 goals and 29 assists in the 2016-17 season.
He told the Chicago Tribune of the successful 2016-17 season with the Blue Jackets: "You can't put it on one thing but I think playing well as a team, the depth of our team, we have some new forwards and defensemen that help our depth and obviously our goaltending has been tremendous." He hopes to take his new and improved skills to help the Hawks in the upcoming season.
5. Relationship With Toews
When Saad was on the Blackhawks, he was Toews', right-hand man. Saad is looking forward to playing with Toews again. He told Mark Lazerus of the Chicago Sun-Times: "He's an incredible player and his resume speaks for itself. He's someone I had early success with in my career and that's something I look forward to trying to rekindle. It can only grow from both of us getting better as players the last couple of years. Being able to do more damage and to be reunited would definitely be a lot of fun." The two also share a close friendship which helps their chemistry on the ice. The top line with Saad and Toews will likely be a force to be reckoned with in the 2017-18 season, bringing the Hawks to the potential for another Stanley Cup victory.