As we enter the final 24  hours before the trade deadline we as hockey fans now know it is the season of rumors, sources and hatred of the anonymous hockey bloggers. With all these rumors floating around many Chicago Blackhawks fans have begun to imagine how some "available" players would make the 'Hawks legitimate Stanley Cup contender once again. Names of players the Blackhawks might be interested in include Mikhail Grabovski, Derek Roy, Paul Gaustad, Sheldon Souray, Matt Carle, Toni Lydman and multiple others. So let us look at some of these names and how they could impact the Chicago lineup and if they are a realistic option for the Blackhawks.
Mikhail Grabovski
Rumors have been swarming around Grabovski and his availability via trade for weeks and possibly months. According to GM Brian Burke the Leafs have an offer on the table for Grabovski that is possibly a second round pick. Now Burke could just be posturing and "setting the bar" for any trade that would involve Grabovski but you can tell Burke is reluctant to move Grabovski because of how important he has been to the Leafs this season and if were traded for picks or prospects would likely cripple their playoff chances. As for the Blackhawks Grabovski would slot well on the 'Hawks second line playing alongside players like Marian Hossa and Patrick Sharp, higher caliber players than he has been playing with in Toronto. It would likely take a 1st round pick from the 'Hawks to nab Grabovski but with how poor the 'Hawks power play has been, paying a high price to get a legit 2nd line center would be well worth it.
Sheldon Souray
Add Souray as a new name to the Blackhawks list of potential targets as the Stars seem to be positioned as seller as they are listening on several key veterans such as Brendan Morrow, Steve Ott and Souray. Souray is not the defensive defenseman the 'Hawks desperately need but he is a physical one who has a booming shot from the point. Souray would be a welcomed addition to a terrible power play and would give them a solid defenseman to add to their group. Souray is not the complete package defenseman many 'Hawks fans want but if he could be had for a lower price tag I think the 'Hawks would be remissed to pass on Souray.
Matt Carle
Carle is a new addition to the Blackhawks rumored targets as Andy Strickland of True Hockey said that the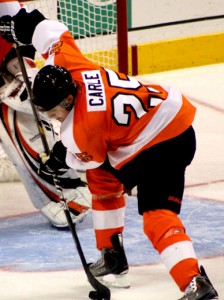 'Hawks have interest in the Flyer blueliner. Carle, 27, is an unrestricted free agent at the end of the season and it has been speculated that the Flyers have been shopping him since acquiring defensemen Pavel Kubina and Nick Grossman. More of an offensive defenseman Carle has 31 points on the season which would immediately put him second among Blackhawks in scoring. Carle is a solid option on the power play and is still defensively responsible, more so that Souray. Carle would likely be the best fit for the Blackhawks as he fits multiple needs for the 'Hawks, however the price for Carle is the one unknown. The Flyers would likely need a strong offer to let Carle go and for Carle only being a rental player I'm not sure if the 'Hawks are willing to pay the price
Toni Lydman
An name brought up by My Fox Chicago's Al Cimaglia just a couple of days ago was Anaheim defenseman Toni Lydman. Lydman, 32, a defensive defenseman who brings an edge to his game has been solid for the Ducks this season. Although he only has 11 points, all assists, Lydman is a solid hitter and the type of physical defenseman the 'Hawks could use on their blueline and on the penalty kill. It is unknown, like with most of the teams, if the Ducks will be sellers at the deadline as they are 7-1-2 in their last 10 games and sit just 6 points out of the playoffs. Lydman's trade value doesn't seem like it would cost the 'Hawks as much as the others mentioned but would be a welcomed addition to a depleted 'Hawks blueline.
So there are a few names to look out for as we enter the final 24 hours before the NHL trade deadline. Now are the 'Hawks poised to get any of these players mentioned? That is a good question, all we can go on is rumors and according to reliable sources of information the 'Hawks have at least been mentioned in the conversation with these players. It doesn't mean these players will be wearing the Indian Head come Monday but with only rumors to guide us the best we can do is just sit and wait patiently, something I know most 'Hawks fans will not be doing.