Bobrovsky Signs 4-Year Extension
The Columbus Blue Jackets have announced that goaltender Sergei Bobrovsky has agreed to a 4 year contract extension, that runs through the 2018-2019 season.  According to Aaron Portzline of the Columbus Dispatch, the deal is worth $29.7 million, for an AAV of $7.425 million.
Bobrovsky has played in 123 games with the Blue Jackets.  He has posted a record of 68-41-13 with a 2.34 goals-against average, and a .924 save percentage.  He also has 10 shutouts and a Vezina Trophy.  Overall in his career, Bobrovsky has a record of 110-64-23, with a goals-against average of 2.50, and a save percentage of .918.
Bobrovsky has been especially good in crunch time.  In his last 2 seasons, Bobrovsky has amassed an astounding 31-10-5 record in March and April.  He has been the main reason why the Blue Jackets have made noise the last 3 seasons.  Although he has yet to win a playoff series, he has proven that he can perform in the playoffs.  He was the main reason why the Blue Jackets pushed the Pittsburgh Penguins to 6 games in last season's playoffs.
#CBJ announce they've signed G Sergei Bobrovsky to a four-year contract extension. It's 4 years, $29.7 million, AAV of $7.425M

— Aaron Portzline (@Aportzline) January 9, 2015
"A common thread of every successful team in our league is outstanding goaltending and we believe we have one of the best at the position in the world in Sergei Bobrovsky," said Blue Jackets General Manager Jarmo Kekalainen.  "He is a tremendous person and a very talented player whose work ethic sets the tone for our team.  We are very happy to have him signed for the next 4 years."
"This is a very exciting day for me and I am very happy knowing that I will continue to be a Columbus Blue Jacket and be able to play with the guys in this room, to work to get better every day and help the team achieve our goals together," Bobrovsky said of his new contract.
Instant Reaction
What is there not to like about this deal?  The very reason that the Blue Jackets are now considered an Eastern Conference threat is Bobrovsky.  The team plays with a high level of confidence when he is manning the nets.  Even with the team dealing with various issues, such as injuries, Bobrovsky has risen to the occasion to help keep the team afloat until everyone returns.  Bobrovsky deserves to be among the highest paid goaltenders.  This is a fair deal for both Bobrovsky and the Blue Jackets.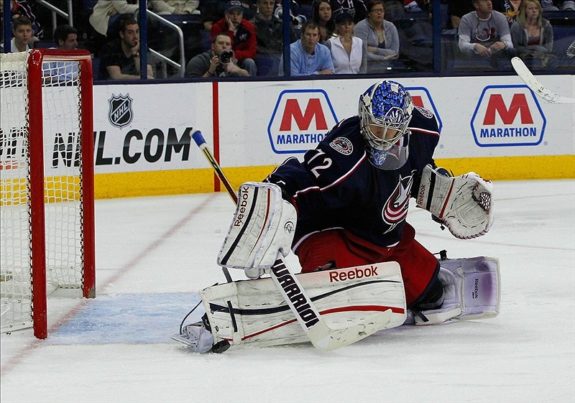 Bobrovsky has also excelled in other areas, such as the World Junior Championships, the World Championships, and the Olympics.  He led Russia to a bronze medal in the 2008 World Junior Championships and to a gold medal at the 2014 World Championships.  Bobrovsky finished the Sochi Olympics with a 1-0-1 record with a 1.15 goals-against average and a .952 save percentage.  There is no stage that is too big for him.
Bobrovsky was slated to become a restricted free agent this coming offseason after signing a 2 year bridge contract.  It was originally reported that a new contract would not be negotiated during the season.  However, the time was right to ensure that the centerpiece of the franchise was locked in long-term.  The future for the Columbus Blue Jackets remains bright.  Signing Bobrovsky is another reason why they will continue to trend upward this season and beyond.