The Leafs might look like a team in disarray right now, having lost a significant number of games recently and fired their coach. Beyond that, their best player is taking a ton of heat (98.75% of which is undeserved) and whether it's the saluting scandal or Bernier's lack of knowledge about world history, the season has been like one long soap-opera and it's not even half way over.
The question everyone is asking is: where do does the team go from here?
Rebuild? Start over? Keep going down the same path?
I'm not even going to go into how many times I've heard "the core" annoyingly referenced this week. As if a team without a top-line centre or defensmen even has a core.
But I have pondered over the question of whether or not to rebuild all year. I have, at various times, recommended the team go after Mike Richards, Tyler Myers or Keith Yandle. I have also suggested trading Kessel and tanking the season to rebuild around Rielly, Kadri, Bernier and whoever those moves bring in. So you're excused if you've been following along and think I'm a bit schizophrenic – but all these really are are thought exercises and I don't believe the Leafs SHOULD trade Kessel, I was just suggesting that it's an idea to consider. And they should consider it, but then they should reject it because you just don't find guys with his talent every day.
So, with that in mind, here's what I would do if I was the Leafs GM today.
1. Kadri is now officially the number one centre.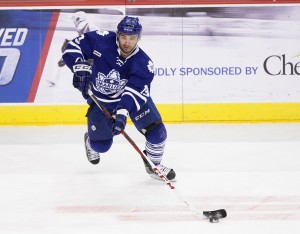 There is no question that Nazem Kadri is the Leafs best centre. To suggest that Bozak is better is just ridiculous. Kadri is a better skater and passer, he has a better shot, is more creative, has better hockey sense, is more intelligent on the ice and to top it off, he draws a ton of penalties.
Kadri currently has a CF% of 50(all stats from stats.hockeyanalysis.com) which is spectacular consider the Leafs are one of the worst possession teams in hockey. Every player that he has played 100 minutes of even strength ice time with this season improves their possession rating when he is on the ice.
So not only would I make Kadri my top centre and give him the most ice time on the team among forwards, I'd make him the first centre on the ice on the PP, I'd use him on the PK and I would re-sign him to a six year $36 million dollar deal, of which he'd be worth every penny.
2. Trade Lupul
In order to fit Kadri into the budget, I would then trade Lupul to any team that would take him. I consider any return for him a bonus as I just want to desperately rid myself of his contract.
3. Trade David Clarkson
If you want to trade David Clarkson, you have to get creative. Now, I know that this would be controversial, but I would trade Clarkson, Booth and a first round pick in 2016 to any team that would take him in exchange for a 6th round pick.
It might sound stupid at first, but here me out: A first round pick – assuming you make the playoffs – is not likely to end up as good as Cody Franson who you can retain if make this trade and who you risk losing if you don't.
4. Re-sign Cody Franson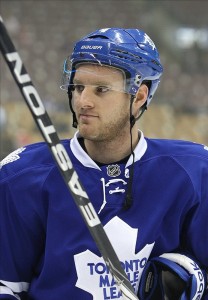 I would offer Franson a long-term contract similar to the one Kadri would hopefully accept – around $6 million for five or six years.
5. Trade James Reimer. Re-sign Bernier. Sign random back-up
If my math is wrong,  you'll have to forgive me since CapGeek.com is no more, but I think that Lupul, Clarkson, Booth, and Reimer add up to a cap hit of approximately $13 million. The current deals of Bernier, Kadri and Franson to $9. Meaning that you can give all three about $6 million per year and still have $4 million left over.  Let's say one million for the rando back-up and $3 million left over.  Reimer goes for a pick, by the way.
6. Trade Tyler Bozak to the Kings for Mike Richards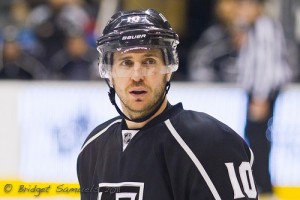 Do this deal if the Kings agree to take enough of Richards salary to make it a wash. Maybe they want a second rounder or whatever to spice it up, and to that I say go for it. Richards as the Leafs second-line centre and main penalty killer would be amazing. All the leadership questions would end and the Leafs would have a player who is a great all-round player with tons more offensive upside than Bozak and about one-million times more defensive upside.
7. Scour the League for takers for Polak and Robidas
Robidas might be a great leader, but he's too much of a liability on the ice to really be effective in the role and his contract is the second or third worst move Dave Nonis ever made. He is clearly no longer even replacement quality, and for that matter, neither is Polak. You'd find a home for Polak no problem, but it may be difficult with Robidas. If I couldn't move him, I'd make him defensemen number seven and he'd rarely see the ice.
8. Make blockbuster trade with Coyotes
This is the piece de resistance of my entire plan:
I would send James Van Riemsdyke, the 2015 first rounder and Jake Gardiner to the Coyotes for Keith Yandle and Martin Hanzal. Keith Yandle is a possession monster and criminally underrated. He would give the Leafs their long sought elite, number-one defenseman. Hanzal is also underrated and is one of the biggest centres in hockey and one of the toughest down low players.
Yes, it hurts to give up the pick and JVR is great, but he is also one of the worst defensive hockey players in the world and besides, you have to get to give. This trade helps both teams, and the only risk is that Toronto would still miss the playoffs and subsequently win the draft lottery. I don't think they'll miss with Yandle in the fold, so I'd go ahead and try it.
Final Result:
The final results of my eight step plan would be as follows:
Forward:         Holland –  Kadri –     Kessel 
                             Santorelli – Richards – Nylander (next year; mix and match for now) 
                           Komarov  – Hanzal –    Pannik
                              Ashton-     Smith –     Leivo 
Defence:         Yandle – Phaneuf
                          Rielly  – Franson
                         Percy –     Grandberg 
Goal: Bernier,  Rando Backupski 
It is my belief that this team would be far superior to the current Leafs team. For one, Yandle and Richards would settle all the questions about character and leadership, as well as making the Leafs a vastly superior possession team. Beyond that, I don't think you'd lose a step at all swapping out guys like Lupul for Holland or Clarkson for Pannik.  Down the middle the team is as solid as its ever been and depending on Kadri's ability to run with the top line job, potentially as good as all but a few teams in the NHL.  The defense is fast, mobile and extremely adept at moving the puck. Overall it'd be a fast team with just enough grit, one I think could compete.
To top it all off, the Leafs would be in far superior cap position which would allow them to adjust this roster going forward.
Could this team compete for a Cup? I think it'd be one of the best teams in hockey.