The Boston Bruins acquired right winger Brett Connolly at the trade deadline last season in exchange for two second-round draft picks. However, due to an injury he sustained in his first practice with the Bruins, he was limited to only five games with the black and gold, those being the final five games of the season. As a result, some Bruins fans are know very little about Connolly, especially given the fact that he started on the Bruins' fourth line.
The 23-year-old was drafted by Tampa Bay in 2010 with the 6th overall pick. Since then, Connolly has appeared in 139 regular season games, all of which were with the Lightning (other than his five games with Boston last season). Last year, Connolly put up fifteen points in fifty games. While Bruins fans may not be blown away by fifteen goals, Connolly there's a couple of other details that making Connolly extremely interesting.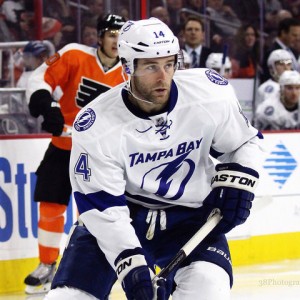 Last season, Connolly shot at 16.2% with the Tampa Bay Lightning. That nearly doubles the league's average shooting percentage for last season, which sat at 8.9%. That's nothing but good news for Bruins fans. Meanwhile, Connolly averaged 12:09 of ice time per game, which is relatively low.
However, his ice time will certainly see a rise this season, especially given the fact that Connolly is a likely candidate to make the jump to Boston's second line, alongside David Krejci. With more ice time comes more responsibility, however, there's a big window of opportunity approaching for the young forward.
"It's exciting," Connolly said in early July, per NESN.com. "It's good to get it out of the way. I'm very, very excited for this season.

"Obviously, kind of a fresh start for the organization, moving a few guys, so it's a good opportunity for me and I'm very excited to be a part of the Bruins — such a historic franchise — and it will be a good, fresh start for me. Obviously, last year was a little weird, but it will be good to get there and get going."
Connolly is certainly aware of the position alongside David Krejci, and has his eyes on the spot. With a fresh start in Boston, Connolly has the opportunity to really make a splash in Boston. That being said, success will come as a result of hard work, and Connolly is well aware of that as well.
"You know, there's a lot of good players, and up top, that's obviously where you want to be and I know that's where my game can be, so I'm excited for the opportunity," Connolly said. "You know, I've been working very hard this summer to be in the best shape possible to have a good start and come into training camp and be in good shape and be ready to play more minutes and be a contributor, help the team win, and I'm excited to get down there and help them do that."
When Connolly hits the ice with the Bruins this fall, I would certainly keep a close eye on him. He has the potential to be a very important player for the Bruins this season, especially if he finds himself next to Krejci on Boston's second line.
What do you think? Will Connolly step up for Boston?