The Pittsburgh Penguins are a team which their fans have realistic hopes of a Stanley Cup run each and every season. That success and hope in the city came from the ground up. The Penguins were built from scratch, using multiple high draft picks, including two 1st overall picks and a 2nd. They showed how important it is to draft well, not only in the first round, but throughout all seven. With that mentality, the Penguins go into each draft knowing that the fate of the future is in their own hands.
However, with only one first round pick in the last three drafts, and their 2016 first round pick going to Toronto if they make the playoffs, the Penguins prospect pool is fading into a lacklustre one. Although they certainly have their share of nearly NHL ready prospects, their system is filled with too many long-term prospects that are very uncertain to develop into full-time NHL players.
With Derrick Pouliot and Olli Maatta, both 2012 first round picks, already making their NHL debuts and looking like sure-fire Penguins for many years to come, it isn't a terrible situation in Pittsburgh. But, they did trade away Kasperi Kapanen and Scott Harrington in the Phil Kessel trade, one that leaves a major void in their system.
Nonetheless, the Penguins Top 5 Prospects feature a very promising defenceman, two potential starting NHL goalies and a couple of long-term forwards that could turn out to be hidden gems.
1: Derrick Pouliot – Pittsburgh Penguins – NHL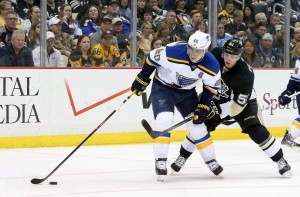 34GP, 2G, 5A, 7PTS, 4PIM, -11

Derrick Pouliot got his shot in the NHL last year in December and again in February until the end of the regular season. In those game, Pouliot showed excellent composure and remained calm to play the game his was drafted for. The former eighth overall pick is a very mobile defenceman who hones his game around his skating and transition game. Pouliot loves to take the game from his own end into the offensive zone, whether using his lower-body strength to carry the puck, or starting a breakout. He also has a great shot from the blue line and is willing to take minor risks to create scoring opportunities. He looks like a future top-four defenceman with offensive upside.
2: Matt Murray – Wilkes-Barre/Scranton Penguins – AHL
40GP, 25-10-3, 1.58 GAA, .941 SV%

Matt Murray could be the most exciting Penguins prospect. The 2012, 83rd overall pick was names Goaltender of the Year in the AHL this year and also Rookie of the Year. Despite his outstanding performance, the Penguins have already announced that the will allow him to develop in the AHL for at least one more year. Murray is an athletic goalie who has good lateral movements. He uses his size to cut down shooting angles and deflect rebounds into the corners. He sees the puck very well through screens and has the agility to make second and third saves. To become a potentially elite goalie, he could work to become a better puck handler. Murray definitely has the potential to be a starting goalie in the NHL.
3: Daniel Sprong – Charlottetown Islanders – QMJHL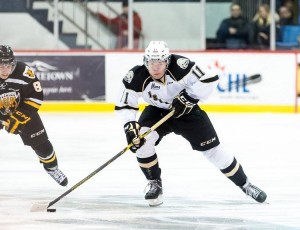 68GP, 39G, 49A, 88PTS, 18PIM, -23

The Penguins first pick of the 2015 NHL Draft was Daniel Sprong at 46th overall, making him the first ever Netherlands-born player to be taken in the NHL Draft. Coming off of a solid season in Charlottetown in which many facets of his game noticeably improved, Sprong was expected to go near the end of the first round. He is a highly skilled winger who will put up great offensive numbers. Not only is his skating electric, but he is terrific with his stick. He can use his quick hands to dangle through defenders or use his vision to dish out pinpoint passes. Strong has the potential to be a second or third line forward in the NHL, putting up 20 goals and 40-50 points a year.
4: Tristan Jarry – Edmonton Oil Kings – WHL
55GP, 23-26-6, 2.74 GAA, .907 SV%

Tristan Jarry, the 2013, 44th overall pick by the Penguins, already has winning experience coming up with the Edmonton Oil Kings who have won the WHL championship in two of the last four years, including a Memorial Cup win in 2013-14. Murray is a technical goaltender who will make saves using his outstanding positioning and composure to control rebounds. Like Murray, he uses his size to cut down angles and force shooters to take bad shots. He is already a strong puck handler is not weak in any one area. If his development continues strongly, Jarry also has the potential to become a starting goaltender in the NHL.
5: Scott Wilson – Wilkes-Barre/Scranton Penguins – AHL
55GP, 19G, 22A, 41PTS, 30PIM, +14

Although Scott Wilson went underrated in 2010 and was available with only three picks remaining in the 2011 NHL Draft, he has proved his critics wrong for the following four seasons, skyrocketing himself into the Penguins depth charts. Wilson is a strong two-way forward who uses his impressive hockey sense to make himself a threat. He has a natural drive for the net and also possesses a strong snap shot. He uses his sense to read plays quickly and adapt instantly. Wilson has good lower-body strength and uses it well in puck battles along the boards. He could become a full-time NHL player in 2015-16, slotting in the hole in the Penguins fourth line, with the potential to become a third liner.
---
All in all, although the Penguins don't boast any potential superstar prospects, they still have a bevy of NHL-calibre players who could make their debuts within a few years. Their system is strong in-depth forwards and very exciting goaltenders, but they will need to draft an elite talent within the next two years. If not, they could be in deep water once the likes of Crosby and Malkin begin to age and cannot carry the team any longer.
Is there another Penguins prospect you believe should be on their radar? Let us know in the comments below!
For any questions, comments, or concerns, you can contact Devin Slawson on Twitter @SlawsonTHW.