After a quiet offseason since early June, things got busy for the Boston Bruins and general manager (GM) Don Sweeney Monday. In a span of four hours, the Bruins announced that Patrice Bergeron and David Krejci are returning on one-year contracts for the 2022-23 season. Later Monday afternoon, it was announced that the team and Pavel Zacha avoided arbitration and agreed to a one-year, $3.5 million contract.
Related: Bruins Sign Patrice Bergeron to a 1 Year Contract
The keys mentioned above are Bergeron and Krejci. If neither player was going to return, it would put the Black and Gold in a tough spot for the upcoming season and beyond. Instead, they have two of their longtime veterans coming back for another year, albeit both are over 35 years old, and with the current roster being constructed, there are going to be some players who could very well benefit from Bergeron and Krejci's return. It could be a long list of the players that will benefit, but these players stand to benefit the most in 2022-23.
Pavel Zacha
When Pavel Zacha signed his one-year contract with the Bruins on Monday, he will provide the Black and Gold with some much-needed top nine depth, but with Brad Marchand missing the beginning of the season, he could very well find himself playing a big role in the top six.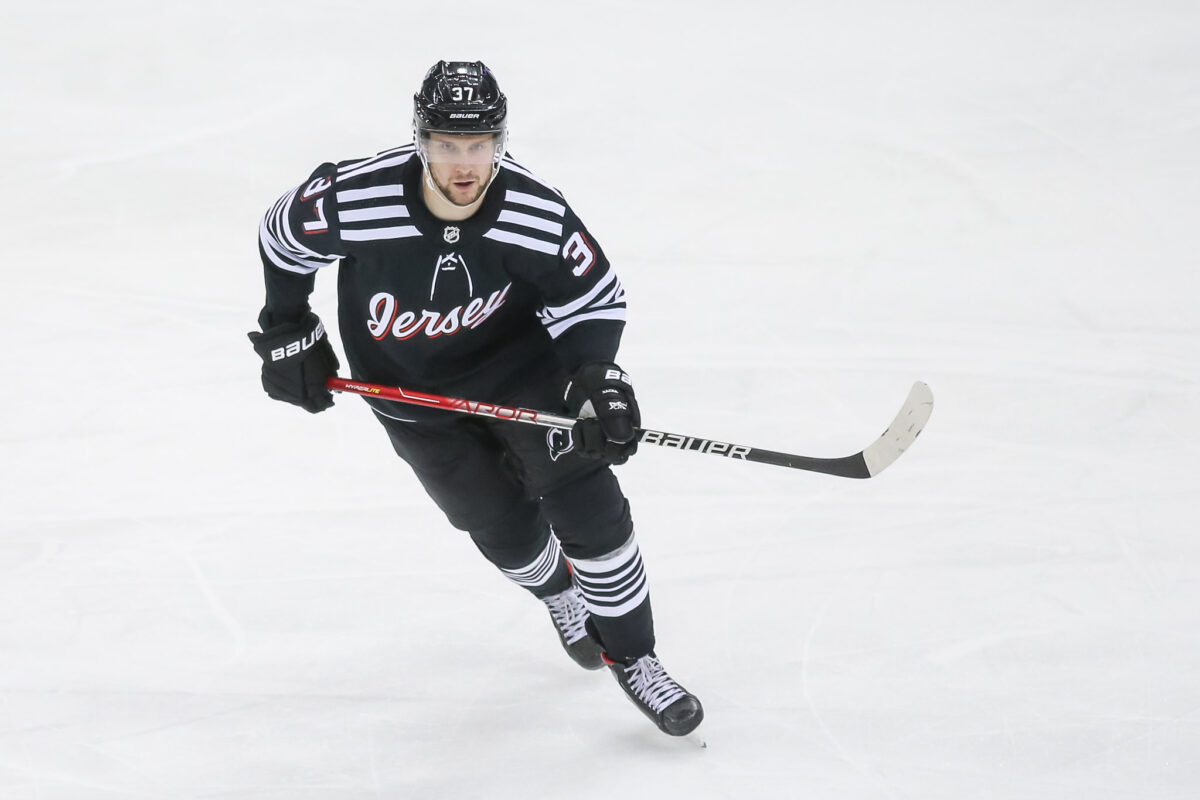 In his time with the New Jersey Devils, there was not a lot of opportunity for the sixth overall pick of the 2015 Entry Draft to play with playmakers as good as Bergeron or Krejci. Now with him locked up following the July trade from the Devils in exchange for Erik Haula, he has a chance to find his offensive game in the top-six until Marchand returns in November. Zacha has the potential to be a difference maker offensively and playing beside two of Boston's top-two playmakers at the beginning of the season could benefit the 25-year-old for the rest of the season with some confidence.
Jake DeBrusk
During his time with the Bruins, Jake DeBrusk is one player that has benefitted from playing with both Bergeron and Krejci. During his final couple of seasons in Boston before he left last season to continue his career in his home country of the Czech Republic, Krejci had consistency on his left with DeBrusk, while finding the right fit on his right side was always an issue for Sweeney. DeBrusk scored his career-high 27 goals in 2018-19 on the second line with Krejci.
Last season in late February, DeBrusk was elevated to the first line with Bergeron and Brad Marchand on the right wing and he took off playing with the two veterans. On a West Coast trip in late February and early March, DeBrusk recorded his first career hat trick in a win over the Los Angeles Kings, scored an overtime goal in a win over the Seattle Kraken on a nice individual effort, and became a different player over the final two months of the regular season.
After requesting a trade last season, he rescinded his request with Sweeney over the summer and wants to remain with the Black and Gold. With Marchand down to begin the season recovering from offseason double hip surgery, DeBrusk is expected to be a big part of the Bruins' top six. As long as he's in the top-six with either Bergeron or Krejci, new coach Jim Montgomery is hoping DeBrusk can be the DeBrusk of 2018-19 and the final two-plus months of 2021-22.
Charlie Coyle
No, you're not reading this wrong. Of all the players on the current roster, Charlie Coyle stands as maybe the top player to benefit from Bergeron and Krejci coming back for another season. Why? It's simple really and all you need to do is look back to 2021-22 to see why.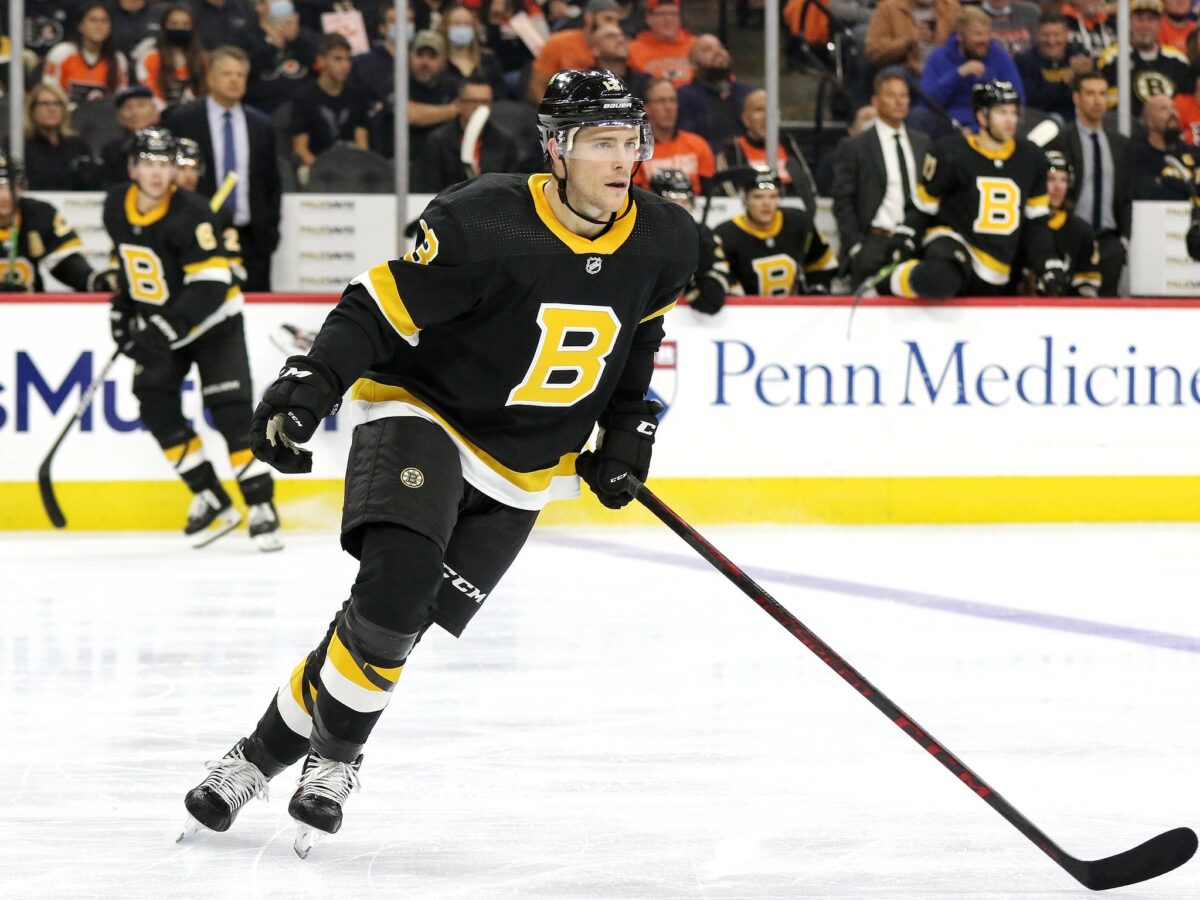 When Krejci left last offseason, the Bruins never addressed the second-line opening and had Coyle and Jack Studnicka battle for the spot in training camp. Coyle missed a majority of camp, but was still given the nod over Studnicka and things did not go well. Coyle struggled despite playing with Taylor Hall and Craig Smith and it was not until Jan. 1 when former coach Bruce Cassidy switched around the lines that the Boston native found his home. Coyle was dropped to the third line with Trent Frederic and Smith and they became a producing line and at times they were the Bruins' best lines on certain nights.
Haula slid into the second-line spot with Hall and Pastrnak and fit in well, which allowed Coyle to play where he fits best in the NHL, a third-line center. His contract carries an average annual value (AAV) of $5.25 million, which is a high AAV for a third-line center, but that's where he fits best and with Bergeron and Krejci back to solidify the top-six, that will take pressure off of Coyle this season.
Related: Bruins Sign David Krejci to a 1 Year Contract
There could be other players that could be on this list, but these three stand to benefit the most from the return of Boston's top two centers. Does bringing back Bergeron and Krejci solve the Bruins' long-term needs at center? No, but if they are going to be contenders for a playoff spot this upcoming season in a much-improved Atlantic Division, their return can help Zacha, DeBrusk, and Coyle in 2022-23.
---

---
---
Latest News & Highlight
---