To say this offseason has been a rollercoaster of emotions for Calgary Flames fans would be a rash understatement. After all, when was the last time the team saw their two best players and alternate captains depart in the same year? Johnny Gaudreau and Matthew Tkachuk were heart-and-soul players for the Flames, spending eight and six seasons with the team, respectively. The two men bled red, yellow, and white, and many fans came to games to see exciting players such as them and the team's success with them in uniform.
However, Gaudreau will be a Columbus Blue Jacket and Tkachuk a Florida Panther come the 2022-23 season. Eyes all across the league paid close attention to southern Alberta and what direction the team would take. General manager Brad Treliving and his staff had their work cut out for them this summer, to say the very least. Gaudreau walked as an unrestricted free agent, Tkachuk wouldn't re-sign and wanted a trade, and defensemen Erik Gudbranson left to Columbus as well. Not to mention instrumental players such as 35-goal scorer Andrew Mangiapane, aspiring offensive defensemen Oliver Kylington and the big, bruising blue-liner Nikita Zadorov were all in need of new contracts, among others.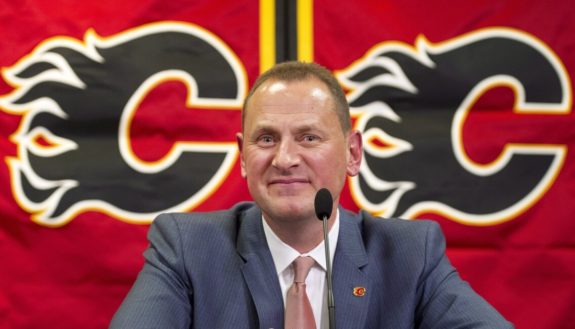 Flames faithful were pulling hair and chowing down on nails in anxiousness as this was shaping up to be a pivotal moment in franchise history, and potentially a negative one at that. What followed was an absolute masterclass on being an NHL GM taught by Treliving, if you will. His navigation through muddy waters can be broken down into two imperative categories.
Treliving's Asset Management
The first area of concern for Treliving and co. was trying to recoup as much on-ice value as possible. Gaudreau was never going to get traded at the deadline, being that he had spent the entirety of his career with the Flames and the team was competitive, winning the Pacific Division title with 111 points. He turned down an eight-year, $84 million contract to stay in favour of a seven-year, $68.25 million deal in Ohio and left the Flames with nothing but memories.
Tkachuk decided he also wanted a change of scenery, and fans were justly worried as few trades involving a player of that caliber ever go in favour of the team losing him. His hometown St. Louis Blues were reportedly in the mix. Other teams likely lowballed in an effort to acquire the 24-year-old superstar, knowing he wanted out and thus having leverage.
Related: Flames Need To Get an 'Eichel-like' Return for Tkachuk
However, Treliving secured fellow superstar Jonathan Huberdeau, top-two defensemen Mackenzie Weegar, prospect Cole Schwindt and a 2025 first-round draft pick. Huberdeau tied Gaudreau's 115 points last season and will help offset some of the offence lost. Weegar is a right-shot, minute-munching, two-way defenseman used to playing on the top pair with All-Star Aaron Ekblad.
Even Schwindt is no slouch, with many professional scouts seeing him becoming a solid NHLer for a long time, and then the first-rounder is the stereotypical gravy. To top it off, Treliving retained every other free agent Flame to player and team-friendly contracts, which is often complicated work. Kylington and Zadorov received two-year deals worth $5 million and $7.5 million, respectively, and Mangiapane to a three-year deal that pays him $5.8 million annually. For what each man brings to the table, these contracts are more than fair.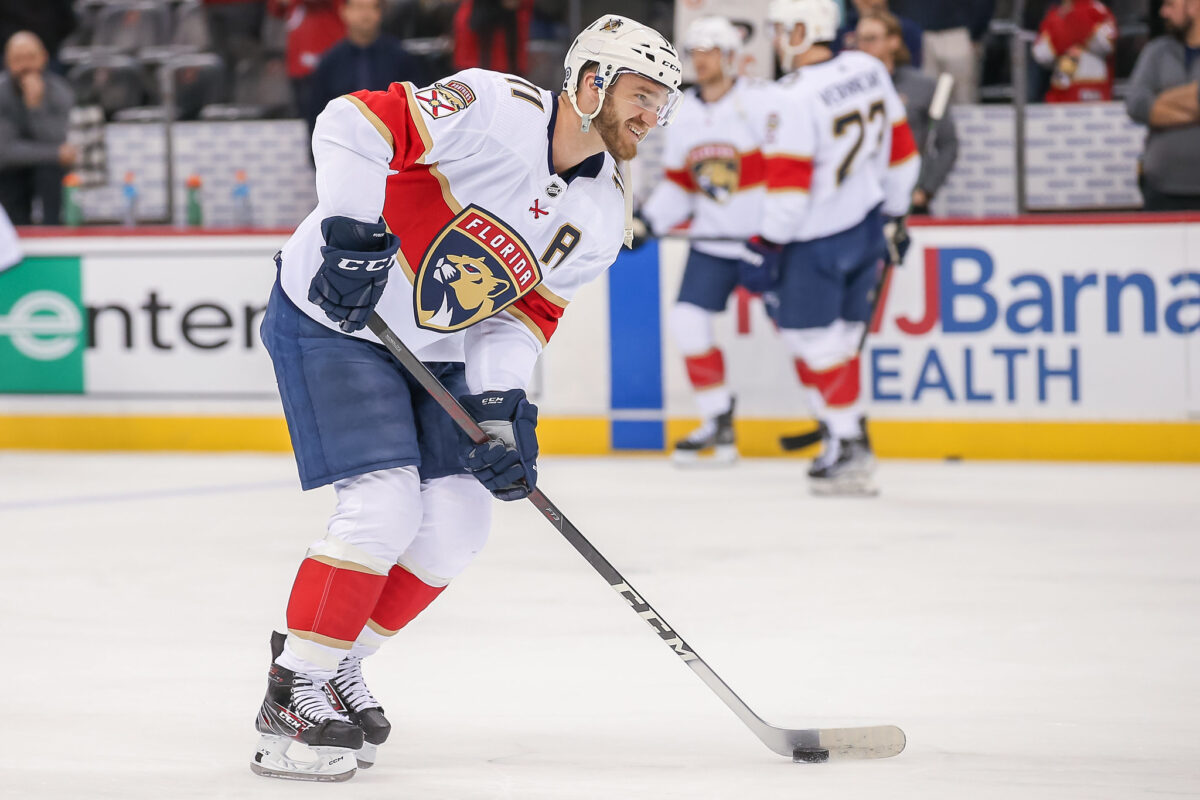 Kylington put up 31 points in 73 games from the back end in a second-pairing role, and Zadorov placed second on the team in hits. Mangiapane broke out with 55 points in all 82 games and will likely have an increased role in the top-six. In addition, Treliving got Huberdeau to sign the eight-year, $84 million deal that Gaudreau rejected in the beginning.
If Weegar gets re-signed, being that he is an unrestricted free agent after the upcoming campaign, the Flames and Treliving will surely be the winners of the Tkachuk trade if they are not already. Weegar has already indicated a desire to negotiate, and the addition of his prowess bolsters a defensive core that allowed the third-fewest goals in the league. The projected lineup looks a lot better than it did at one moment or another, and the front office still has $2,761,667 in cap space to work with.
Flames Public Image Maintenance
The second and arguably more substantial classification is that of saving face in a time of acute pressure. Treliving displayed little to no panic in how he conducted himself in media interviews all throughout what could have potentially been the beginning of a roster teardown. He provided reassurance to Flames fans during a time when obscurity was realistically threatened. Had Gaudreau walked, Tkachuk's return been unspectacular, and one or more of the other free agent Flames priced themselves out, the team would have certainly been close to starting from scratch.
Furthermore, with the two stars leaving being Americans, it drew an adverse narrative that men such as these do not enjoy playing in Calgary, something that Treliving vehemently denied in public. He was quoted as saying, "a lot has been written, talked about and discussed over the last week about Calgary, and quite frankly, I think the city and the organization have taken some body shots. Quite frankly, it pisses me off. A lot has happened(…) We've got to let everybody take a deep breath, and we'll continue to move forward here."
It is tremendously favourable to hear such a vote of confidence whilst undergoing a roster shakeup and potential identity crisis. He reiterated the city's positive moral character and likability with players, stating, "I think anybody that lives here is privileged to live in a wonderful community."
Ridding the rumours of negativity was just as important as retaining talent, and Treliving executed terrifically on both fronts. There can be no anecdotes of poor hospitality or reception for a professional sports team, as minimal free agent interest will be generated, and players with no-move clauses in their existing contracts will veto any trades to such a team. Even drafted talent can depart after their entry-level contracts expire and they refuse to re-sign. A domino effect follows with the on-ice product suffering, fans losing interest, and revenue dropping. None of this will be the case for Calgary, and fans have Treliving and his staff to thank for it.
---

---
---
Latest News & Highlights
---