The narrative has always been that Patrice Bergeron was the underrated one. And that's true–or it least it used to be. Nowadays, you can make the argument that Bergeron is no longer overlooked as an elite talent at the NHL level, with his 11-game point streak (9 goals and 6 assists) serving as the big exclamation point.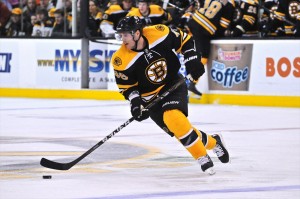 Factor in David Krejci, who leads all Bruins with 66 points (17 goals and 49 assists) in 78 games, and it's easy to see that Boston is well-equipped with two number one centers who can serve as game-changers and elite talents in the NHL.
Both Bruins centers played a big role in Saturday's 5-2 win over the Philadelphia Flyers, with Bergeron winning a key offensive zone faceoff that led to an assist on Johnny Boychuk's game-winning goal. Krejci opened up the Bruins' scoring and later added an assist on Milan Lucic's first of two goals in the game.
"I've tried to play the same game from the first minute to the end," said Krejci. "It's really hard to stop our team when we're playing pretty good hockey. So I feel, especially in the second and third, we kept putting the puck deep and we had a good forecheck."
After the game, Bruins head coach Claude Julien complimented Krejci's game and the success that he has found all season long, commenting that it's the most consistent he's seen him play since his tenure began in 2007-08.
"He's been good for me all year," said Julien "He had jump. I gave him the day off yesterday and he probably took good care of himself and felt good. Some days, you know, there's some games guys really feel good. They go out there and they feel like they're light on their skates and everything else, and the other guy beside him might feel like he's got heavy legs. And when David feels good about himself and he's got his legs going, he becomes that much of a better player.
"We know he's skilled, we know he's got great vision, he can make unbelievable plays, but when his feet are moving — and I've said that many times in the past years — he's that much better. Tonight was one of those nights where I think he felt it."
The Bruins' win clinches the top seed in the Eastern Conference and guarantees home-ice advantage up until the Stanley Cup Final, should Boston advance that far. It's the first time since the 2008-09 season that the Bruins have earned the top seed.
"We wanted to do but it wasn't really our main goal, everyone knows what our main goal is," said Tuukka Rask who stopped 24 shots for his 35th win of the season. "But it's good to finish off first. We still have a few games left and try to finish strong and then really feel good about going in to the playoffs."
The Bruins play five more games, four of which come on the road, before their 2013-14 NHL season concludes next Sunday.