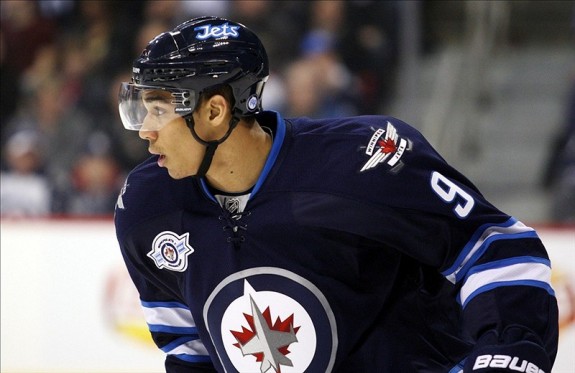 "It's just a coach's decision," said Paul Maurice.
He was referring to Evander Kane being a healthy scratch for the Winnipeg Jets' Saturday night showdown in Toronto against the Maple Leafs. But, could there be something more to the story?
So the #NHLJets scratch Evander Kane the game AFTER they're eliminated from the playoffs? That'll show him.

— randy turner (@randyturner15) April 5, 2014
Controversy has found Kane one way or another in recent years. From tweeting a picture of himself in Las Vegas with a stack of money to the miscommunication between himself and former head coach Claude Noel. Perhaps these issues are overblown by the media at times. But regardless, one thing is certain, Kane can play a lot better than he has this season.
He notched 30 goals in 74 games in 2011-12. He followed that up with 17 in 48 games in the lock-shortened 2013-14 season. This season he has just 17 goals in 60 games and holds a minus-nine rating. Yes, he's had injuries and yes he's still had a physical impact, but overall it's been a disappointing campaign.
That said, has his play been that poor of late that he deserves to be scratched?
The Vancouver native has just two goals in his past 21 games, however he's racked up four assists in his past six contests. He looked good, but not great during that stretch. It doesn't help that injuries have forced him to play with a variety of linemates. It's hard enough to find the right players for Kane to gel with when everyone's healthy.
As for his playing time, there was a decline in recent games. Kane is averaging over 20 minutes per game this season, but topped the 20-minute mark just once in his previous six games. But it's a slight decline, 19 minutes one game and healthy scratch the next? Not exactly a common occurrence in the NHL.
On Thursday news broke that Kane is being sued by a Vancouver man who claims to have been assaulted by the Jets forward last summer, according to CBC.ca. However, he does not face criminal charges and a True North Sports and Entertainment spokesperson wouldn't comment, stating the matter had nothing to do with the team (per CBC).
Outside bbqing but just walked inside to hear Jim Hughson call Evander Kane a "$5.2 million healthy scratch."

— gary lawless (@garylawless) April 5, 2014
Jim Hughson and Craig Simpson of CBC's Hockey Night in Canada spoke about the scratching a few times during the game, which the Jets won 4-2. Simpson wondered what the move could mean for next season.
Hopefully, none. Kane is just 22 years old and one down-year is just that, one year. Kane could, and probably will, bounce back next season and look more like the 30 goal scorer of the past. The bigger issue for the Jets is figuring out how to get the best out of him.
Although he won't discuss a contract until the offseason, there's certainly a chance Maurice returns behind the bench in 2014-15. We may never know exactly why Kane was scratched, but Maurice did have this to say after the game.
Maurice on what Evander Kane must do to get back in lineup: "Probably just come to the rink."

— Hockey Central (@SNHockeyCentral) April 6, 2014
Simple, right?
Eric is a postgraduate public relations student at Humber College. Prior to that he obtained a bachelor's degree in communication studies from the University of Windsor. He covers the Winnipeg Jets for The Hockey Writers and is a featured columnist for Bleacher Report.