A year and a half ago things were looking pretty bleak for Jake DeBrusk. The 2015 first-round draft pick, who was projected to become a 30-goal scorer in the NHL someday, had lost his touch and was even a healthy scratch on more than one occasion. Still in his mid-20s, it was starting to look like maybe the winger needed a change of scenery. Fans and analysts clearly weren't the only ones thinking that as it came out in Dec. 2021 that DeBrusk himself had requested a trade.
Related: Bruins Trade With Capitals Addresses Glaring Playoff Need
---
Latest News & Highlights
---
Since that trade request became public, things have turned around for him though. It's been almost exactly a whole calendar year since DeBrusk was moved up to the top line to play with Patrice Bergeron and Brad Marchand, and it has made a world of difference.
One of the major contributing factors to the Bruins' historic run so far this season is that they have truly found the right spots for guys to succeed, and DeBrusk is a perfect example of that. A year ago, people were ready to run him out of town, and now, the team couldn't have waited a second longer to get him back from his injury. His play has truly been one of the highlights of a season full of them.
Getting it Together on the Ice
The problems really arose for DeBrusk during the 2020-21 season. He was in the first year of a two-year, show-me-type deal that carried an average annual value (AAV) of $3.675 million. The pressure was certainly on and when he didn't perform, the criticism was high. In 41 games that season, he had only five goals and 14 points, a far cry from his 27 goals in 68 games in the 2018-19 season.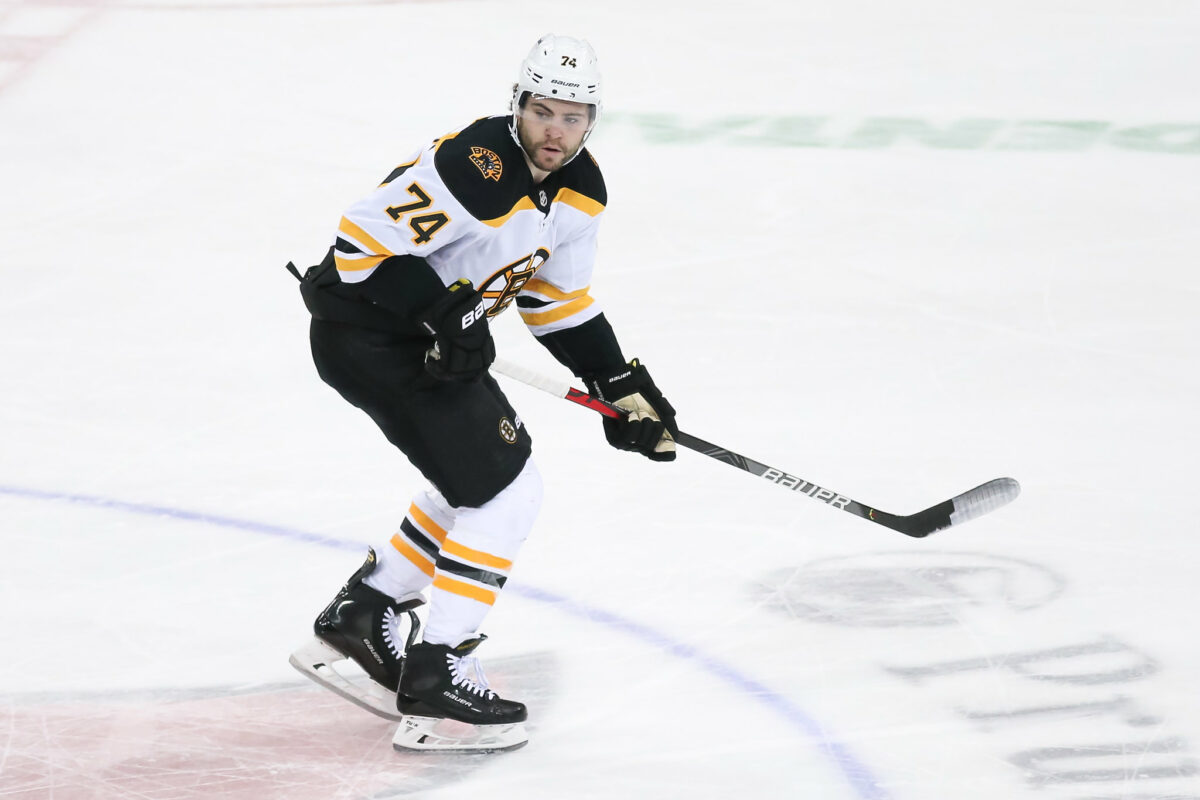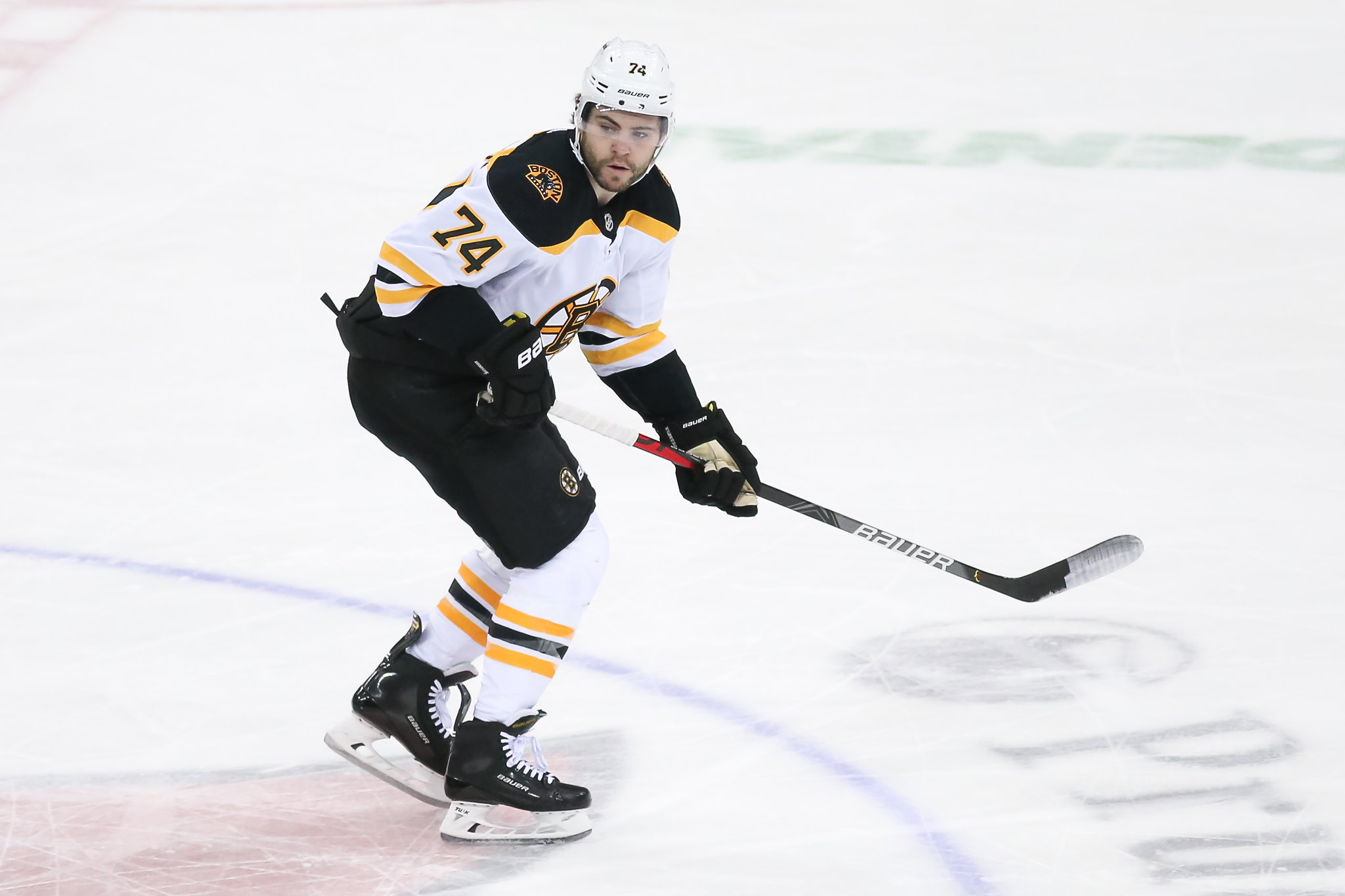 DeBrusk was played up and down the lineup that season, but nothing seemed to click and he spent some time in the press box as a healthy scratch. Going into the 2021-22 season, it was obvious he needed to bounce back in a big way. He was once again looking at restricted free agency at the end of the season and how he played that year with all eyes on him could really be an indicator of the future of his career. Things didn't get going right out of the gate though. He went on a seven-game pointless streak within the first 12 games and reached December with only three goals. 
But, DeBrusk was able to turn it around. He started to get some momentum going in Jan. 2022 and once he was moved onto the top line in February, it was like he was a completely different player on the ice, back to what he was in 2018-19. With the steps forward he was taking, the team held onto him at the trade deadline, despite many thinking he would be gone in the weeks leading up to it. After only having four goals in the first 20 games of the season, he finished 2021-22 with 25 goals and 42 points in 77 games. 
The Bruins signed him to another two-year deal, this time with an AAV of $4 million and DeBrusk rescinded his trade request. Since moving to the top line last February, he has taken several big steps forward in his game and shown that he more than has the potential to be a 30-goal scorer in the NHL, like he was projected to be in his draft year. It hasn't been an easy few years for him, but things have come together in the last year and he has now become an essential part of this team.
Why He is Essential to the Bruins
DeBrusk's story is a great example of what happens when guys are put into a position to succeed. Head coach Jim Montgomery and the rest of the Bruins' staff have been able to do just that and as a result, DeBrusk has really been able to reach his true potential this season and be not just an effective player, but an essential one. It is no coincidence that the team's roughest patch came while he was out for several weeks with injuries he suffered during the Winter Classic back on Jan. 2.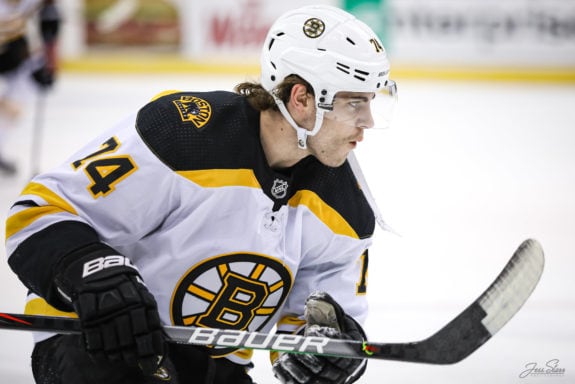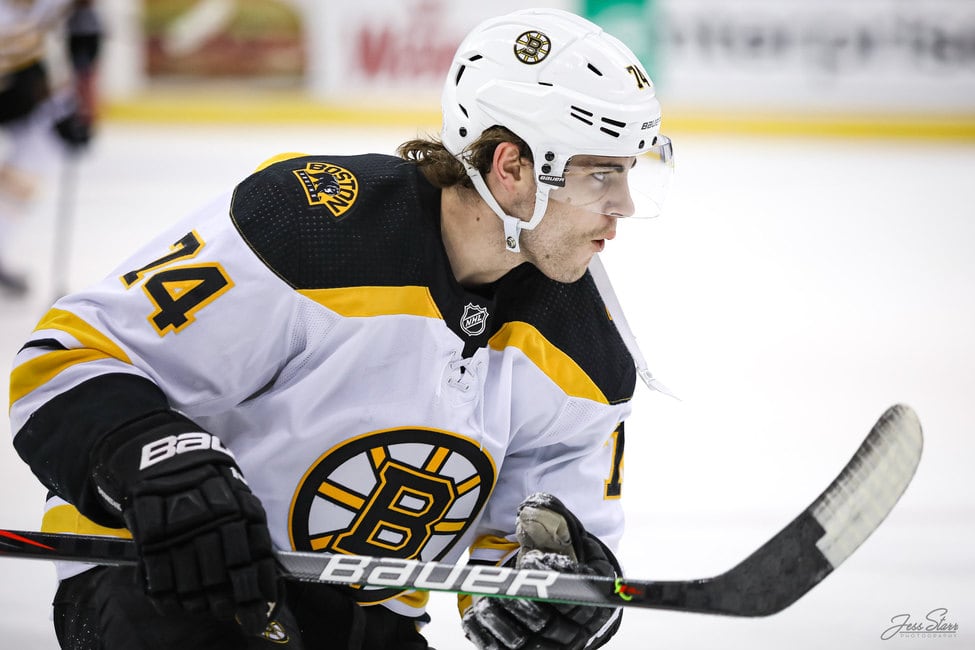 DeBrusk has a natural scoring touch and the speed that is essential to a team that skews a little older (though of course, the older guys like Bergeron continue to showcase their elite status). He's a strong presence on both the forecheck and on the powerplay, which has been the weakest area of the Bruins' game this season. He's shown that he is a serious threat whenever he is on the ice. 
As mentioned, one of the Bruins' keys to success has been finding the right places for guys to be up and down the lineup. DeBrusk slotting in on the first line has made way for the incredible emergence of the Czech line of David Pastrnak, David Krejci, and Pavel Zacha on the second line, and moved Taylor Hall down to the third line, where he has also found great success this season. The team has scoring depth and DeBrusk's presence on the first line has had the tremendous ripple effect of stabilizing the rest of the lines and giving the Bruins depth like they haven't seen in years.
When DeBrusk is out of the lineup, the forward lines are just not quite as effective as when he's there. His presence brings stability on the ice and on the scoresheet. In the four games since his return, he's had three goals, including the game-winner against the Seattle Kraken with only 1:38 remaining.
What Comes Next for DeBrusk?
Since completing his entry-level contract, DeBrusk has subsequently signed two "show me" deals: short-term contracts to see what he can do and if he should be signed to a longer-term deal. Given how well he has played in the last year, he should be expecting a bigger paycheck and a longer term for his next contract. If he finishes this season with 30 goals despite missing time for his injuries and can start strong next season, don't be surprised to see a 5-6 year contract with an AAV around $6 – 6.5 million. A good comparison would be Alex DeBrincat, whose current deal has an AAV of $6.4 million. 
Related: 3 Bruins Players Who Could Be Moved at the 2023 Trade Deadline
The Bruins have a real shot at making a run at the Stanley Cup this season, but with a number of important pieces like Bergeron and Krejci potentially retiring this offseason, the future is also obviously on the mind of the front office. Getting Pastrnak's next contract done is the top priority, but DeBrusk should be a piece of their future plans as well. Hopefully this time next year, when we're commemorating the two-year anniversary of DeBrusk being moved to the top line, there will also be a contract extension in place to keep him in the Black and Gold for years to come.
---
---