Boston Bruins general manager Don Sweeney has been justifiably panned since taking over two offseasons ago. In each of the two previous free agency periods, he's shelled out money to sign a top available forward. This time, he's taken a different tack. The Bruins have done nothing of note so far — and that's a good thing.
Most of Sweeney's moves in past years have emphasized classic hockey platitudes, like valuing grit and experience over skill. Acquisitions like Matt Beleskey and David Backes have struggled to live up to their contracts due to the inflated nature of free agent market value. Both were sold to the fanbase as locker room guys who would give 100% and hold other players accountable. However, players like Dominic Moore and Riley Nash have shown that hard work and accountability aren't all that expensive.
Don Sweeney & Trades
Sweeney also tried to add toughness and experience via the trade market. In his first offseason, in 2015, he began by trading a third-round pick for Zac Rinaldo — an absurd overpay for a player with no discernible NHL skills. He then swapped Reilly Smith and Marc Savard's contract for Florida Panthers forward Jimmy Hayes. Hayes struggled mightily in two seasons and was bought out of his contract this offseason.
A disaster that wasn't getting any better, the Bruins made a mercy kill kind of call on a Jimmy Hayes buyout: https://t.co/n2qlF1ct8D

— Ty Anderson (@_TyAnderson) July 3, 2017
Sweeney also struggled in his first trade deadline during the 2015-16 season. The acquisitions of John-Michael Liles and Lee Stempniak showed both short-sightedness and a delusional sense of where the team was in its contention window. Not only that, but they were each significant overpays.
Liles netted a 2016 third-round pick and a 2017 fifth-round pick for the Carolina Hurricanes, while Sweeney surrendered a 2016 second-round pick and a 2017 fourth-round pick to the New Jersey Devils for Stempniak. The team was nowhere near contention, and neither of those players were even able to help the Bruins sneak into the playoffs.
2016-17 Trade Deadline
Last season's trade deadline, however, was very quiet. It looked like Sweeney planned to stand pat, but he ended up trading a conditional sixth-round pick to the Winnipeg Jets for Drew Stafford. With that deal, Sweeney showed that he was starting to understand the proper value of players on the trade market, as well as the type of player he should be targeting. He didn't feel like he had to go out and pay for any of the top players on the trading block.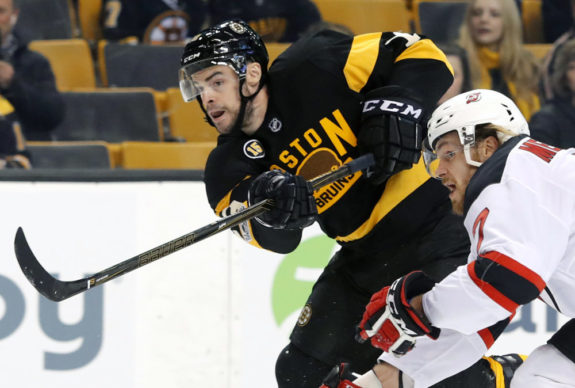 Instead, he exhibited patience and waited for the right deal to emerge. Stafford was still in his prime at 31-years-old. He had struggled that season, but he turned out to be a versatile weapon in the middle-six and on the power play. He was a virtually risk-free addition with significant upside.
Dougie Hamilton Trade
The most important barometer for Sweeney's improvement is his first major trade. On June 26th, 2015, a little more than a month after his promotion to GM, Sweeney shipped defenseman Dougie Hamilton to the Calgary Flames for picks 15, 45 and 52 in the 2015 NHL Entry Draft. The return was significant, but the general feeling around the League was that the Bruins could have netted much more for their star restricted free agent. Trading away a player of that caliber for picks seemed like a disaster, but even more confusing was that some GMs reportedly weren't aware of Hamilton's availability.
The deal reeked of a move by an inexperienced GM panicking at the prospect of an offer sheet and a future star who didn't want to sign a long-term deal in Boston. If Hamilton really was refusing to sign with the Bruins, there was a proper way to handle trading him. Making him available to every team in the league would have been the first step to maximizing the return.
Don & the Draft
At this point, it's still too early to say that the Bruins lost the Hamilton trade. If it accomplished one thing, it was revealing the acumen Sweeney has for identifying talent in the early rounds of the draft. This is a skill that wasn't necessarily apparent at the time, as many of his picks were criticized.
Now, he's been vindicated. In 2015, he had three first-round picks and three second-round picks. With them, he drafted Jakub Zboril, Jake DeBrusk, Zachary Senyshyn, Brandon Carlo, Jakob Forsbacka Karlsson and Jeremy Lauzon. Two years later, those players are knocking on the door of the NHL. In Carlo's case, he's excelling.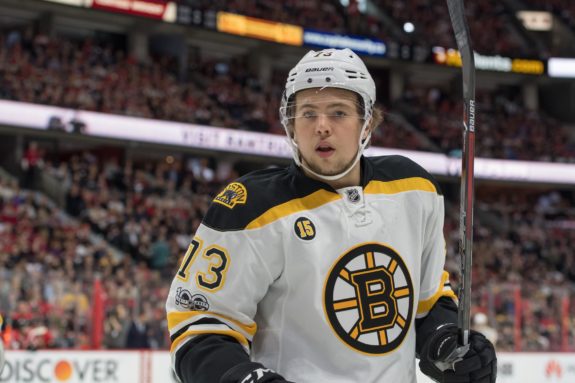 In 2016, Sweeney's first pick was Charlie McAvoy, whose stardom is already apparent. His second of two first-round picks was Trent Frederic. That pick was derided, much like his 2015 picks. Frederic was seen as a future bottom-six centerman and not somebody with the ceiling befitting a first-round pick. A breakout season at the University of Wisconsin has helped to prove his doubters wrong.
Sweeney & Free Agency
What Sweeney's drafting ability has done, is allow him to mostly stay out of the top of the free agent market this year. For now, it seems he's confident that a few of the many prospects he has at his disposal could prove worthy of filling out final roster spots, including some crucial roles. This has allowed him to patiently wait out the market and acquire some cheap help at the back end of the roster if he feels the Bruins even need it.
Even if the gaudy contracts he's already given out, as well as the impending David Pastrnak contract, have coerced him into this position, his restraint is a new and welcome sign. The quiet trade deadline last season, and the thus-far quiet offseason are signs that Don Sweeney finally understands the direction in which this team is heading. This coming season will be about developing young players and evaluating talent. Sweeney is a smart person, and he's finally showing that he deserves the faith of the Bruins fanbase.