For Boston Bruins fans, no player has created more optimism and hope than Charlie McAvoy.
It's taken the rookie phenom just half a season to become the heir apparent to Zdeno Chara. He ranks second on the team in ice-time per game at just under 23 minutes. He's also second among Bruins defensemen in points, one behind Torey Krug for the team lead. What's more, he leads all rookies in ice-time per game by over four minutes. Forty regular season games in, and Charlie McAvoy has already established himself as an elite NHL defenseman. Not only that, but he's one of the frontrunners for the Calder Trophy.
What Bruins fans may not know, however, is that another NHL regular may not be far behind. Defenseman Ryan Lindgren is a name that fans may not know yet, but definitely should. He was drafted in the second round of the 2016 NHL Entry Draft, with a pick the Bruins acquired in exchange for Johnny Boychuk.
Lindgren is currently a sophomore at the University of Minnesota, where he's also an assistant captain. He's a leader on and off-the-ice, and his coaches have noticed.
"When you're ahead by a goal late, there's no doubt he's going to eat a puck, Gophers' head coach Don Lucia said of Lindgren in an article from the Star Tribune. "That's who he is. That's why he's a captain as a sophomore.''
He is a two-time member of the U.S. junior national team. He won gold in the 2017 tournament, and most recently took home a bronze medal with the 2018 squad. It takes a very special player to be named to the junior national team for multiple tournaments.
The Bruins have had two prospects accomplish this feat in recent memory: Lindgren and McAvoy. There are other similarities between the two, which bodes well for Lindgren's future.
U.S. National Team
Lindgren got his first taste of international play during the 2014-15 season. He was named to the USNTDP Juniors team that plays in the USHL, where he was teammates with McAvoy. Lindgren recorded 13 points while playing in all of the team's 35 games. McAvoy, in his second season with the team, recorded 19 points in 23 games.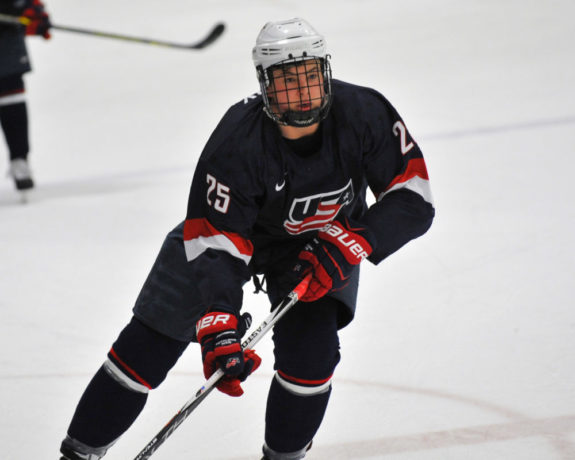 Lindgren represented the U.S. on the U-17 National Team that season. His team took home the silver medal in the U-17 division of the World Hockey Championships. Just a year earlier, McAvoy was named to that same team, and participated in that same tournament. Though he won gold, both players were off to fast starts representing their country.
Both players advanced to the U-18 team in their respective seasons, on which McAvoy won gold and Lindgren took home a bronze. One key distinction between the two players, however, came in the category of captaincy. Lindgren was named captain of the U-17 and U-18 national teams of which he was a part, while McAvoy was not given a letter.
This isn't meant as an indictment on McAvoy, but rather a commendation for Lindgren. His strong defensive game and team-first style of play bodes well for a leadership position.
Regardless, both were named to the U-20 junior national team as 18-year olds. In McAvoy's first season, his team won the bronze medal. The two played together once again in McAvoy's second season on the team, in which they famously won gold in the shootout over Canada. Most recently, Lindgren and the United States won a bronze medal, with Lindgren acting as an assistant captain.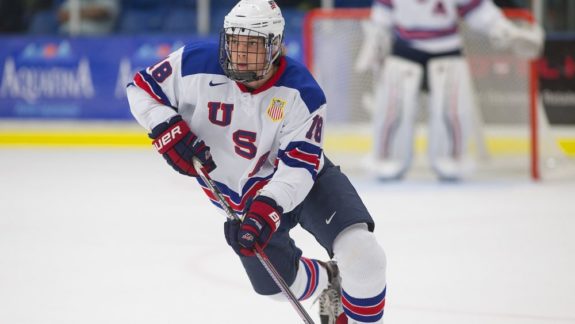 Both players developed into top-tier defensemen during their time with the USNTDP. Lindgren grew into an elite player in his own zone, while McAvoy became one of the top two-way players in his draft class. While their styles have always been different, both players followed this crucial first part of the path to success in the NHL.
Playing NCAA Hockey
On Aug. 13, 2013, McAvoy announced his commitment to play college hockey at Boston University. He also tweeted the announcement:
Proud to announce my commitment to Boston University. A big thanks to everyone who has helped me get to this point #GOTERRIERS

— Charlie McAvoy (@CMcAvoy44) August 13, 2013
He racked up 25 points in 37 games in his freshman year, for which he was named to the Hockey East All-Rookie Team. His sophomore year, he put up 26 points in 38 games, and was named a First-Team All-American for his efforts.
Lindgren, meanwhile, signed his letter of intent to play for the University of Minnesota in May of 2016. He joined the Gophers in the 2016-17 season, and put up seven points in 32 games. While those numbers don't jump off the chart, his defensive play made up for it, and he was named to the Big Ten All-Rookie Team.
Lindgren was named an assistant captain for the 2017-18 season. Thus far, he's put up six points in 23 games. He continues to play important minutes on the penalty kill and in defensive zone situations.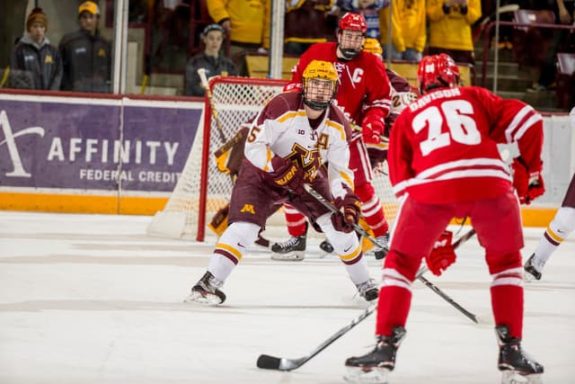 He's in his second season of college hockey, and has already shown that he can compete with the best players in the world in his age group. Does this trend mean that Lindgren is in for a shot at the pro game next season?
What's Next for Ryan Lindgren?
After watching the 2018 World Junior Championship, Lindgren is ready to sign a professional contract.
His track record of leadership shows maturity, which is important for a transition to the pro game. He plays at an elite level in his own zone. He's adapted to the college game extremely well, and has become one of the best defensive defensemen in the nation as only a sophomore.
Lindgren's presence gives the Bruins more flexibility to move pieces, namely Torey Krug. His style meshes well with McAvoy and Matt Grzelcyk, both of whom appear to be locks on the back end in the future.
Naturally, the Bruins will want to wait out the rest of the college season and see how Lindgren plays. If all goes well, however, the team should not hesitate to ink him to an entry-level deal.
It's what McAvoy did.
Dan Bahl is a writer for The Hockey Writers, covering the Boston Bruins. Dan is a recent graduate of Quinnipiac University, and currently serves as the Lead Analyst of Quinnipiac Women's Hockey on ESPN+. Dan has worked as the Head of Media Relations for the Valley Blue Sox, as well as a Media Relations Associate for the Hartford Yard Goats.