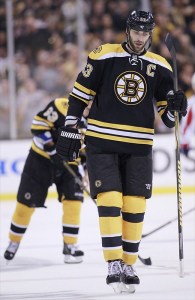 In 2011, it took the Boston Bruins ten games to score their first power-play goal of the playoffs. In 2014, the Bruins scored six power play goals in their first five playoff games which include two from Saturday's 4-2 series clinching win over the Detroit Red Wings.
The Bruins' special teams unit has come an awfully long way.
"Obviously the power play has helped us a lot through this series and it certainly makes it a lot easier," Bruins coach Claude Julien said after the game. "We've won before without having a successful power play, but when you've got that arsenal, it certainly makes it a lot easier. Our penalty kill's been great since the beginning of the playoffs and we need to continue to be a strong in both those areas, and we were."
The Bruins finished the first round with six goals on 16 power play opportunities. That's a 37.5% conversion rate, good enough to be ranked first in the NHL this postseason.
Loui Eriksson opened up the scoring on the power play, after Dougie Hamilton skated deep into the offensive zone, feeding the Swede for his first goal of the playoffs. It was Hamilton's heads-up pass that further cemented the defenseman's rock-solid first round play.
"I guess just a couple bounces offensively and than for me just focusing on being physical and good defensively," Hamilton said on his improved play. "I am just going to have to keep stepping up as the playoffs go on. I think this whole year I have gotten better, last summer as well…I don't really know otherwise. Just having fun right now and trying to do my best."
Perhaps the game changer, Bruins captain Zdeno Chara fired home a blast on the power play with 3.8 seconds left in the second period. It was the goal that pulled the Bruins ahead after Pavel Datsyuk tied the game at 1, and ended up being the game-winner even after eventual goals from Milan Lucic and Jarome Iginla.
"Well we had only a few seconds left and [it was] kind of a 50-50 puck down low," said Chara. "We won the battle for the puck and Bergy [Patrice Bergeron] just showed how quickly he can see the opening and made a really great pass to me. I mean – I was emotional. It was a big game and a big goal. So, I'm not afraid to show it."
While it could be argued that the Red Wings' penalty kill was abysmal, the Bruins power play has evolved quite a bit since its poor performance in 2011 and it has plenty to do with minor tweaks made along the way.
Although he didn't score in the position today, ten of Chara's 17 goals have come on the power play, his most since the 2008-09 season. Plus, by adding a legitimate puck-moving defenseman in Torey Krug, the Bruins gain flexibility on the blue line with a player who is offensive-minded and can quarterback the power play. So far this postseason, Krug has a goal and four assists for five points, three of which came on the Bruins power play.
"Personally, if you look at times that I have jumped up in the play from the beginning of the season until now, I think that the coaches will be a lot happier with my decisions," said Krug. "My teammates too as well, it's a whole team effort when you are making decisions to jump up into the play it's because you have confidence in your guys to support you and back you up. When our forwards are playing good team defense you can make those decisions."
The Bruins will try not to replicate their performance with a man advantage from their 2011 series as a Montreal Canadiens team, ranked second to last (only ahead of the Red Wings) on the penalty kill in the postseason, try to battle for a trip to the Eastern Conference Finals.