When Marc Bergevin became the 16th general manager of the Montreal Canadiens in 2012, he inherited an organization that was in desperate need of a new voice, and a new direction. This of course, is not news to you. If you still haven't repressed all of the atrocities that were precipitated by Pierre Guathier between the years 2010 and 2012, trust me, you're not alone.
A Bit of Background — Marc Bergevin
With his first order of duty to select a head coach who could precede then interim, Randy Cunneyworth, Bergevin found himself between a rock and a hard place. Having no choice but to select a French speaking coach, this criterion limited him to only a handful of names, and only 3 or 4 names that had legitimate NHL coaching experience. By hiring Michel Therrien on June 6th 2012, a coach who knew the marketplace but who was nowhere near popular amongst fans (and still is not for no good reason), this was undoubtedly seen as a bold move by Marc Bergevin. Two years later however, Therrien seems to be replicating exactly what he did when he arrived on the scene to coach the Pittsburgh Penguins in 2005. The Penguins as you might remember, were a young and inexperienced hockey team. Under the guidance of Therrien however, the core of that team learned how to play like professionals, and more importantly, they learned how to win. So say whatever you want about Coach Therrien. After two top 4 Eastern Conference finishes since returning to Montreal, he has brought with him confidence, and a winning mentality.
Bergevin and Therrien – A Shared Ideology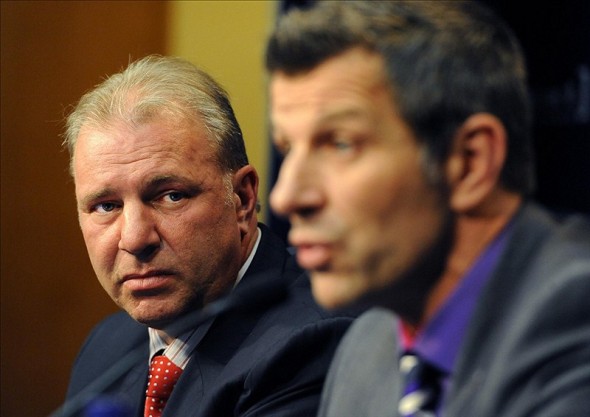 Together, Marc Bergevin and Michel Therrien's philosophy is pretty simple. And if you've ever listened to a Michel Therrien press conference, you'll know that this organization is passionately preaching (from top to bottom) a TEAM CONCEPT. Not only has Therrien been loyal to this concept by rewarding good play with increased ice-time, and sanctioning poor play and lack of emotion with diminished ice-time (NO MATTER WHO THE SUBJECT IS), this underlying philosophy has also been adhered to in spades by Marc Bergevin.
We have even seen Marc Bergevin reward hard work and quality play on the ice via his provision of contract extensions during the regular season, especially to those who exhibit a team first mentality, and who display exemplifications of character on a nightly basis. For instance, David Desharnais, Francis Bouillion, and Alexei Emelin were all extended midseason, decisions that now stand as benchmarks, and that reflect this organization's appreciation for determination and devotion to the team. Moreover, Bergevin's poker face persona during his contract negotiations with P.K. Subban following the 2012 lockout also indicated to me that even if you're one of the team's most valuable players, you WILL NOT dictate the negotiation process. Bergevin's willingness to have Subban miss training camp and the first six games of the regular season only reaffirmed the importance of this ideology.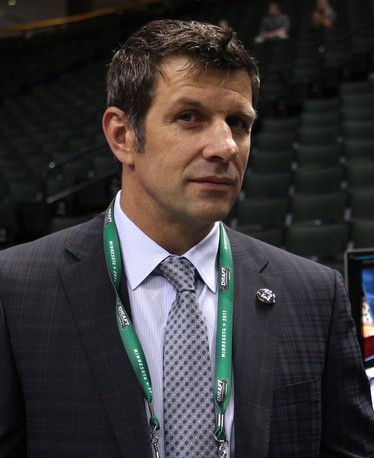 Furthermore, his reluctance to waver from the long-term plan of building a lasting foundation through the draft has indicated to me that Marc Bergevin is patient general manger, and in my opinion, this might just be his best virtue. In fact, Bergevin's refusal to blow things up and trade core pieces upon his arrival is evidence that he is NOT a knee-jerk reactor. However, while patience and loyalty to his draft picks has been seen, Bergevin's decision to give up Sebastien Collberg (2nd round pick in 2012 NHL Entry Draft) in pursuit of Thomas Vanek this year was an indicator that given the right circumstances, he is willing to make an exception and mortgage some of these assets that were acquired at the draft IF there is a really special player available in the trading market. And let's make no mistake folks, Thomas Vanek is exactly that.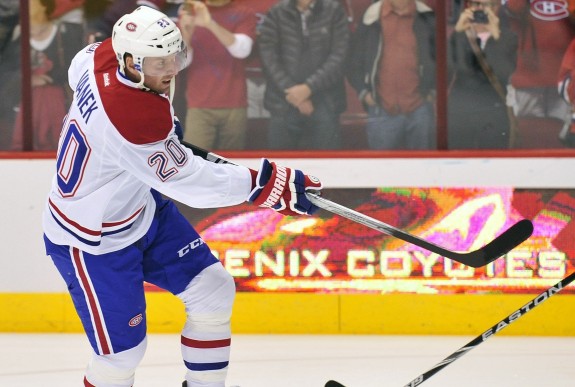 Ahead of The Curve
But on the heels of a 100-point season, and a recent sweep of the Tampa Bay Lightning in the Eastern Conference quarterfinals, how is Marc Bergevin planning to keep this budding team together, especially with several pending free agents who will command large salaries this summer? I'm not going to sit here and pretend to be a carpologist or an accountant, but knowing that the NHL's salary cap is projected to increase as high as 71 million dollars (it is currently 64.3), Bergevin will have to use this increase to his advantage.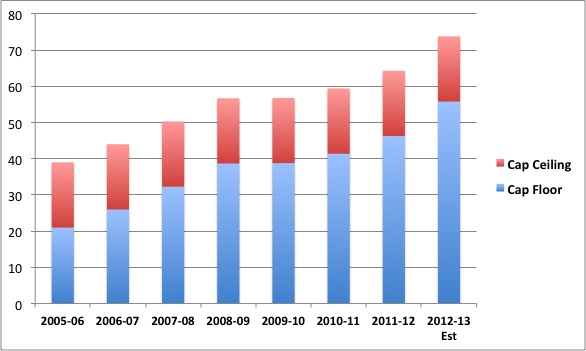 Specifically, one would think that P.K. Subban and Andrei Markov are poised to earn upwards of 12 million per season (together), and should the Canadiens decide to make a serious pitch at keeping newly acquired forward Thomas Vanek around, anyone with a brain would have to assume that he is looking to get paid 8 million dollars per season after declining an offer with the New York Islanders for 50 million dollars over seven years. You also have to take into consideration that a guy like Lars Eller is in need of a new contract and that Douglas Murray, Francis Bouillion and Mike Weaver are all unrestricted free agents, even if the latter three are all likely expendable.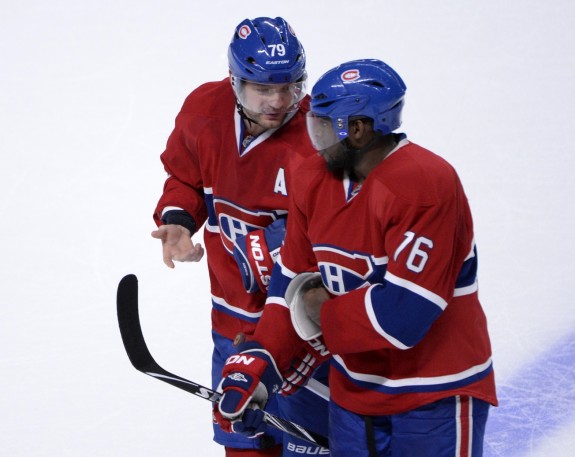 So where is this money going to come from? Well for starters, as much as Brian Gionta is adored in Montreal, he currently makes 5 million dollars per season and if he hopes to sign another contract with the Canadiens when his current contract expires on July 1st, he will be required to take a serious pay cut. And if he is not wiling to do so, well that's an extra 5 million dollars that Marc Bergevin can play with.
Similarly, perhaps Rene Bourque or Daniel Briere's recent playoff successes are developments that make one of those guys tradable in the offseason. Right now I'm just floating around ideas, but a 3.3 million dollar or 4 million dollar relief would not be insignificant, and at the end of the day just maybe such a trade allows Bergevin to retain Thomas Vanek's rights.
Ultimately, the only thing I can guarantee is that this summer, like every summer, will be a busy one for Marc Bergevin. But as long as Bergevin continues to place emphasis on building a solid foundation through the draft, the Montreal Canadiens should be big players for the long hall (especially with Trevor Timmins' excellent track-record in their back pocket). To this, Bergevin's emphasis on bringing in individuals with character and a team first mentality will also prove to be beneficial. Meanwhile, two years into his tenure as Montreal's general manager, he and Michel Therrien have gotten the most out of this hockey club. As their second round series versus the Boston Bruins awaits, it is almost as if the Canadiens feel as though they are ahead of schedule after taking two humungous steps forward in the last couple of years. I guess that's what a new voice that preaches equality and a team-first mentality can do, arouse belief and confidence.
David is currently a second year Arts student at McGill University and aspires to have a career as a sports journalist one day. When he's not covering the Montreal Canadiens for THW, he is the sports producer for TVMcGill and the host of his very own show called "On The Line with David Stein." He is also a frequent contributor to the McGill Tribune.