A 4-2 victory over Atlantic Division rival Tampa Bay on Thursday night confirmed the ascent of the Boston Bruins to the top of the Eastern Conference. In an era dominated by parity in the NHL, nothing is certain and of course one injury can change anything. But we're not interested in cliches. The Stanley Cup Playoffs are only a couple of weeks away, and there's plenty of reason for Bruins fans to be excited. Here's five reasons why 2018 will be the year where Boston adds to its six NHL championships.
1. Ace the Basics
Success in the playoffs is often based on execution of the fundamentals. Score on the power play, don't take bad penalties, win faceoffs and be tough to play against defensively. This Bruins team does those things just about as well any of their rivals.
Arguably an on-and-off Achilles heel for this franchise in recent seasons, the power play ranks sixth best in the NHL this season, clicking at a 22.8-percent success rate.
Head coach Bruce Cassidy has plenty of flexibility as two equally dangerous units have emerged. Mostly quarterbacked by a combination of Torey Krug and David Pastrnak, it also features dynamic duo Patrice Bergeron and Brad Marchand, and a net-front presence either in the form of Rick Nash or, more recently, Ryan Donato. The second unit mostly runs through David Krejci with Matt Grzelcyk and Nick Holden manning the points, while Danton Heinen and one of David Backes, Brian Gionta or Jake DeBrusk rounds out the group.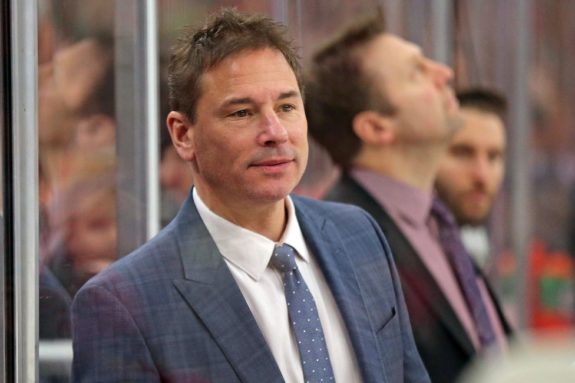 It's a luxury that few teams enjoy, and it gives Cassidy a lot of options in terms of quickly switching personnel or even interchanging combinations based on what's working on any given night. The two units are consistent stylistically with potential shooters lining up on both sides of the ice, as well as the point shot and a net-front presence. There's also a comfort level in terms of the ability to rotate positions and change the shape, especially while employing a bumper man in the middle of the offensive zone to create unusual angles and isolate different two-on-ones.
Penalty Killing
Boston is one of four teams that own top-10 performers in both special team categories, ranking seventh in the league in killing penalties at an 82.7-percent clip. It's a part of the game where this franchise has generally thrived during the past decade with Zdeno Chara on the backend and numerous quality penalty killers up front, most notably the Bergeron-Marchand tandem.
Throw in the fact that they have scored nine shorthanded goals on the year so far (the Oilers lead the NHL in that category with 11 shorties) and the Bruins can claim to have one of the better all-around penalty kills in the league.
Faceoffs and Sound Defensive Principles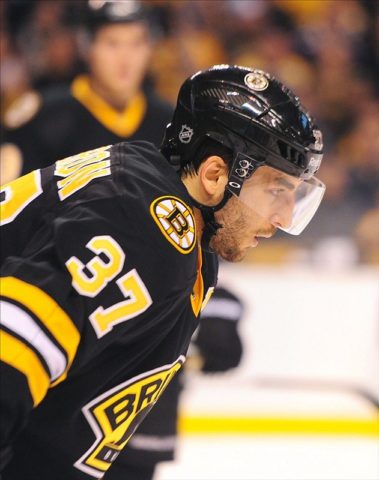 The general perception of Boston's faceoff dominance is perhaps greater than the statistics actually suggest. They rank 11th among all teams with a solid but unspectacular 50.6-percent faceoff winning percentage. However, Bergeron (56.8 percent) is arguably the best in the league, while Krejci (51.9 percent) has long been one of the better faceoff men. David Backes (53.8 percent) gives Cassidy an additional option depending on where he features in the lineup, while Tommy Wingels (53.1 percent) has shown some prowess since being acquired at the trade deadline.
Over the course of 57 games played this season, Bergeron has won 525 more faceoffs than he has lost. The difference these nuances make to a game of hockey shouldn't be underestimated. Starting with the puck 525 more times than your opponent is a big deal over the course of a season, and it could be a decisive factor during a postseason series.
As much as he has the changed the setup offensively, and especially in the transition game, Cassidy made a point of reinforcing continuity of emphasis on the other end of the ice when he assumed his role last February.
Stinginess is still a characteristic of a franchise that currently ranks third in the league conceding just 2.55 goals per game. It's no fluke either — they're equally stifling of scoring chances and shots, giving up just 29.2 shots per game, which is second best in the NHL.
2. Injuries, But Encouraging Prognoses
From the very early stages of the 2017-18 season, the Bruins have been forced to deal with injuries. They were especially depleted during a stretch from mid-November through to early December. Of the core group, only Pastrnak, Riley Nash and Brandon Carlo have managed to dodge missing significant time.
The injury glut, which started with Bergeron's foot fracture shortly after the trade deadline, threatened Boston's momentum ahead of the playoffs. However, with six games remaining, there's optimism that the key figures will be back in the lineup in good time.
Defensemen Chara and Charlie McAvoy are each expected to return as early as this weekend, and they could be joined by rookie forward Jake DeBrusk, who is back skating, while Bergeron (five points in three games) and Krug (nine points in five games) haven't missed a beat recently since returning from injuries. Backes returned to the lineup against Tampa Bay, which leaves just Rick Nash and his mystery ailment as the remaining question mark heading into the postseason.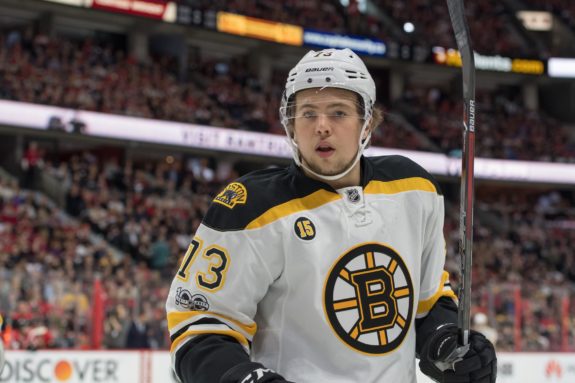 Part and parcel of any NHL season, the Bruins can be at least grateful that their current crop of injuries doesn't appear set to spoil their chances of a deep run in the playoffs.
3. Elite Depth
It's a classic storyline. It's possible to cover up holes in the lineup, whether in the forward group or on the D-corps, during the course of a long regular season where the intensity varies from game to game. Nothing unearths an issue of depth better than a long, hard-fought playoff series.
That's not likely to be the reason that these Bruins come up short, though. Cassidy has been able to successfully juggle three scoring lines with Bergeron-Marchand-Pastrnak, and Krejci-DeBrusk-Nash (Rick) acting as the set top two combinations. Riley Nash's breakout 15-goal, 41-point campaign makes him the perfect third line pivot, and Don Sweeney's deadline moves mean that there are plenty of different options to surround him with, including Backes, Heinen, Gionta and now-rookie-sensation Donato.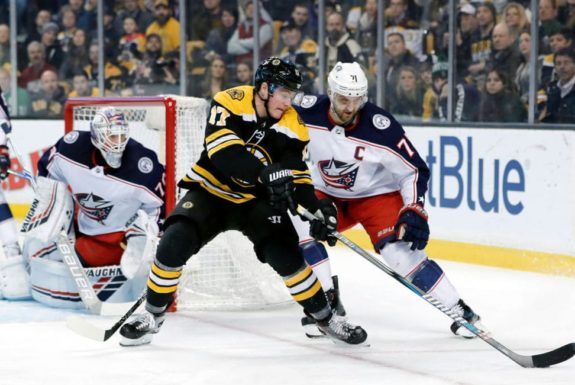 Meanwhile, Boston's current 3-0-1 stretch with neither Chara nor McAvoy in the lineup has shown that this blue line group is not quite as top-heavy as it has been in recent years. Krug has enjoyed arguably the best season of his career, and Carlo has enjoyed a better second half of his sophomore season while taking on more responsibility.
Kevan Miller and Adam McQuaid have reminded fans of just how tough and solid they can be when healthy, and Grzelcyk has been nothing short of a revelation at both ends of the ice. Add Nick Holden into that mix as an additional versatile option. It'll be interesting to see what decisions Cassidy makes over the next few weeks when everyone is healthy.
4. Playoff Experience and Veteran Leadership
It has become something of an antiquated idea to value postseason experience as a critical factor when assessing a roster's Stanley Cup credentials.
Undoubtedly, there is still something to the old adage that the best teams are constructed with a blend of youth and experience. The story of 2017-18 might be the emergence of Boston's young talent, but there are still seven players with more than 50 games worth of postseason action already to their name: Chara (147), Bergeron (101), Krejci (96), Marchand (72), McQuaid (56), Backes (55), and Rask (53).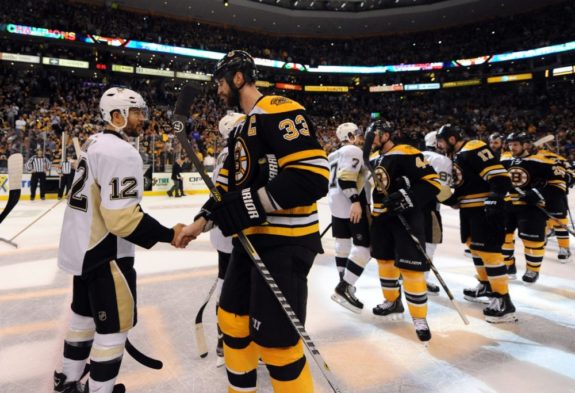 Excluding Backes, all of those players were on the Bruins' roster that lifted the Cup in 2011, and all were part of the team that lost in the Final in 2013. No doubt they'll be able to impart a number of lessons from those experiences onto the younger players, who will need to learn and adapt quickly in the ultra-competitive NHL playoffs.
5. Opportunity in the East?
The Lightning have been the Eastern conference frontrunners since the very early stages of the year. However, they're not a bad matchup for the Bruins, who won the regular season series and are capable of going head-to-head with the Lightning's depth. Moreover, Tampa's efforts to strengthen their team at the deadline haven't quite paid dividends, as they're now just 5-5 in their last 10 games. There's something not quite right about the current dynamic.
Looking past the squad from St. Petersburg, the East's other main contenders all look highly beatable. The Maple Leafs are fast and skilled, and head coach Mike Babcock has got his side playing a proven brand of hockey. However, this is a very young roster, and there are a few questions about how their defensemen's recent form will translate to playoff hockey.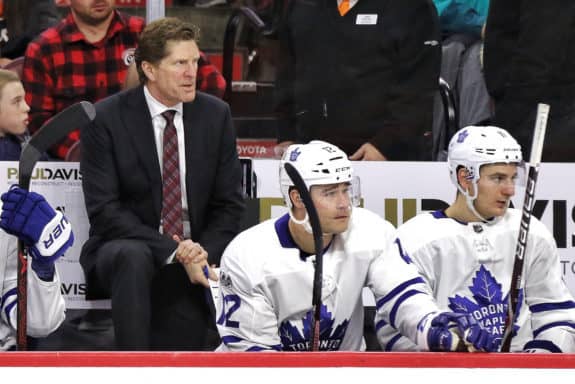 In the Metropolitan Division, the familiar Washington Capitals and Pittsburgh Penguins are leading the way. The Capitals are playing well down the stretch, but it hasn't been this franchise's most dominant performance. Offensively, they lean heavily upon superstar Alexander Ovechkin, who hasn't been able to replicate his remarkable regular-season goal-scoring records in the playoffs.
The defending champion Penguins have endured an up-and-down campaign and are aiming to become the first team to win the Stanley Cup three times in a row since the New York Islanders' dynasty reeled off four consecutive championships from 1980 to 1984. In the modern era, it's just difficult to see this roster, which leans heavily upon leaders Sidney Crosby, Evgeni Malkin, and Kris Letang, digging deep and battling through another long postseason.