This offseason, the focus has been on the players the Boston Bruins lost rather than who they brought in. While the absence of Torey Krug and Zdeno Chara will be felt this season, adding free-agent Craig Smith may play an important role in the Bruins' 2020-21 season. He was signed to a three-year, $9.3 million contract on Oct. 10. The 31-year-old is the team's latest attempt to address their depth scoring issues and bring consistency to the middle-six.
In October, the Bruins seemed to be in conversation with every major free agent forward. They were rumored to be speaking to Taylor Hall, who eventually signed with the Buffalo Sabres, as well as Mike Hoffman, who is expected to sign a one-year deal with the St. Louis Blues. While Smith's profile might not be as high as Hall or Hoffman, he has been a very successful and consistent scorer since his arrival in the NHL.
Related: Young Bruins Are Exceeding Expectations at Training Camp
Consistency is the keyword here for the Bruins. Outside of the top line, the team lacks scoring depth, and outside of Brad Marchand, they are young and fairly inexperienced on the wings. There's a lot of potential in players like Jake DeBrusk, but they can also be inconsistent.
Smith may finally be the solution they've been waiting for. He's a little on the older side, but his experience and success over the years are exactly what the team needs. Given some of the other names that were available during the offseason, management must have seen something in him that excites them.
Who is Craig Smith?
Smith, originally from Madison, Wisconsin, was selected by the Nashville Predators in the fourth round of the 2009 NHL Entry Draft with the 98th overall pick. He played two seasons at the University of Wisconsin before making his debut in the NHL in the 2011-12 season. In 72 games, he had 14 goals and 36 points.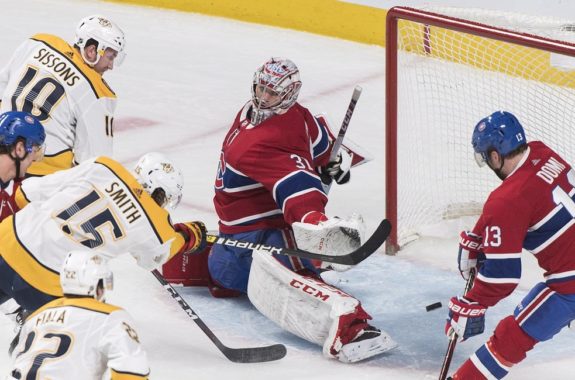 In five of his nine NHL seasons, Smith has scored 20 goals or more. In 661 career NHL games, he has 162 goals and 330 points. He's made a name for himself as a solid middle-six player and that is exactly what the Bruins need. He also brings 52 games of playoff experience, including a Stanley Cup Final appearance with the Predators in 2017.
First Impressions
The Bruins opened training camp last Monday. Smith was impressive in his first appearance with the team, showing off his signature goal-scoring ability.
So far, he is proving why he was the right person to sign. He has stood out in drills and has quickly formed chemistry with third-line center Charlie Coyle. If the team wants to have success this season and finally find depth scoring, Coyle and Smith will be important pieces. Coyle, who faced off against Smith many times when they were both in the Central Division, had the following to say about him:
"Just playing against him over the years, he's quick, he works hard, it seems like he's always in your face. He's always there. He's shifty, crafty. I've always liked his game. I used to hate playing against him when I was out there against him, so I'm happy to be playing with him."

McLaughlin, WEEI
Going into the Season
Smith is not going to solve all of the Bruins' issues generating offense. Other players will need to step up and more moves may still need to be made. But he is still an asset.
Part of the team's inconsistency can be attributed to a lack of stability in the middle-six. Both Coyle and second-line center David Krejci, had a rotating cast of wingers last season. At one point, Coyle was playing on the wing for the second line. Stability will contribute to more consistent depth scoring. If Coyle and Smith can solidify the third line and Ondrej Kase can build on the chemistry he was beginning to develop with DeBrusk and Krejci during the playoffs, then this group of forwards will be in a much better place than they were at the end of 2020.
At the moment, it looks like signing Smith is going to be a better decision than some of GM Don Sweeney's previous attempts to address the team's offensive issues. He's a more proven player than Kase, who was signed at the 2020 Trade Deadline, and he's younger and less injury-prone than Rick Nash, who was a deadline deal in 2018. The Bruins don't need Smith to be anything extraordinary, just to do what he's done over his nine-year career.
Related: Bruins' 2020 Year in Review
In a 56-game season, will Smith reach the 20-goal mark? Probably not. But if the team could get 12-15 goals out of him, this will be a successful signing.
---
---