The Boston Bruins lead their 2013 Stanley Cup First Round Playoff best-of-7 series against the Toronto Maple Leafs by a 3 to 2 count. And it would certainly make sense to say that while it's not over just yet, it's unlikely the Leafs will be able to pull off 3 consecutive wins to rescue a series victory.
Yes, the Bruins will probably come away with a series win and maybe some time to relax before the next round, and the Leafs will tack another year onto the Stanley Cup drought. But while the Bruins winning may not be unexpected, they aren't dominating Toronto as some may have thought.
Expectations Before the Series Started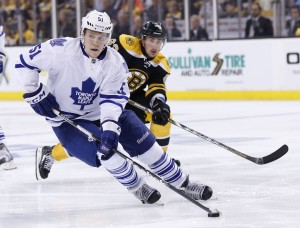 This may seem like sort of pre-emptive apology for Toronto, a "hey well it's not as bad as things might look" way of telling LeafNation to 'chin up'. In a way, it is. Oh, there's no excuses to be offered, no blaming of refs or injuries or the like. But, win or lose the series, it's important to recognize the Leafs have not been outclassed, and it would seem better days are ahead.
The Bruins were no house-on-fire to close the season, and one might only see a 4-versus-5 matchup. But, this could also have been presented as a team known for physical play, only 2 seasons removed from a Stanley Cup victory, going up against a franchise they have dominated in regular season play for years, that hasn't seen post-season play since 2004. In that respect, some might have felt this was a slam-dunk for Boston.
Bruins Have Not Dominated Toronto
So, the Leafs trail 3 games to 2, and they've been outscored and outshot by the Bruins. But, coach Randy Carlyle has his charges blocking shots and handing out hits without any sign of being intimidated by a Bruins team that has a reputation for being big, strong and hard-working.
While the Bruins are full-credit for their lead, the series hasn't told a story of grizzled veterans schooling a team that should count itself lucky to be playing in May. Rather, there's been an ebb-and-flow, and a sense that no one will run away with this thing.
Certainly, the Bruins' experience and ability serves them well. Tuukka Rask has played very well; Zdeno Chara is still a force, and the rest of the defensive corps have been very good; and David Krejci and Nathan Horton have been especially hard for the Leafs to deal with.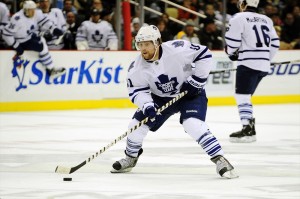 But, on the other side of the ledger, there've been some decent performances. Phil Kessel has broken through to an extent against his old club; James Reimer has quieted critics and been the anchor the team required; and in Game 5, the Leafs were opportunistic in their scoring and held in against the Bruins' attempt to close out the series. Frankly, the Leafs have acquit themselves well.
Growing Pains
Obviously, it's not all roses for Toronto. The Leafs have suffered from inexperience and perhaps were a little wide-eyed in what are the first NHL playoff games for many of them. The Bruins are still a formidable opponent, battle-scarred and well-decorated.
In Game 1, it's possible that first early goal by James van Riemsdyk and youthful exuberance had the Leafs so high they were unable to respond once Boston got going. Similarly in Game 3, perhaps the excitement of the first playoff game in the Air Canada Centre in 9 years had the Toronto team off their gameplan.
Overall, the team, and especially Tyler Bozak and Mikhail Grabovski, have been unable to control the faceoff dot. Some of Toronto's defencemen have had trouble, and though Dion Phaneuf's overtime pinch was in keeping with the way Toronto played Game 4, it obviously turned out to be 'the wrong move' once the puck got past James Reimer at the other end.
Yes, at times they've been a little like deer in headlights. But, Toronto recovered from losing a lead in Game 4 to force the overtime, and have won 2 of 3 games played in Boston. Those are achievements to build on.
It's A Process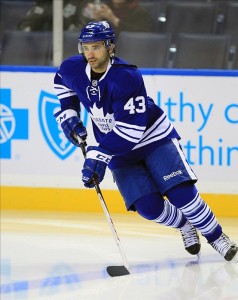 Former Leaf general manager Brian Burke once remarked "I don't want to sneak into the playoffs in eighth place and then get smoked in the first round." And while the context is sometimes misunderstood (Burke meant he wasn't about to trade young players for veterans just to qualify for postseason), that may have been the case this season – the Bruins could have run them right outta the building. But it hasn't happened that way at all.
Following Game 5, Wayne Gretzky spoke to Pierre LeBrun, and had praise for the Toronto effort in the series. Further, The Great One offered this:
"You know, they're still young and they're still learning," said Gretzky. "This is how you learn, by getting a chance to play in big games like this. Game 5 in Boston was probably one of the biggest games those kids have played in for a long time. From that point of view, it's just going to help their maturity and their growth a lot quicker."
And that's what this series is really about for Toronto. As much as Leaf fans may always hope Lord Stanley will return 'this season', it's a process. And finally, the Toronto franchise is in a position where youth is gaining experience, a maturation that must happen in order to become a true championship contender.
There are many positives to be taken away from the first 5 games of this series. James Reimer must be counted as an NHL starting goalie. Phil Kessel's game does not disappear in the post-season. Dion Phaneuf will stand up and lead by example, whether it ends with praise or criticism. And the Nazem Kadris and Jake Gardiners and Matt Frattins are adding that much more experience, the next logical step after participating in a Calder Cup Finals.
The Maple Leafs may not yet win their first playoff series in almost a decade, but they are showing that in losing, they won't be beaten.
A graphic designer and production artist by trade, Mark is a long-time hockey fan. He was a Maple Leafs contributor to TheHockeyWriters.com for over 2 years, and has written for other websites. You can follow him on Twitter @MarkAscione