No Storybook Ending For The 2013 Montreal Canadiens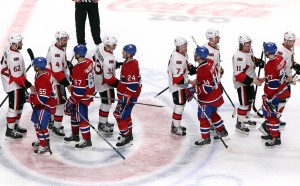 With the Ottawa Senators sending the Montreal Canadiens packing in five games, Habs nation finds themselves looking for a way to deal with a disappointing end to a surprisingly successful season.
As the lockout came to an end and the puck dropped to begin the 2013 season, nobody could've predicted the Montreal Canadiens would enjoy the success they did following a disappointing campaign in which they found themselves in the basement of the Eastern Conference.
Marc Bergevin however, assembled a very competant team both on and off the ice to quickly erase the memory of a season that the entire city was ready to wipe from memory.
As the team piled up wins and continued to climb the standings, expectations grew in hopes that Bergevin and company was the quick fix that the storied franchise needed. But alas, reality kicked in. Injuries piled up and the city was reminded that a rebuild takes more than a lengthy off season and a 48 game schedule.
Although the Canadiens found themselves cleaning out their lockers earlier than anybody supporting the CH would've liked, there are a lot more positives than negatives to take away from a season that wasn't meant to be.
The 2013 NHL Entry Draft
Let's start with the off season. Thanks to some moves by former GM Pierre Gauthier (yes, you read that right) paired with dismal seasons by the Calgary Flames and the Nashville Predators, Trevor Timmins and the Montreal Canadiens find themselves with three picks in the top 40 at the upcoming NHL draft.
Timmins did one heck of a job last year picking up Alex Galchenyuk, Sebastian Collberg and Dalton Thrower just to name a few. The oppurtunity to add more talented youth to a team that boasts a ton of promising prospects is enough to stay optimistic after being eliminated by an Ottawa team that suprised even themselves by making it to the post season.
Experienced Youth
The 48 game 2013 schedule provided experience to the young players on Michel Therrien's squad. Alex Galchenyuk showed plenty of promise in a season where he finished with a +14 rating to go along with his nine goals and 18 assists. He may not have run away with the Calder Trophy but he gave Habs nation a reason to look forward to a bright future with a promising star.
Speaking of the Calder. Brendan Gallagher made the team to everybody's surprise and his 15 goals and 28 points (third among rookies in both categories) and+10 rating (fifth, one down from fourth place Alex Galchenyuk) were enough to earn the fiesty Habs winger a Calder nomination. What makes these stats even more impressive is that his average of 13:51 minutes per game ranked him at 70th in that category among rookies.
Jarred Tinordi found himself with more games played than most would've expected after Alexei Emelin's season was ended prematurely. The 6'6″ 205 pound defenseman averaged 11:42 minutes of icetime in his eight regular season appearances and had two assists and a +5 rating to show for it. Tinordi also appeared in all five playoff contests averaging 13:05 minutes per game and adding another helper, although he did finish with a -3. Once the hulking blueliner adds anywhere from 30-40 pounds, the Habs will find themselves with the crease clearing d-man they've been needing.
What's Next?
The off season is every GM's chance to look back on the finished season and evaluate where they stand. It doesn't take much to point out what needs to be addressed on this Montreal Canadiens team.
Size.
The team boasts more depth then they have in years but there's nothing new in the fact that the roster is over populated by players with speed and lack of height.
Brandon Prust was a brilliant acquisition during last years free agency period but it is only the first of many additions that will be necessary for this team to go far.
The Gally's have bright futures but will no doubt need to know they have big players watching their backs. Especially Gallagher with that pesky smile of his and his willingness to crash the opposing team's net at any given chance.
Lars Eller has some size at 6'2″ 209 lbs but playes with more finesse than grit. Max Pacioretty, at 6'2″ 219 lbs, is the closest thing to a power forward the team's roster boasts but has picked up the habit of slowing down once he hits the offensive zone and looking for a passs rather than crashing the net as he did in his pre stanchion days.
Rene Bourque will need to use his body as well. At 6'2″ 213 lbs, Bourque has at times shown a willingness to use his size to produce points. The Canadiens need more drive like this to avoid being pushed around and rely solely on speedy wingers to get the job done.
Many will say that something needs to be done with Carey Price as this team moves forward but that's a whole other topic for another day. I personally am of the belief that Price can help provide this team with their 25th Stanley Cup if surrounded by a defensive corps that can help clear his crease. However, this will only be proven to be right or wrong once the Canadiens change their reputation of being a team that is too easily pushed around.
Your Two Cents
Heading into the 2013-14 season, what changes would you make to see the Canadiens further into the playoffs?
Despite the early departure in the first round, do you consider the 2013 season a success?
And finally, was the 2013 campaign a promising glimpse of what's to come or simply a year where a team just overacheived due to low expectations?
Writer for www.HabsAddict.com, MontrealHockeyTalk.com and TheHockeyWriters.com