The Buffalo Beauts Friday evening Sept. 21, 2018 practice outwardly showed more focus and more "down to work" attitude. This is to be expected and is a natural progression. As the Beauts social media accounts depicted the off-ice team building – a pickup football game of their own on the home field of the NFL's Buffalo Bills, a bit of creativity and designing at the New Era Flagship Store, and a team dinner at the famous Chef's Restaurant – the on-ice practice was very serious. The Beauts are bonding as one, and their mindset is winning the Isobel Cup at the conclusion of the 2018-19 NWHL season. Veteran Beauts' defender-forward Jacquie Greco embodies what this team is about. She is a testament to it.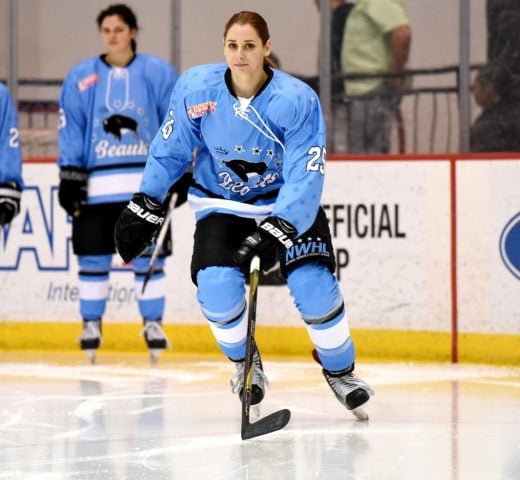 "I think the team has done a great job this year by having this little mini-camp," Greco told THW after the Friday evening practice. "We're all together for five days straight and it's really gotten us closer these past couple days. We do have a lot of veterans on this team and a lot of girls from Buffalo. I feel like every year we're adding new girls from Buffalo. I think that helps a lot for some of the girls out of town, moving in. It's just about trust, and everyone trusts each other. We're all going to stick together and build as a team, and get more comfortable with each other."
Entering into her third NWHL season, Greco has consistently been one of the Beauts natural leaders during her time with the team. A veteran now of 29 regular season games and four postseason games, she is one of the players the team depends upon to show newer players the ropes. It would not be far-fetched to consider Greco the glue of the Buffalo Beauts.
Personal Performance and Goals
Within those 29 games through the past two NWHL seasons, Greco has scored a goal and two assists. Having the versatility to play either forward or defense, she has mainly filled a role as one of the team's more consistent blueliners. In her own rookie season in Buffalo – 2016-17 – she was a vital cog in the underdog Beauts becoming Isobel Cup champions.
During this past 2017-18 campaign Greco put 11 shots on goal from the back end, and blocked seven shots in the 14 games that she played. Her attitude and commitment to community off the ice saw her named the Beauts recipient of the NWHL Foundation Award. This award is presented annually to a player from each of the league's teams who most actively applies the core values of hockey to her community as well as growing the game and improving hockey culture.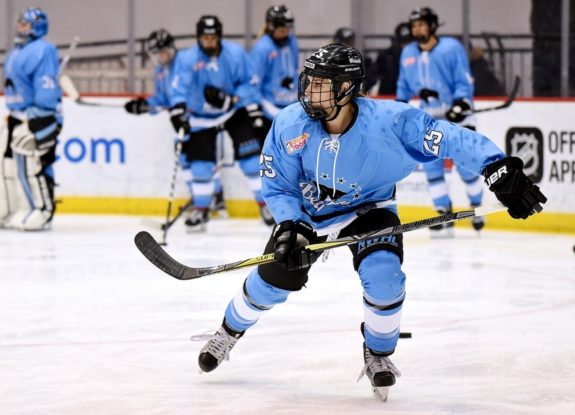 For Greco though, it is not about statistics or awards. Instead, it is about what she can do each season to be a better player for her team.
"Every year it's just trying to get better and trying to define my craft a little bit more," she stated. "Not so much personal goals, except for being consistent every game, every practice. Consistency is what is going to keep each girl in the lineup. I think everyone is working hard every practice, everyone wants to play. I think for me I think it's being consistent and proving my confidence to the coaches."
Welcoming the Newcomers to Buffalo
As of Sept. 22, 2018, there are six players on the Beauts roster who have yet to play an NWHL game. There may even be one more, as Buffalo General Manager Nik Fattey stated that there would be at least one more player signing to take place before the regular season gets underway. Three of the newest Beauts – defender Savannah Harmon and forwards Juls Iafallo and Annika Zalewski – are making the jump directly from college to the professional game.
Greco is 27 years old, and is able to provide both reassurance and guidance to these younger players. It is something teammates have complimented her on since her time in the league – making them feel welcomed.
New Era Field isn't the same on a Thursday @buffalobills #GoBills pic.twitter.com/ZHYUeASORU

— Jacquie Greco (@jacquiegreco_) September 20, 2018
"I think the biggest thing is making them comfortable," Greco said about making the players – particularly the younger ones – feel included. "Some of them are moving to a new city. I know Juls is from here, so it's probably a little more comfortable for her. Making everyone feel comfortable. It's not like in college where you're this big, bad senior – it's different, it's a professional level. We're like a family now. Making those girls feel comfortable, and knowing that they can look up to someone like me or someone like Emily Pfalzer – girls who have been around a while and are a little bit older now. Again, making everyone feel comfortable. Nobody is different than anybody else. Nobody is a 'rookie', even though they are. Accepting everyone from wherever they're from, and being on this team moving forward."
Growing Support From the Buffalo Faithful
The Buffalo Beauts are setting the standard for the entire NWHL. People in Buffalo know who the team is and they are offering up support in droves. If fans go into the Sabres Store across the street in the KeyBank Center, they do not just find Buffalo Sabres gear – there is an entire section now of all Beauts merchandise. Enter into local Wegmans supermarkets and there are racks at the checkout with Beauts shirts and hats.
Created our own caps and had another great visit with our friends at @NewEraCap! pic.twitter.com/ACeQaiWb9P

— Buffalo Beauts (@BuffaloBeauts) September 21, 2018
Greco has seen the fan support grow through her three seasons and it has been wonderful. Make no mistake – the 2018-19 Beauts have definitely garnered attention by some of the high-profile signings they have made. Now the team as whole is working together to show what they are all about – a fun hockey club no matter what.
"It's awesome," Greco said enthusiastically. "Now if you walk around, and if you say, 'I play hockey' and you say who you play for, I would say 80-percent of the city knows who the Buffalo Beauts are. I think that's helped a lot, especially being acquired last January (by Pegula Sports and Entertainment). It's just made us want to impress those fans a little bit more. Maybe prove to some people who we are, and that we're a fun team to watch. Even if you think women's hockey is not fun, we're a fun team to watch. So I think we will definitely prove that this year. I think we proved it a little last year, but coming into this year – new team, new season, new establishment, new ownership – everything is new. Setting the groundwork from the start is really what is going to get our fans excited."
General Manager of the Buffalo Beauts (NWHL). Hockey history writer "The Hockey Writers". Credentialed media for the NHL Combine and 2018 IIHF World Junior Championships in Buffalo, NY, USA. Born and raised in Buffalo, NY. Lifelong hockey fan for over 40 years. Proponent of the women's game.