BUFFALO, N.Y. — Jeff Skinner scored 3:06 into overtime after getting the tying goal late in regulation, and the Buffalo Sabres beat the Montreal Canadiens 3-2 on Friday for their eighth straight victory.
Buffalo's win streak is the longest in the NHL at the moment and the team's best stretch since winning 10 in a row to start the 2006-07 season. Casey Mittelstadt also scored for the Sabres, and Carter Hutton made 31 saves.
Brendan Gallagher and Andrew Shaw scored the Canadiens, who have lost three straight. Phillip Danault had two assists, and Antti Niemi stopped 37 shots.
Skinner scored the winning goal on a 4-on-3 power play after drawing a slashing penalty on Montreal's Max Domi. Skinner knocked in the rebound of Jack Eichel's shot while falling down near the front of the net, earning his team-leading 17th goal of the season.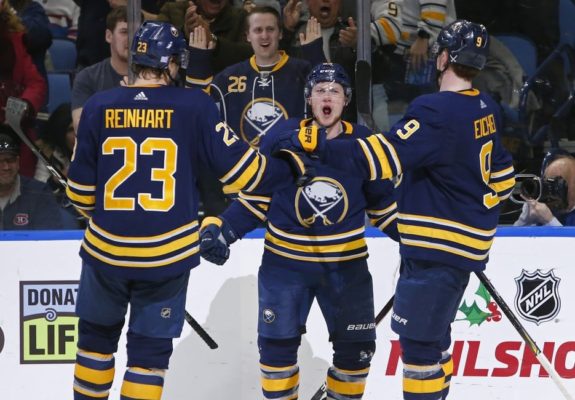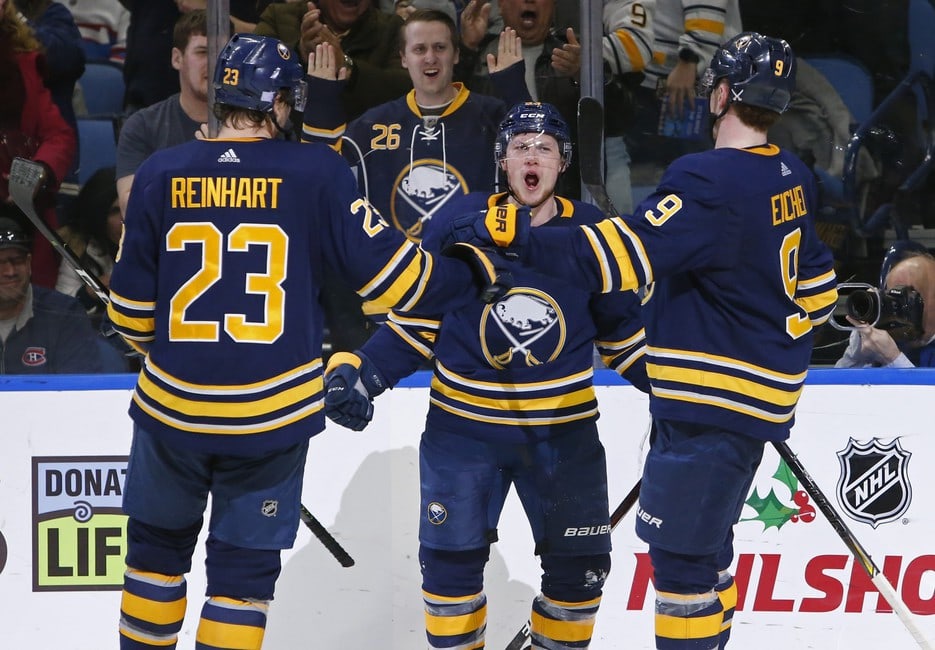 Skinner tied the game with 2:26 left in regulation. Gathering the rebound of Zach Bogosian's shot in the right circle, Skinner flung a backhand by a sliding Niemi.
Buffalo's Jake McCabe then hit the post on a slap shot with 29 seconds left in regulation.
Shaw's power-play goal gave Montreal a 2-1 lead 8:18 into the third period. Danault won a faceoff in the Sabres' zone and Shaw deflected David Schlemko's slap shot past Hutton five seconds after Jason Pominville went to penalty box for holding.
The Canadiens had tied the game late in the second when Danault set up Gallagher on a 2-on-1 for his 11th of the season on a wrist shot from the right circle.
Gallagher had a goal disallowed about five minutes earlier when video replays confirmed he kicked the puck into the net.
Mittelstadt scored on a rebound opportunity with 7:21 remaining in the opening period. Conor Sheary deflected Jake McCabe's shot from the point off the right post and Mittelstadt reached in from the right edge of the crease to sweep the puck across the goal line.
NOTES: Sabres D Marco Scandella returned after missing one game with a lower-body injury. … Canadiens F Matthew Peca moved back into the lineup, replacing Charles Hudon at left wing on the third line. Peca centred Montreal's fourth line before being scratched for Wednesday's 5-2 loss in New Jersey. … D Brett Kulak made his Canadiens debut after being called up from the minors on Thursday. Kulak and D Karl Alzner entered the lineup in place of Mike Reilly and Xavier Ouellet.
UP NEXT
Canadiens: Home against the Boston Bruins on Saturday.
Sabres: At Detroit on Saturday
___
More AP NHL: https://apnews.com/NHL and https://twitter.com/AP_Sports
Jonah Bronstein, The Associated Press