ST. PAUL, Minn. — Eric Staal scored with 2:31 remaining to send the Minnesota Wild to 4-2 win against the Winnipeg Jets in an emotional, penalty-filled matchup on Friday.
Nino Niederreiter, Eric Fehr and Zach Parise also scored for Minnesota, which trailed 2-0 after two periods. Alex Stalock made 26 saves while filling in for Devan Dubnyk, who was scratched with an illness.
Patrik Laine scored for the sixth time in three games for Winnipeg, which has lost back-to-back games for the first time this season. Nikolaj Ehlers added his fifth goal of the season, and Connor Hellebuyck made 35 saves.
A tense affair between the two Central Division rivals boiled over in the third.
RELATED: Why Minnesota is Truly the State of Hockey
Minnesota's J.T. Brown hit Winnipeg forward Andrew Copp into the glass near the Jets' bench, causing Copp to go to the ice. After several minutes, Copp skated off and went to the locker room.
A few minutes later, Winnipeg's Adam Lowry hit Joel Ericksson Ek with an elbow, starting a melee that ended up in the Jets' bench. Wild defenceman Nick Seeler confronted Lowry after the hit and Lowry shoved Seeler into the bench area with the door open for an expected line change. Minnesota's Marcus Foligno jumped in and both Wild players ended up on the bench.
Minnesota's Ryan Suter was called for roughing later, but Staal scored after the penalty expired, notching his second straight game-winning goal. Parise added an empty-netter to finish the flurry.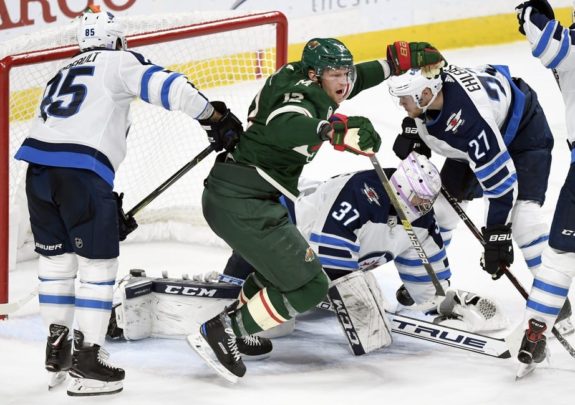 Laine scored for the third straight game to open the scoring in the first. He leads the league with 10 goals in November, running his total to 14 for the season. Ehlers scored on the power play in the second to add to the lead.
Niederreiter had a goal and assist after being demoted to the fourth line.
Minnesota had a power-play goal in five straight games and seven overall in that span but was 0 for 6 on Friday.
NOTES: Minnesota recalled G Kaapo Kahkonen from the Iowa Wild on an emergency basis with Dubnyk out. Kahkonen, the reigning American Hockey League player of the week, owns an AHL-leading 0.98 goals-against average. … Winnipeg entered with the seventh-best penalty kill on the road this season, killing off 81.3 per cent of its short-handed situations. … Wild opponents have scored the first goal in 15 of the past 21 games. … Minnesota is 34-8-10 at home since the start of last season. The eight regulation losses are the fewest in the league. … It was the first meeting between the teams this season.
UP NEXT
Jets: Play the second game of a back-to-back at St. Louis on Saturday.
Wild: Host Arizona on Tuesday.
Brian Hall, The Associated Press