Last place in the rough North East Division. In the past five years, they've made the playoffs twice, only to lose in the first round. Come the NHL Trade Deadline on April 3rd, after another dismal season with one of the worst goals against per game in the league, the Sabres will most certainly be selling their defensive side (if anyone takes the bait). Some backend possibilities for said bait include…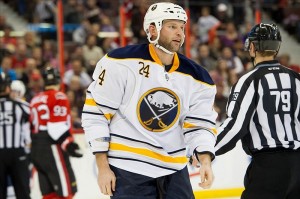 Robyn Regehr
He's possibly the most wanted defensemen, after Jay Bouwmeester who still has yet to play in the post-season. Regehr has a cap hit of roughly $4-million, and is a UFA at the end of the year (not necessarily what an interested team would want). However, if the Sabres could make a deal before the trade deadline, they could get something juicy in return. The Brazil-born d-man has only one assist so far this year.
Jordan Leopold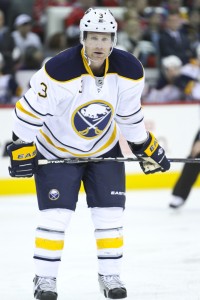 A potential rental player, Jim Matheson of the Edmonton Journal ranked Leopold 18th out of the upcoming UFAs likely to be dealt. A little less expensive than teammate Regehr ($1-million less to be exact), Leopold isn't as reliable as #24, but has more points so far this season. Both have their clocks ticking, at the age of 32. This could be the third time in his career that Leopold has been dealt at the trade deadline.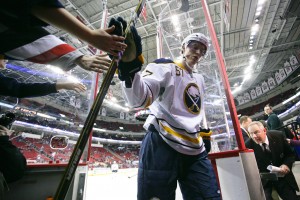 Tyler Myers
For a a team that depends on their young players, Myers has become a huge disappointment. His size seems to be his only positive. This year will be his lowest point total to date, even with "on-pacing" his points to an 82 game schedule. He is nowhere near the $12-million he made this year, and is still locked up until 2019. In his contract, Myers also has not only a modified no-trade clause to set in for 2016, but a no-move clause as well, meaning no matter how badly he plays, he can't even be sent down to the Rochester Americans.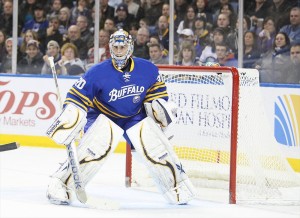 Ryan Miller
"I want the situation to be that we're in a position to win a Cup sooner than later," Miller has said. However, he's unhappy, he's playing poorly, and is creating drama in the dressing room. Locked in for another year after this one, his cap hit is $6.25-million. Calgary's looking for a goalie to potentially replace injury-ridden Mikka Kiprusoff (same with Dallas and Kari Lehtonen) and Toronto doesnt' have a consistent #1,  A few years ago, he would have been a hot commodity. But who wants him at the state he's in?