As the Buffalo Sabres' revamped core has taken shape this summer, fans have begun to discuss what constitutes as a realistic benchmark in terms of offensive production for the team's top players. It's no secret that Jason Botterill has worked tirelessly to put his stamp on a roster that vastly underperformed last season. With the addition of several scoring contributors and a certain Swedish defensive phenom, fans in Buffalo have a newfound enthusiasm heading into the 2018-19 campaign.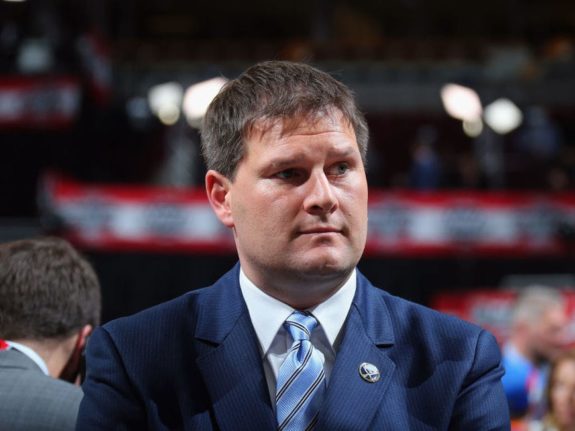 A new and improved veteran core paired with the rise of young offensive playmakers in the Sabres' system should feasibly lead to improved point production across the board, but just how much is reasonable to expect? Let's take a look at the players who will be tasked with key roles on offense as the team attempts to re-emerge from the league basement.
Returning Sabres
One critical component to the Sabres' success moving forward will be the continued growth and productivity of players who were on the roster last season. Save for a few obvious cases, very few existing jobs were considered "safe" following Botterill's offseason promise to shake-up the core of his franchise.
For those who survived the second-year general manager's summer purge, the pressure will be on for them to improve with a revamped supporting cast. Barring a catastrophic string of injuries, it's hard to imagine the Buffalo attack being any less effective than it was in 2017-18. That being said, if the team hopes to end the league's second-longest playoff drought, the increase in scoring output will need to be significant. The Sabres ranked dead-last in the NHL last season in goals-for with 199 on the year.
Jack Eichel
Even with a considerably deeper pool of talent in 2018-19, the Sabres' overall success now, and moving forward hinges heavily on the face of the franchise, Jack Eichel. For the second consecutive season, the 21-year-old center led the team in points with 64, setting a career-high despite missing 15 games due to injury.
Last year, head coach Phil Housley played musical chairs with the forward lines for the entirety of the season, but that may have had to do with a lack of depth (and talent) on the wing. One way or another, Eichel will have a new wingman on the left side with the additions of Conor Sheary and Jeff Skinner, both of whom arrived via trade this summer.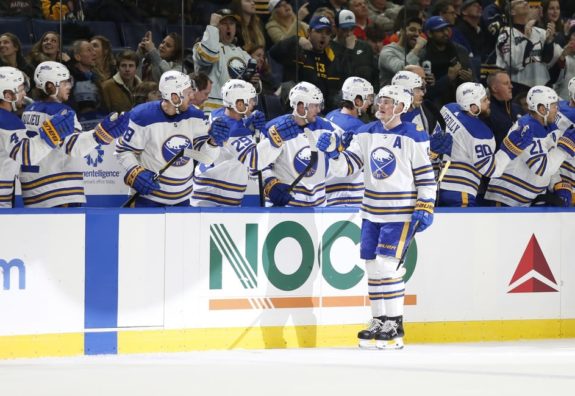 As long as the second-year bench boss can resist the urge to constantly shuffle the forward ranks in 2018-19, Eichel should benefit from having a consistent scoring presence flanking both sides. After producing at nearly a point-per-game clip last season, fans have set incredibly high expectations for the 21-year-old.
If he can stay healthy for the entire season after missing 36 games over the past two years, it's not out of the realm of possibility to see him maintain his current trajectory en route to an 85-90 point performance.
Sam Reinhart
For now, Sam Reinhart's looming restricted free agent status has overshadowed any debate about his projected offensive growth moving forward. While it remains unclear when the two sides will finally get a deal done, it's a near certainty that he'll re-sign with the club prior to the start of the season.
What's less apparent is where the 22-year-old will line up in 2018-19. At first glance, the obvious choice would be to place him on Eichel's right side where he has been quite productive over the past two years. Regardless, Botterill continues to mention Reinhart's versatility and ability to play either on the wing or at center. For the sake of projection, let's assume that he mans the right side of the Sabres' top line this year.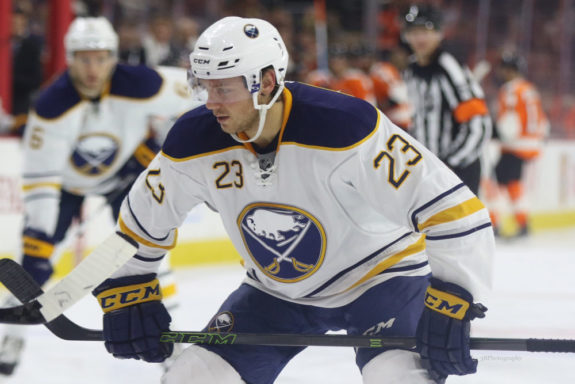 Like Eichel, Reinhart set a career-high last season with 50 points in 82 games, most of which came after he transitioned to the wing following a failed experiment down the middle. Over the final 38 games of the 2017-18 season, he registered 37 points which may be contributing to the delay in finalizing his contract. It remains to be seen whether the organization will elect to retain him on a bridge-deal or lock him down long-term.
One way or another, it would not be a surprise to see Reinhart pick up where he left off during the second half of last season. A point-per-game pace is probably an over-ambitious expectation, but a 60-65 point campaign is certainly attainable.
Kyle Okposo
Last year was an up-and-down affair for Kyle Okposo. After a serious concussion shortened his 2016-17 season and resulted in a terrifying string of events that landed him in the hospital, the 30-year-old winger struggled to regain his form in 2017-18.
Through his first 26 games back in the lineup he only managed 11 points. It goes without saying that concussions take varying lengths of time from which to fully recover depending on the severity, but with a cap hit of $6 million per year through 2022-23, fans became increasingly concerned with his lack of production.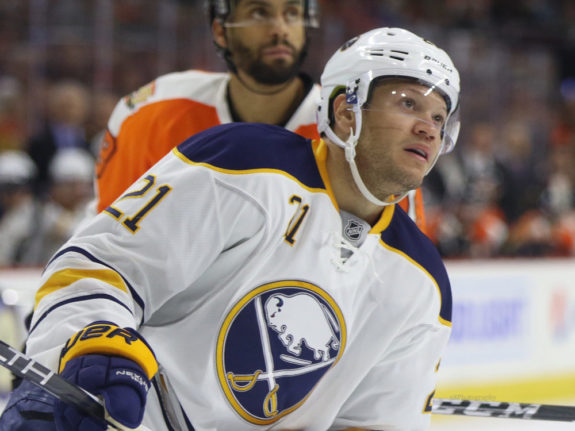 Fortunately, as the season wore on, Okposo made considerable progress, appearing far less timid on the ice as he closed out the year with 25 points in 36 games. Over the course of an 82 game season, that pace would have put him around 57 points, a much more palatable total for a player with such a significant cap burden.
Last week, he expressed a desire to get back to being the viable scoring threat that fans were treated to during his time with the New York Islanders.
"I'm not going to be happy just riding off into the sunset," he said. "I want to get back to being an elite player, I want to help this team win and I think I'm capable of that."
It's fair to assume at this point that he is fully healthy. With a full slate of games and a reignited desire to become the Kyle Okposo of old, a 50-55 point season should be a reasonable goal.
Rasmus Ristolainen
We'll start by addressing the fact that Rasmus Ristolainen has made waves on social media this summer. Usually, that statement would lead one to believe that something negative had occurred, but that's not the case here. Photos of the 23-year-old during his offseason workout sessions have caught fans' attention.
Leaner. Meaner. Explosive. Faster.

A look into @rasmrist55's offseason workouts 💪: https://t.co/DjEPmxfd4L pic.twitter.com/FOqoznoEKr

— Buffalo Sabres (@BuffaloSabres) September 12, 2018
From agility drills to flipping tires, there's no doubt that from a physical standpoint, he'll be ready for training camp, which begins this week.
As one of the most over-utilized players in the league over the past three seasons, Ristolainen will continue to generate opportunities from the back-end. Since 2015-16, only two players in the NHL have averaged more ice time per game (Drew Doughty and Ryan Suter, respectively).
With the addition of rookie blueliner Rasmus Dahlin, Ristolainen's ice time should decrease to an extent. That's not to say he won't be leaned on as a player capable of contributing in all phases of the game, however, even a slightly diminished workload should do wonders. It has long been speculated that he would be better suited as a high-end second pairing presence instead of a franchise workhorse.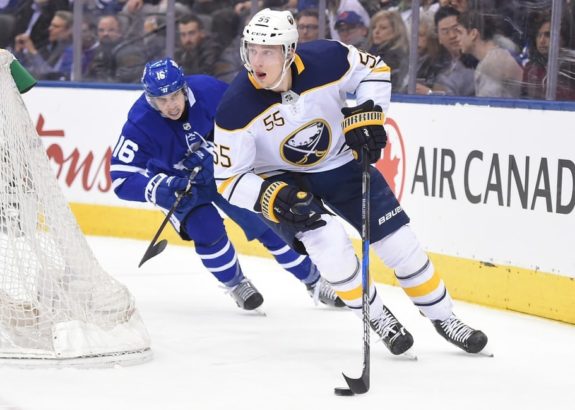 Due to the fact that he was the only defenseman in the organization capable of producing points prior to Dahlin's arrival, Ristolainen has surpassed the 40-point mark in each of the past three seasons. That trend should continue as his rookie counterpart gets his feet wet. For at least another year, fans can anticipate a ridiculous ice time average for the lean, mean, Finnish machine. Expect his point total to land somewhere in the 40-50 range once again.
Veteran Additions
As previously mentioned, Botterill was serious when he indicated sweeping changes to the roster during his press conference on locker cleanout day. Before the free agency period started, he had already made a significant trade to improve the top-six and didn't stop there.
As arguably the busiest team in the NHL from a talent acquisition standpoint this offseason, the Sabres will feature some new faces as they try to develop a roster capable of running Housley's system. If he fails to execute his vision with the talent he now has at his disposal, his seat will likely get considerably warmer at the end of the year.
Jeff Skinner
The acquisition of Jeff Skinner via trade with the Carolina Hurricanes last month is Botterill's crown jewel thus far in his pursuit of scoring talent. For pennies on the dollar, the Sabres were able to secure the services of a proven goal-scoring presence. The most impressive part of the deal was the fact that Botterill managed to hang onto all three of his first-round picks in 2019.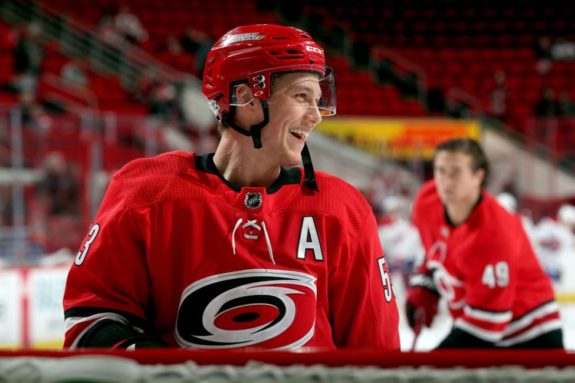 It remains to be seen whether Skinner lines up with Eichel on the top trio, or with Mittelstadt on the second line. Both options have their advantages. On the first line, his ability to score will be maximized alongside one of the league's elite playmakers in Eichel. In order to establish scoring depth throughout the lineup however, placing him with Mittelstadt would give Housley two top-flight scoring lines to work with and his presence would certainly prove beneficial for a rookie centerman who will inevitably experience growing pains as he adjusts to the speed of the NHL.
Either way, after skating with the unremarkable Derek Ryan for a good chunk of last season in Carolina, his production should see at least a modest increase. Over the past three years, his point totals have been relatively inconsistent. In 2016-17 he matched a career-high with 63 points in 79 games. Last season he regressed a little with 49 points in a year where he dressed in all 82 games, but part of that had to do with the talent (or lack thereof) around him.
Related – Sabres Forwards: What They'll Look Like for 2018-19
For the sake of argument, let's assume he starts the year with Eichel on the top line. If that's the case, a 65-70 point season is a reasonable goal. Should he hit that mark, at just 26 years old, he'll be in line for a substantial pay increase as he approaches unrestricted free agency next summer.
Conor Sheary
As the team's first official trade acquisition of the offseason, the arrival of Conor Sheary was step one in filling the two vacant left wing spots on the roster. Coming from the Pittsburgh Penguins' organization, the 26-year-old is a prime example of the player development style that Botterill plans to implement in Buffalo.
As an undrafted player at the University of Massachusetts Amherst, he signed with Pittsburgh as a free agent following the conclusion of his senior year. After spending two full seasons with the Penguin's AHL affiliate in Wilkes-Barre he finally got his chance at a full-time role with the big club. That type of developmental patience is something the Sabres organization has lacked in years past.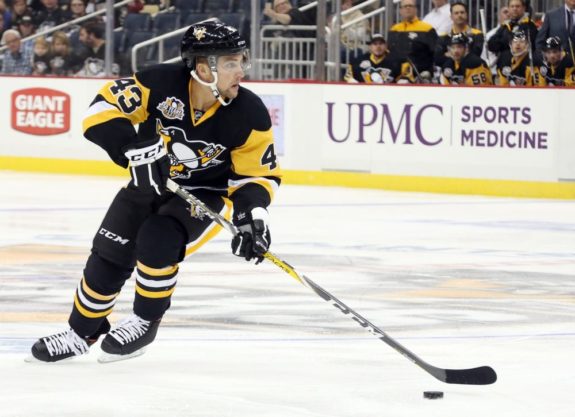 Similar to Skinner, it remains to be seen where he lands on the depth chart. During the 2016-17 season, Sheary flanked a future Hall-of-Famer in Sidney Crosby en route to a 53 point performance in 61 games. Last season his production took a nosedive without Crosby as his pivot.
Could Eichel serve as the elite center who propels him back to the player we saw two years ago? It's certainly possible, and for the sake of scoring distribution, that combination might not be a bad idea, but since we already projected Skinner on the top line, let's assume Sheary starts the season alongside Mittelstadt on the second line. A lot will depend on how quickly the rookie adjusts to his new role. One way or another, Sheary should land somewhere in the neighborhood of 40 points in 2018-19.
Sabres Rookies
Let us all take a brief moment and appreciate the fact that the franchise received some much-needed draft lottery luck this year. With Dahlin now in the fold, the Buffalo defense has gone from one of the worst groups in the league to a promising young assortment of Scandinavian talent.
Like it or not, the Sabres' fate this season hinges heavily on the success of their rookie skaters. While the team is much stronger on paper, it is unclear just how much of an adjustment period their teenage talent will require.
Rasmus Dahlin
Now that we've all taken some time to celebrate the fact that the organization now has a franchise defenseman for the first time in decades, it's time to hit you all with a dose of reality. While Dahlin's current skill level and potential ceiling are undeniably impressive, there will be a learning curve in his rookie campaign. After all, we're talking about an 18-year-old kid with limited experience on North American ice.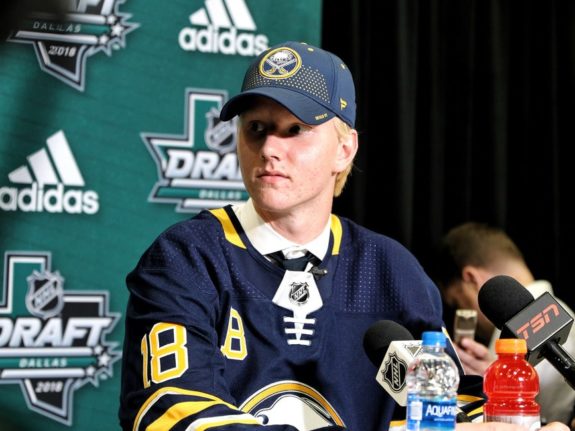 For months, fans in Buffalo have tried to predict how many points they should expect from the Swedish phenom. For the most part, their expectations are all over the map. When speculating what type of offensive production Dahlin will be capable of this season, it's important to take history into account.
With Victor Hedman, Erik Karlsson and P.K. Subban, we have three of the top defensemen in the NHL to use as a basis of comparison in determining what can be expected from an elite defenseman in their rookie season. As arguably the top two blueliners in the league, Hedman and Karlsson were far from offensive juggernauts in their inaugural seasons, posting 20 and 21 points respectively. Hedman didn't even break 30 points until his fifth full season in the league. Subban was a bit more impressive as a rookie with 38 points, but it's important to note the fact that he was already 22 years old at that point.
These examples aren't meant to discourage fans about just how much of a generational prospect Dahlin truly is, but setting your expectations in the 40-50 point range could very well lead to disappointment. A 30-35 point campaign may be a bit more realistic, and that's okay. It won't be long before this kid is in the Norris Trophy conversation, but it probably won't happen right away.
Casey Mittelstadt
It's pretty special to see just how far Casey Mittelstadt has come since being mercilessly ridiculed for failing to complete a chin up at the NHL Draft Combine. After being picked by the Sabres eighth overall in 2017, the Twitterverse was set ablaze by angry fans who expressed an almost unanimous disapproval of the selection.
Fast forward 18 months later and the 19-year-old is the odds-on favorite to anchor the team's second line. Following a whirlwind 2017-18 that saw him earn Most Valuable Player honors at the 2018 World Junior Championship, supporters of the blue-and-gold were chomping at the bit to see him in action with the big club.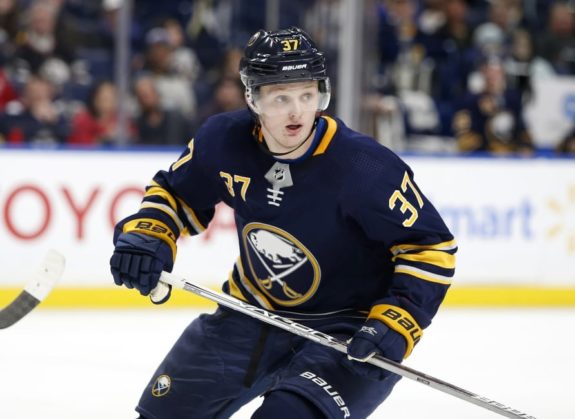 On March 29, they got their wish as the collegiate standout suited up for the Sabres against the Detroit Red Wings. Mittelstadt would stay with the team for the remainder of the season, posting five points in six games.
Despite his brief taste of NHL action last season, there will still be an adjustment period for the rookie center. The addition of veteran scoring commodities across the lineup should help ease the transition, but similar to Dahlin, fans would be wise to pump the breaks on some of the loftier statistical projections that have emerged as the season approaches. That being said, seeing him land in the 45-50 point range en route to a Calder Trophy nomination isn't necessarily out of the question.
Between the Pipes
One item that was high on Sabres fans' wishlist this summer was an upgrade in net. Both Robin Lehner and Chad Johnson struggled last season and it was essentially a foregone conclusion that both soon-to-be free agents would be finding new homes. Despite their respective poor performances in 2017-18, both keepers were fortunate enough to get another chance elsewhere. Lehner inked a one-year deal with the New York Islanders and Johnson managed to secure a similar contract with the St. Louis Blues.
With two new faces in net (one free agent acquisition and one organizational promotion), Buffalo will try to reverse their fortunes after having the third most goals-against in the league last season.
Carter Hutton
Following a two-year stretch where goaltending was a major point of contention among fans, the Sabres managed to acquire the most sought after netminder on the free agent market in Carter Hutton. Last season in St. Louis, the 32-year-old posted a league-leading .931 save percentage, earning 17 wins in 26 starts. Not bad for a guy who, to that point, was pegged as a career backup by most.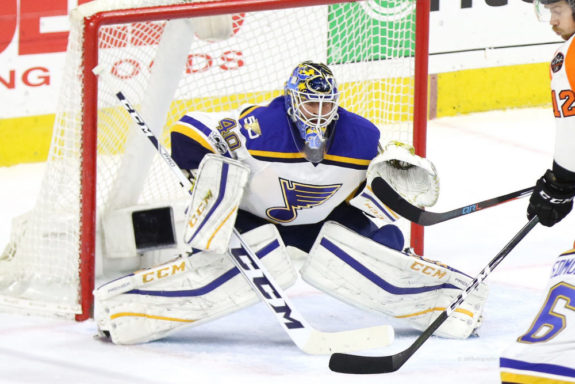 Moments after the signing was made official, Fox Sports' Andy Strickland reported that Hutton had turned down an offer from the Islanders that was worth an additional $500,000 per year. Clearly, he felt that he had a better opportunity to be the starter in Buffalo, but the decision also speaks toward the notion that the Sabres are a team on the rise.
Presumably, Hutton will get the lion's share of the starts next season as Linus Ullmark settles into his first full year at the NHL level. While fans would love to see him repeat his statistical output from last season, matching those numbers in a year where he will likely see twice as many starts may be a difficult task.
Fortunately, the Thunder Bay native has averaged a save percentage of .915 through 138 career appearances. If he were to maintain that average in 2018-19, it would result in a 1.5-percent improvement over what Lehner and Johnson accomplished in split duty last season. The Sabres defense, while improved, is still far from a finished product. For this reason alone, expect the veteran to regress a bit, finishing the year with a save percentage just south of .920.
A passionate supporter and lifelong fan of the Buffalo Sabres. Former Admin and Staff Writer at buffalohockeycentral.com.