A trade that was long overdue, practically unavoidable and not surprising when it went down on Thursday, the San Jose Sharks just got a whole lot better while the Ottawa Senators jumpstarted a rebuild amidst responses from Sens fans that the organization got taken to the woodshed. For nearly a year, rumors swirled that Erik Karlsson was going to be moved and even though the player didn't say a word, the Senators spoke loudly when they made both subtle and obvious hints he wouldn't be part of their future.
Only Karlsson and the Senators really know what happened in Ottawa. Neither side may never speak about the painfully-long drama that unfolded but it's not hard to put the pieces together and make an educated guess as to why a move elsewhere — even predicting a move to San Jose — was inevitable.
By my best guess, here's what really happened.
How the Karlsson Rumors Started
With former Senators GM Bryan Murray at the helm, the organization was, if nothing else, respectable. Some years were more competitive than others but in April of 2016, Murray announced his resignation to focus on his colorectal cancer diagnosis. The team had a strong season under Pierre Dorion in 2016-17 and after the club made a run in that year's postseason, the focus wasn't how close they came to making the Stanley Cup Final, it was how few fans wanted to watch the team succeed.
What would have been the hottest ticket in any other NHL city, Senators games weren't selling out. This was a problem. A lack of corporate sales, comments regarding the location and size of the arena, and existing questions as to why the federal government — the city's biggest employer — couldn't and wouldn't help surrounded the team.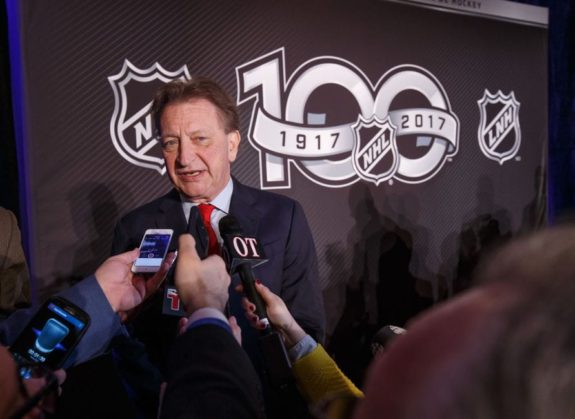 Owner Eugene Melnyk started making comments that didn't sit well with a lot of people. He was openly upset with the government for not supporting the franchise, with the fans for not attending games and when he hinted at moving the team, things got ugly.
It was clear conditions were going to go from bad to worse when former Senators' star Daniel Alfredsson commented he hoped the team would find a new owner and when fans spent money on #MelnykOut billboards that went up at various locations across Ottawa. Those who supported the GoFundMe campaign cited "Eugene Melnyk has decided that he would rather tear the team down and sell it for spare parts than admit he can no longer run it effectively."
Related: Senators Trade Karlsson to the Sharks
Melynk essentially proved everyone right when rumors started to circulate he was looking at trading his star defenseman — something that couldn't have sat well with Karlsson himself.
Vegas, Dallas & Tampa Emerge as Potential Favorites
The Senators tried to squash trade rumors by publicly saying they'd offer Karlsson a contract extension on July 1, 2018. True to their word, they did. The problem was, the offer wasn't on par with the market value for a player of Karlsson's caliber. Strike two.
It was a lot of money, but Drew Doughty had signed a more lucrative, bonus-heavy deal just prior and it made sense Karlsson would decline. When it seemed clear the Senators couldn't afford that type of contract, trade rumors again started to whirl and the Senators gave other teams permission to start speaking with their star about a trade/contract extension. Ottawa didn't appear to want to move Karlsson, but they certainly couldn't afford to lose him for no return if he left via free agency one summer later.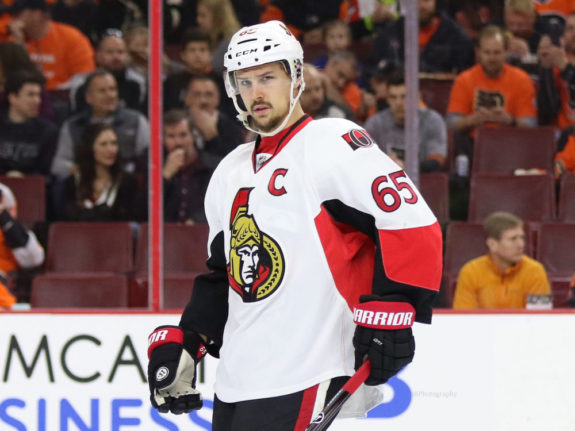 It had been earlier speculated — at the trade 2017-18 NHL trade deadline — the Vegas Golden Knights were interested but nothing materialized. So, when rumors of a trade popped up again, they became the first team people looked at. The Golden Knights had cap room, plenty of prospects and draft picks. They were also losing some of their assets after a miraculous Stanley Cup playoff run that saw them fall just short of being the first-ever expansion team to win it all. Of all the teams rumored, perhaps Vegas was the closest to an actual trade.
That said, other teams like the Dallas Stars and Tampa Bay Lighting also emerged as potential landing spots. In the distance, the San Jose Sharks had interest but weren't considered frontrunners.
Related – NHL Rumors: Yzerman, Melnyk, Karlsson, More
Could Karlsson Stay in Ottawa?
As teams appeared to fall out of the running — the Lighting signed forward Nikita Kucherov to a $76 million extension and the Dallas Stars had reservations about moving high-end prospect Miro Heiskanen — only Vegas and San Jose remained in the mix. The rumors of any trade quieted down and reporters started to retract their earlier claims that a move was all but done. NHL insider Elliotte Friedman labeled the whole situation as one that was "in a holding pattern." Then he said, if the ownership were different, Erik Karlsson would like to be an Ottawa Senator.
All the while, Karlsson stayed quiet, only to make a comment (Tweet has since been removed) when rumors were he'd decline any trade that included moving to a Canadian city. He had to do so after speculation the Vancouver Canucks were interested but immediately shot down as a team Karlsson would never re-sign with. The pause on trade talks and the fact Karlsson wasn't ruling out Canada gave a glimmer of hope to the idea he might want to stay in Ottawa.
Related – NHL Rumors: Karlsson, Shore, Reinhart, More
The Melnyk Video
Things in trade town stayed eerily quiet. There was chatter amongst the media that teams were still talking but no deal was imminent, even as the season grew closer. That is, until, Ottawa released a team-produced video that all-but pointed to a trade coming, a full-blown Senators rebuild and up to 16 new players joining the team in two years. Discussion about Karlsson's status in that equation exploded.
The Ottawa Senators are proud to share the vision for the future of our team and this organization. We are about to launch an exciting plan to rebuild our team and we are inviting you to be a part of our rise to new heights. #OttawaRising pic.twitter.com/hok2jYCUVi

— Ottawa Senators (@Senators) September 11, 2018
The video went live mere days before NHL training camp and in the background, if Karlsson was unsure of his status with the team before the Senators posted the strange production, he was keenly aware now — he was about to be moved.
In the days that followed, the media began to talk about Karlsson trade discussions once again picking up. Trading with the Lightning was still not easy considering their salary cap situation and the fact Steve Yzerman had just stepped down as GM, the Dallas Stars were rumored to be on the verge of a contract extension with center Tyler Seguin and the Golden Knights had just traded for and signed a big-money extension with Max Pacioretty.
While quietly sitting in the background, the Sharks were really the only team left standing (Vegas wasn't completely out of the realm of possibility). What put the Sharks over the edge was the fact they'd stayed stagnant through most of the summer and GM Doug Wilson was not the type to just stand pat. As other teams in the Pacific Division got stronger, Wilson was bound to make a move and the Sharks had the room to take on his contract and sign him to an extension if both sides saw fit. In a way, it was a deal that seemed destined from the start.
When All Was Said and Done
The trade that was Erik Karlsson to San Jose took a long time to materialize. But, if you look at things closely, it's hard to imagine any other outcome than what actually took place. Karlsson now joins a group that will tout arguably the best defense in the NHL, the Senators were destined to move their star for an underwhelming return and things were bound the get done before the season began.
Often, it's easy to say you saw a trade coming after it happens. In this case, it's believable if you say you actually saw this one coming.
Jim Parsons is a senior THW freelance writer, part-time journalist and audio/video host who lives, eats, sleeps and breathes NHL news and rumors, while also writing features on the Edmonton Oilers. He's been a trusted source for five-plus years at The Hockey Writers, but more than that, he's on a mission to keep readers up to date with the latest NHL rumors and trade talk. Jim is a daily must for readers who want to be "in the know."
Other content contributions include: NHLtradetalk.com, The Sportster and hosting weekly video casts, THW News and Rumors Rundown, plus Oilers Overtime.
For interview requests or to provide content info, follow Jim on Twitter or his social media accounts. They appear under his photo on articles like this one.