For the past few years, Chicago Blackhawks fans did not have to worry much about the pipeline and the quality of young players coming up through the system. They were too busy enjoying years of championship-quality hockey with a dynamic core of talented stars. With just three playoff wins over the past three seasons, the need for high-end young talent to be added to the NHL roster is greater than it has been in over a decade.
Success in the draft was a huge factor in the Blackhawks winning three Stanley Cups in six years. Players like Bryan Bickell, Dave Bolland, Corey Crawford, Niklas Hjalmarsson, Patrick Kane, Duncan Keith, Brandon Saad, Brent Seabrook, and Jonathan Toews were all homegrown products selected in the draft. Unfortunately, winning comes with a price, as the Blackhawks farm system has suffered due to much later first-round picks or no picks at all because they were used in deadline trades to make another run at the Cup.
While the Blackhawks' system is not exactly loaded, it is improving thanks to a crop of talented defensemen. Prior to last season, we ranked the Blackhawks as having the 29th-best prospect pool. Things are looking better a year later, as Peter Harling of Dobber Prospects has the Blackhawks' farm system coming in at No. 16.
Dylan Sikura's Impact Could Be Immediate
Out of all the Blackhawks' prospects, Sikura has the best shot to make a big impact on the 2018-19 season. In fact, if the Blackhawks want to return to the Stanley Cup playoffs next April' they will need him to live up to his potential this season. Not only is Sikura expected to be on the opening night roster, some feel he could start the year in the top-six.
Sikura was one of the best players in college hockey last season and has high-end offensive potential. The two-time Hobey Baker finalist has great skating and puck skills and very good instincts within the offensive zone, as shown in the highlight below.
After a slow start to his college career, Sikura shot up the Blackhawks' organizational depth chart with huge junior and senior seasons. He scored 43 goals and 111 points during his final two years at Northeastern University after putting up just 15 goals and 35 points in his first two seasons on campus. He had three assists during his brief five-game stint with the Blackhawks to finish out the 2017-18 season.
His offensive upside is certainly reason to be excited, but Sikura has plenty of work to do if he wants to make an impact at the NHL level. While he can handle himself just fine when he has the puck, there are still concerns about when he is without it. His size is an issue for some, and he has been known to be less than willing to be physical and work hard in the defensive zone. Sikura cannot do anything about his height, but he can definitely put in the work to be a better defensive and physical player. If he wants to stick around on a Joel Quenneville-coached team, he is going to have to do just that.
Henri Jokiharju Is Living Up to the Hype
The Blackhawks selected Jokiharju with the 29th overall pick in the 2017 NHL Entry Draft, and he went on to have a great season in the Western Hockey League last year. Jokiharju was named the Portland Winterhawks' "Best Defensive Player." He led all Portland blueliners with 71 points, and his plus-47 rating was the best on the entire team. He consistently put up points all season long while shutting down the opposition's top scoring lines.
I got my first look at Jokiharju at development camp, and he was impressive. The most noticeable element of his game is his fluid skating. He has great vision and passing skills to go along with his skating. He still needs to fill out a bit to handle the grind of an 82-game NHL season, but he has the tools to be an effective player in all three zones of the ice for years to come.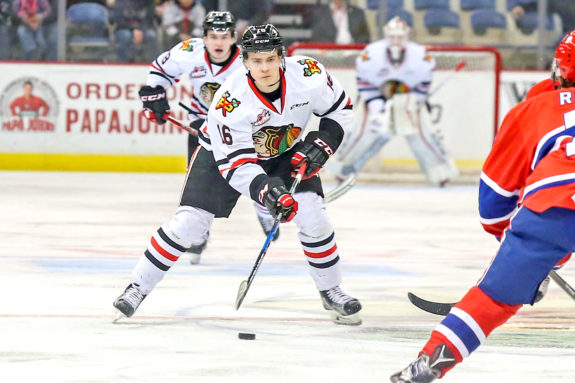 Jokiharju will challenge for a spot on the NHL roster later this month. He will be one of the most intriguing players to watch during training camp. He is already the best skating right-handed defenseman on the team. The Blackhawks have much to be desired on the right side, so Jokiharju does have a legitimate shot at starting the season in Chicago.
There is still some confusion on whether or not Jokiharju can play in the American Hockey League this season. He is too young to play in the AHL and would have to return to Portland if he does not make the NHL roster out of training camp. Since he is technically on loan from Tappara in Finland, the Blackhawks might be able to get around the age restriction and send him to Rockford, if need be. However, general manager Stan Bowman added to the confusion earlier this summer when he told Scott Powers of The Athletic that he was not sure if Jokiharju was eligible to play for the IceHogs.
Ian Mitchell Set to Dominate the NCAA
The Blackhawks doubled down on defense at the 2017 draft when they followed up the selection of Jokiharju in the first round with Ian Mitchell in the second-round. The Blackhawks may have drafted him a bit early, based on our pre-draft scouting report, but the pick is looking better after a great freshman season at the University of Denver. Mitchell is another top-notch skating, offensive minded defender. Some scouts have even compared his game to that of Duncan Keith.
The 19-year-old plays well in all three zones. He is quick through the middle of the ice and has great vision to distribute the puck to his teammates. He excelled at quarterbacking Denver's power play last season. He has a fairly accurate shot from the point, which he generally keeps low, looking for redirections.
Ian Mitchell is smooth like Santana 🎵 #DU1NATION pic.twitter.com/73P3zybrPN

— Denver Hockey (@DU_Hockey) January 20, 2018
Mitchell will need to fill out a bit before he is ready to take on the NHL. What he lacks in size, he makes up for with his instincts a positioning. He frequently uses his body to cut off direct paths to the net and his stick to close down passing lanes. Even though he is far from the biggest guy on the ice, he has no problem finishing off a check and play with a physical presence.
Mitchell formed one of the top pairings in college hockey last season with fellow Blackhawks prospect Blake Hillman. He scored two goals and added 28 assists in 41 games. While he is touted for his offensive skills from the blue line and his high hockey IQ, he also spent a lot of time doing the dirty work on the penalty kill. If he has another big year for the Pioneers, Mitchell is expected to turn pro in the spring.
Adam Boqvist Will Be Worth the Wait
For the first time since they took Kane first overall in 2007, the Blackhawks had a top-10 draft pick this past June. While there were more NHL-ready players still remaining on the board, Bowman decided to go with the smaller, highly skilled Swedish defender. Boqvist is at least two years away from competing for an NHL roster spot, but his raw talent and natural instincts already have him as one of the best prospects within the organization.
Boqvist had a bit of a down season by his standards last year, but he stood out on the biggest stage with a fabulous run in the World Junior Championship for Sweden. While all eyes were on Rasmus Dahlin, Boqvist showed off his talent by playing smart defense, leading the attack through the neutral zone and putting up three goals and six points in five games before leaving the tournament after suffering an injury during the semifinals.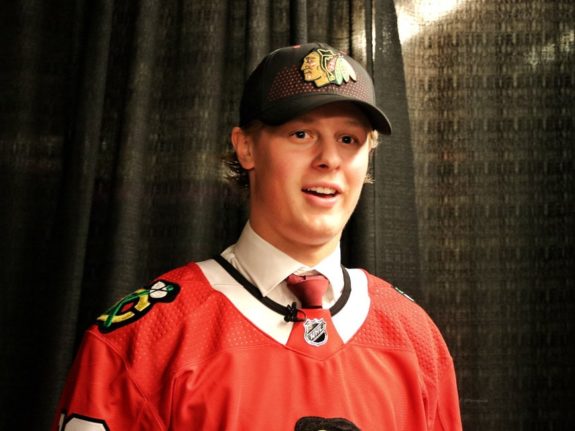 Chicago fans got their first look at their new prized prospect at development camp this past July. Boqvist showed off his speed, vision, hands, and smarts during the week-long camp. We got a better look at what the youngster can do in game action during last week's rookie tournament in Traverse City. Boqvist's biggest asset is his willingness to attack and force the play. Every time he had a chance to jump in the play and go for a scoring chance, he took it. His speed and skating ability allow him to be more aggressive as he can get back quickly.
Boqvist will remain in North American this season. After taking part in training camp and getting his first taste of NHL action, he will spend the 2018-19 season playing for the London Knights in the Ontario Hockey League. The move to the OHL should help in his development.
Honorable mentions: Nicolas Beaudin, Victor Ejdsell, Artur Kayumov, Chad Krys, Ivan Nalimov, Max Shalunov, Jake Wise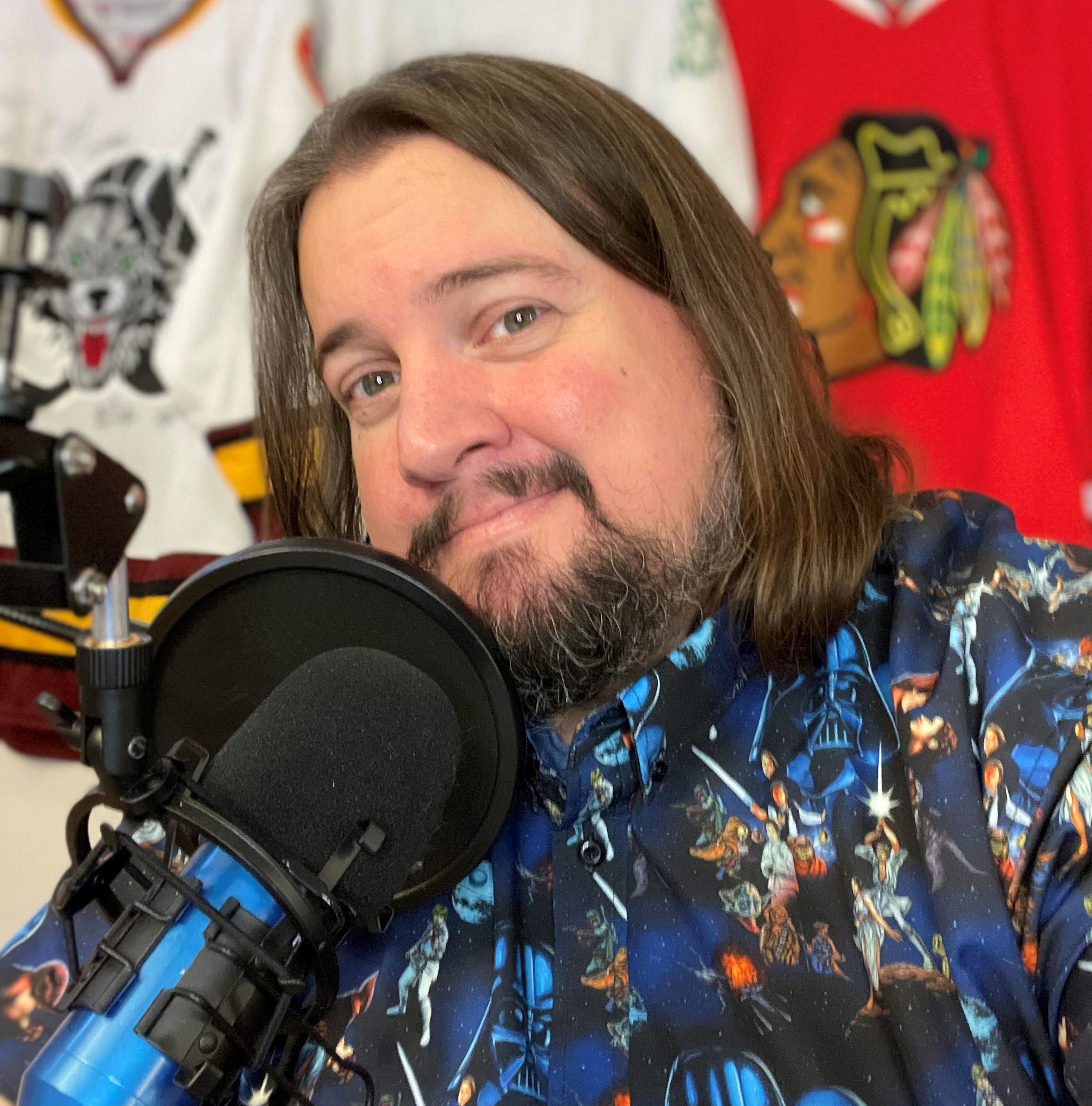 Greg Boysen has been writing about the Chicago Blackhawks since 2010 and has been a site manager for both FanSided and SB Nation. He has been published in The Hockey News and was fully credentialed for the 2013 Stanley Cup Final. Among his various roles with The Hockey Writers are covering the Blackhawks, the AHL, writing the daily "Today in Hockey History" column, serving as a copy editor, and appearing and hosting multiple YouTube shows, including Blackhawks Banter. He is credentialed with the Chicago Wolves, Rockford IceHogs, and Milwaukee Admirals, while also being a regional scout for the NAHL. And, just because his plate isn't full enough, Greg hosts trivia in the Chicago area two nights a week. For interview requests or to provide topic suggestions, follow Greg on Twitter and reach out.