In today's rumor rundown there is buzz the Lightning may have renewed interest in a particular defenseman, Nick Shore is an interesting player to watch, a Reinhart deal in Buffalo is being discussed and one NHL veteran asked for a chance to prove he's still got it.
Tampa Interested in Karlsson Again?
Postmedia's Bruce Garrioch reports that trade talks regarding Senators defenseman Erik Karlsson have picked up in recent weeks and among the speculated teams still interested are the Vegas Golden Knights and Tampa Bay Lightning.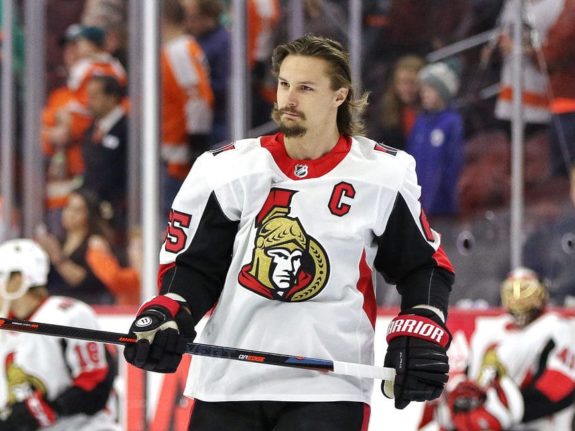 With Steve Yzerman out as general manager in Tampa, there is speculation the team may have a renewed interest in trying to acquire Karlsson. Cap issues and the lack of a third team created logistical problems when trying to figure out the math behind a deal and Yzerman had seemingly given up trying. With new GM Julien BriseBois' taking over, there is some buzz the Lightning might revisit the idea.
Chris Nichols of Nichols on Hockey writes that Elliotte Friedman was on Sportsnet 590 talking about the chances of Ottawa trading Karlsson and he said, "I think they would like to do it, but I've been told that they simply at this time do not like the offers that they're getting for him." If offers improve, Tampa Bay is one of the teams that Karlsson would really like to go to.
Friedman also suggests the salary may not be as big an issue as some assume. He explains, "Well, you only have to fill 6.5 for this year." Then he suggested Karlsson won't sign for anything more than Nikita Kucherov, Steven Stamkos, or Victor Hedman money. So too, "Ottawa has got a ton of cap room. If Tampa has to move a guy to do it, Ottawa can do it."
Related: NHL Rumors: Rangers, Sharks, Flyers, More
Interest Around the NHL in Nick Shore
25-year old center Nick Shore wasn't issued a qualifying offer at the end of the year and became an unrestricted free agent. Surprisingly, he wasn't signed by an NHL club as a depth roster member, nor has he been added to any tryout rosters. Still, James Mirtle of The Athletic though reports that Shore is "getting a lot of interest" around the league.
Mirtle doesn't believe the Toronto Maple Leafs are one of the teams showing interest but does believe Shore might actually be signed to a contract versus being forced to try out for an NHL club.
Reinhart in Buffalo But Deal Still Not Done
One player who still needs a contract in Buffalo is Sam Reinhart and while he's in town participating in informal skates with the team, there is still no word on a new deal, nor that one is close to happening.  GM Jason Botterill told Mike Harrington of the Buffalo News that the team remains hopeful an agreement can be reached but didn't elaborate on the status of negotiations.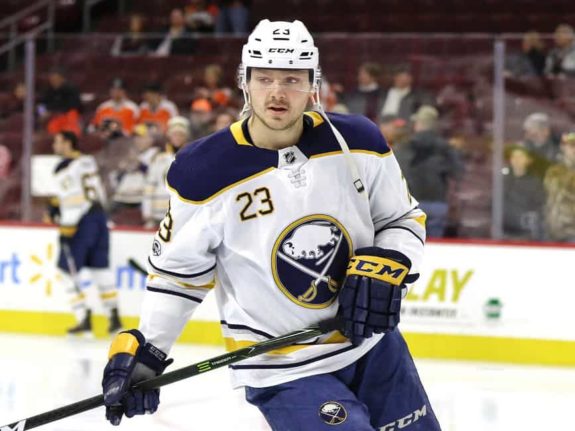 It's believed Reinhart's camp is seeking a long-term deal but as the season gets closer, they may have to settle with a shorter-term contract. Reinhart finished last season with 50 points, including 25 goals. There is some question as to how stable his production is which is why the team may be leaning more towards a bridge deal.
Related: NHL Rumors: Yzerman, Melnyk, Karlsson, More
Jussi Jokinen Asked For Red Wings Tryout
Jussi Jokinen signed to try out for the Detroit Red Wings but unlike a number of other PTO's that get signed by NHL clubs, this one was unique in that Jokinen asked to team to let him join the tryout group. Helene St. James of the Detroit Free Press reports that Jokinen's past experience with Red Wings assistant coach Dan Bylsma is what led Jokinen to Detroit.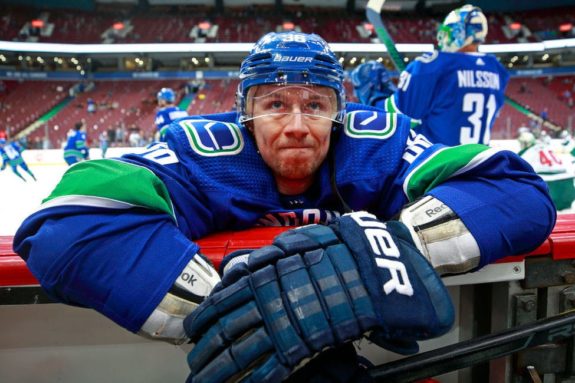 Jokinen will be in for a battle as GM Ken Holland continues to say that the team's priority is to look at their younger players. He did, however, commit to giving Jokinen a couple preseason games before making any final decision.
Bruins Interested in Panarin
Jimmy Murphy reports that even though nothing appears to be imminent, trade talk has picked up over the past 48 hours in Columbus. One of the teams interested in Artemi Panarin is rumored to be the Boston Bruins and reports are they have checked in on the status of his dealings with the Blue Jackets.