Beginning June 1, NWHL teams can start signing players for the 2018-19 season. For players who have completed their college eligibility and want to continue their hockey careers, the free agency period provides them an opportunity to continue playing at the highest level of professional women's hockey. The fourth season of the NWHL will begin in October as the Metropolitan Riveters defend their Isobel Cup championship, and with the addition of a fifth team – the Minnesota Whitecaps – as well as the inclusion of players who participated in the 2018 Winter Olympics, this very well could be the most competitive season yet. 
My colleague Nathaniel Oliver will keep THW readers up-to-date on Boston and Buffalo's signings throughout the summer, while I post updates on Connecticut and the Riveters. Together we will collaborate to keep readers informed of all of Minnesota's signings.
Connecticut Signs Russian Goalie Sorokina
Minnesota's Roster Nearly Complete
Whale Re-Sign Baribeau, Anderson; Sign 2 Rookies
On September 12 the Riveters re-signed one of their most important players – Alexa Gruschow, the league's 2018 MVP. Gruschow led the league in scoring with 22 points (9g-13a), shorthanded goals (2), face-offs won (195), and game-winning goals (4) — and that doesn't even include the most important goal she scored all season. Her coach Chad Wiseman intimated before the season that she could be the league MVP and she went on to do just that when she became the first player not named Brianna Decker to win that award. The 24-year-old had the lone tally (a highlight reel goal) in the Rivs 1-0 triumph over Buffalo in the Isobel Cup Final.
We want to make sure everyone sees this incredible championship-winning goal by #AlexaTheGreat. pic.twitter.com/AlCk70xwKN

— NWHL (@NWHL) March 26, 2018
"It did take me a good bit of time after the game to kind of grasp that and let it all sink in," she told us with a grin back in July. "It's weird to think about – oh wow that was me that did that. But if you look at every other part of the game – we had a shutout. That's Fitzy (Katie Fitzgerald) for you, that's our defense for you, and we had plenty of other scoring opportunities. One of them just happened to go in and it was an all-around team effort from every person on our team, including the coaching staff, all the team staff. Everyone deserved to lift that Cup."
"It's an exciting challenge to defend our title, and we are ready to compete just like we were at the beginning of last season," Gruschow said in a press release announcing her signing. "This year will be very competitive amongst the five teams, and we hope to stand up to our name of Isobel Cup champions."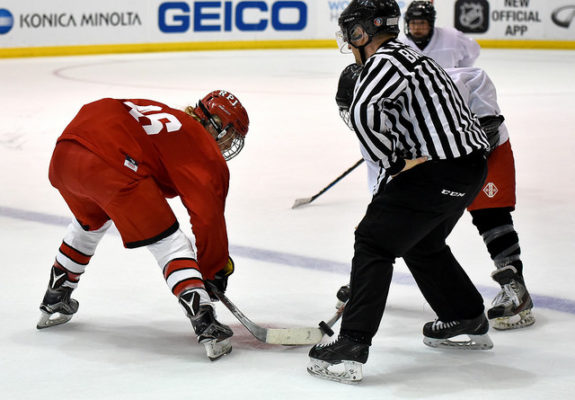 Even though she led RPI in scoring for all four of her seasons Gruschow went undrafted and was signed by the Riveters after she attended an NWHL Free Agent Camp in New Jersey in 2016. Over her career, she has 32 points (11g-21a) in 34 games as a pro. Last season she was named to the NWHL All-Star game in addition to being named to Team NWHL which played against Team USA before they departed to play for and win a gold medal at the 2018 Winter Olympics.
"I am hoping to continue to contribute to my team in any way that I can. I seemed to have a different role between my first and second season, and I am ready to take on whatever my role may be for my third season, whether it changes or stays the same," said Gruschow. "We could not have asked for a better ending to our season last year, and I am confident that the Rivs will carry that success into this upcoming season. My biggest goal is to do what I can to help our team reach it's highest potential."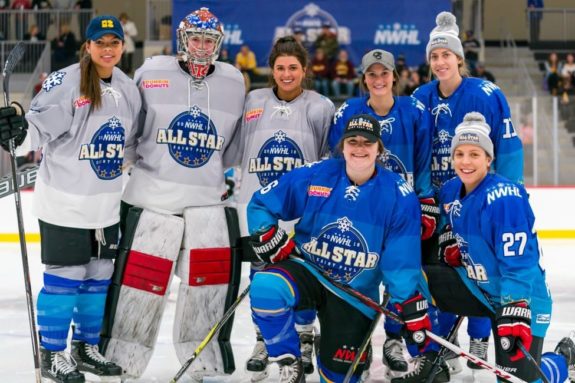 The 2018-19 Riveters will be returning 14 players from their championship roster (as of today): Katie Fitzgerald, Kimberly Sass, Sarah Bryant, Michelle Picard, Courtney Burke, Jenny Ryan, Kelsey Koelzer, Kiira Dosdall, Madison Packer, Kelly Nash, Rebecca Morse, Miye D'Oench, Alexa Gruschow, and Rebecca Russo. Players joining them with NWHL experience will be Amanda Kessel and Kristin Lewicki, along with rookies Lexi Slattery, Audra Richards, Fiona McKenna, Chelsea Ziadie.
"I think everyone should just be really excited for season 4 with the NWHL," she added. "We also added a fifth team in the Minnesota Whitecaps, and I'd say that's a big step that we're going to try for each year. Each year we're just, I would say getting bigger and better, and keep moving in the right direction."
Dan Rice is in his 9th year of reporting for THW & has covered NJ Devils home games for 15+ years at various websites. He began his journey working for legendary broadcaster/writer Stan Fischler from 2002-04 & completed an internship at the ECHL; he also has been writing features for the NWHL (nwhl.zone) website since 2016.