A major theme that emerged at the end of the Buffalo Sabres' 2017-18 season was the need to take a close look at team culture. Exit interviews and press conferences shed light on a losing mindset that seemingly plagued the locker room and made its way out onto the ice most nights. The topic has since been dissected and analyzed by fans and media alike, but it is ultimately up to the players, coaches and executives to implement effective change.
An organization can explore various methods to begin resolving such an issue. So, what will the 2018-19 Sabres do? Training camp begins on Thursday, Sept. 13, and so any improvement at this point primarily comes from offseason moves made by general manager Jason Botterill. His vision for assembling a competitive roster from top-to-bottom is underway.
Action speaks louder than words. One of his objectives going into October is to provide head coach Phil Housley with player options at all positions. Several of those players offered a preview at last week's Prospects Challenge. The camp roster includes players that will compete at a high level from the start, pushing their teammates to do the same.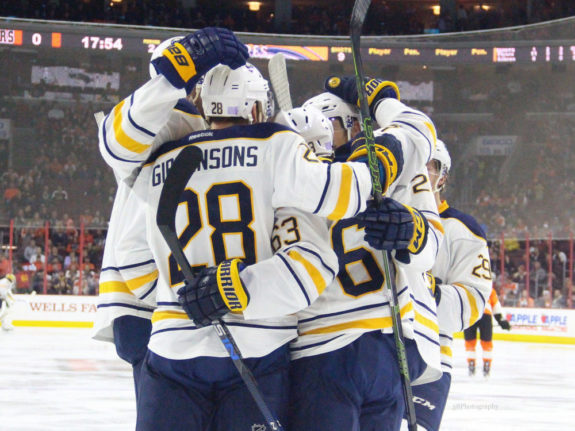 Competition is the fuel that powers an athlete's motor. Teams develop chemistry with the highs and lows of a long season. The National Hockey League is one of the most competitive leagues in the world. Its playoff tournament is a two-month endurance race that begins abruptly after a full 82-game season, only rewarding that team which gives its absolute best.
How will the Buffalo Sabres rise to the ranks of those teams with gas in the tank and strong chemistry at the end of the regular season? It starts now. A diverse mixture of skill, personality and backgrounds carefully curated by management will begin to align with year two of Coach Housley's system this week.
The full roster invited to earn a spot in Buffalo or Rochester reveals several emerging storylines. Here is a breakdown of a few.
College Captains
There is an interesting trend that surfaces while sifting through Buffalo's pipeline of players. According to the Sabres' website, Buffalo has 42 prospects unsigned or under contract, 18 of which have played hockey in the NCAA. And of those 18, six have served as a captain or assistant captain. While those numbers may sound trivial, when put up against the backdrop of a culture change, the injection of such a player helps to set a tone at training camp.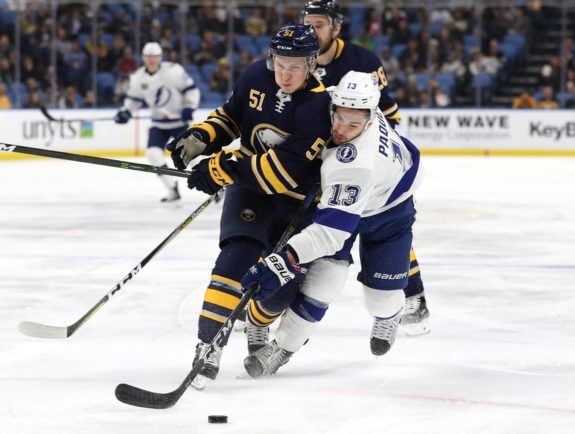 Kyle Criscuolo, signed as a free agent in 2017 after winning a Calder Cup with the AHL's Grand Rapids Griffins, captained Harvard University's teams in 2014-15 and 2015-16. Brandon Hickey, acquired via trade from the Arizona Coyotes in June, captained Boston University in 2017-18.
Judd Peterson, drafted by former Sabres' general manager Darcy Regier back in 2012, captained St. Cloud State University in 2017-18. Judd has been invited to Rochester's training camp that begins ahead of their first pre-season game on Sept. 27.
There are three players in the Sabres' pipeline that will be eligible to sign with the organization within a year or two. Junior defenseman Jacob Bryson, a 2017 fourth-round draft pick by Jason Botterill, will wear the 'A' for the second consecutive year at Providence College in 2018-19.
And at Boston College, two of the team's three captains are Sabres draft picks. Defenseman Casey Fitzgerald, a 2016 third-round pick, and forward Christopher Brown, a 2014 sixth-round pick, will co-captain the Eagles for the second consecutive year.
In addition, Mattias Samuelsson captained his U.S. National team (U-18) before being drafted 32nd overall by the Sabres in 2018. He, too, is off to college at Western Michigan University this fall. The cavalry of captains for future camps is gaining significant experience at the college level now.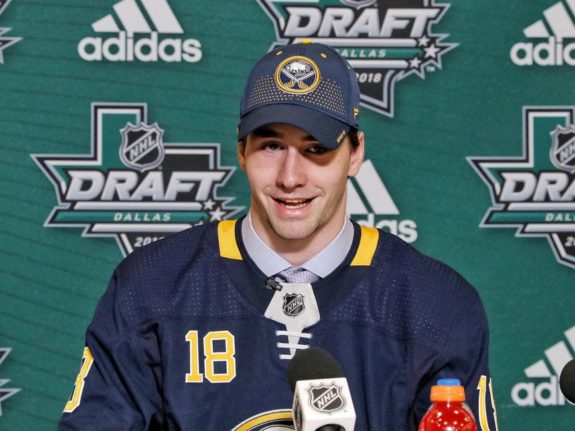 Jason Botterill sought and signed players with proven leadership experience to help change the team culture. Captains are selected to wear the 'C' because of the qualities that they demonstrate on and off the ice. Strong chemistry is a hopeful byproduct of such additions, taking note that many of these players have already been teammates.
But college hockey experience is not the only piece to the culture puzzle.
Foreign Imports
The majority of professional hockey players avoid the college ranks on their way to the NHL. Likewise, another league-wide trend is the rising number of players from overseas this century. According to QuantHockey, there were 98 active Swedish players in the National Hockey League during the 2017-18 season.
Swedes are the third most represented nationality in the league behind Americans (269) and Canadians (445), and the total has more than doubled since the 2000-2001 season (47). Players originating from Finland were the fourth most represented with 42 players in the NHL last season.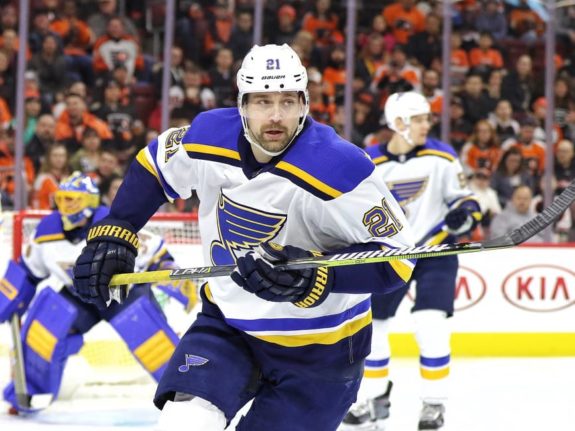 Jason Botterill has made a point to increase those demographics for 2018-19. In contrast to the homegrown NCAA player, the Sabres' will have nine foreign-born players (outside of North America) at training camp that were not with the team last season.
Whether drafted (Asplund, Glotov, Pekar, Dahlin, Olofsson), signed as a free agent (Pilut) or acquired via trade (Berglund, O'Regan, Sobotka), foreign imports bring with them particular qualities of speed, finesse, toughness and determination to contribute to a professional roster from day one. Both Buffalo and Rochester's locker rooms will benefit from the game that these players will bring to the ice at camp and each night during the season.
Sabres Defense
There are Sabres' roster spots up for grabs on the defensive side of the lineup. While most of the hockey world envisions Rasmus Dahlin in a blue-and-gold uniform against Boston on Oct. 4, a strong showing from any of the other rising stars could force Jason Botterill's hand in making tough decisions. Having plenty of options is a good problem to have, one that coach Housley relishes in creating a fast, competitive camp.
Jason Botterill and Phil Housley have both cited internal competition as a central ingredient in the recipe for a winning culture. The newest Sabres hopefuls will come in from day one to do just that. A player like Brendan Guhle, who has played 21 total games for the Sabres since signing with the team in 2016-17, has an opportunity to prove himself as worthy of an opening night spot with a strong camp.
In the event that Zach Bogosian or Jake McCabe get hurt, who is the next man in line for a call-up? Despite the organization drafting a phenom out of Sweden, who is willing to play up to his level?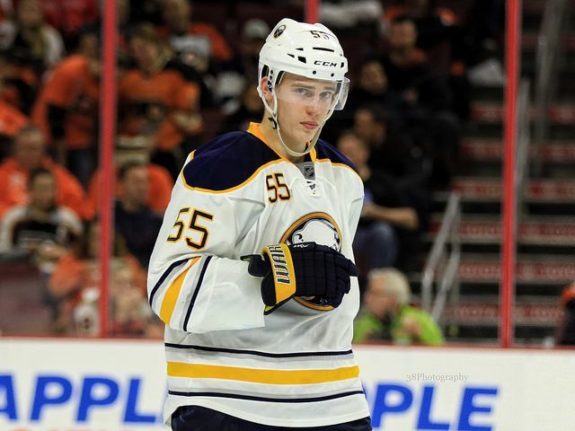 These are some of the impressions that every player on the back-end will try to make this week and beyond. While the Sabres are in dire need of scoring to help string together wins, strong and fast defenders anchoring the blue line and feeding those forwards up-ice will have their opportunity to contribute at the highest level.
Make or Break in Buffalo
Who wants it more? That is the question that Jason Botterill has asked his team going into the 2018-19 season. Competition abounds, and just because a player has been with the organization for several years does not mean that they are guaranteed a roster spot. Competition is the theme. Six goalies, 16 defensemen and 29 forwards were invited to Sabres' camp that begins Thursday.
The players that find themselves on the bubble, especially at forward, will need to step-up with every shift like their job depends on it. A player like Alexander Nylander, who had a healthy and productive summer, will need to prove that he is making strides towards becoming the player that the Sabres drafted him to be.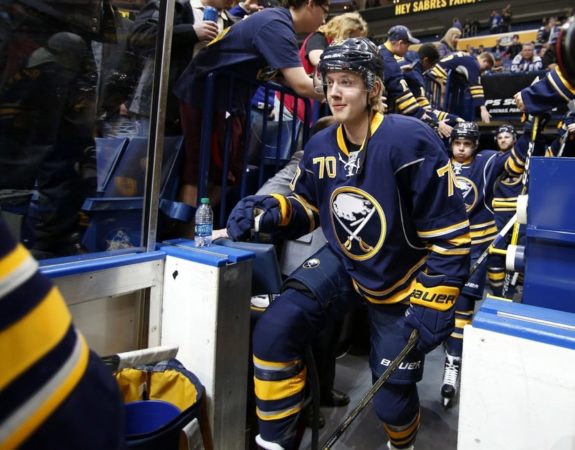 Justin Bailey, Nicholas Baptiste, Zemgus Girgensons, and Johan Larsson are all players who have contributed at both the AHL and NHL level the past few seasons. Any of them could relinquish that opportunity. With each move that the organization made this offseason after a dismal 2017-18, players should be aware of the very real possibility of having a roster spot taken by an up-and-comer. There are plenty to choose from.
For fans and players alike, this is the beginning of a long journey back to calling the Buffalo Sabres a force again. There is a big difference between rebuilding and contending. The team is in good hands, the fans are chomping at the bit for October, and the future looks bright. Here we go.
Statistics provided by Quanthockey.com