His words cut to the chase. "Right now we have a losing culture here," said Buffalo Sabres general manager Jason Botterill at his season-ending news conference. "It stinks that we won't be watching live playoff hockey right now."
The Sabres had missed the postseason again, extending their franchise-worst playoff drought to seven seasons. They finished last for the third time in five years. It was an unfamiliar place for the GM who spent his last two seasons as an assistant GM for the Pittsburgh Penguins celebrating Stanley Cup championships.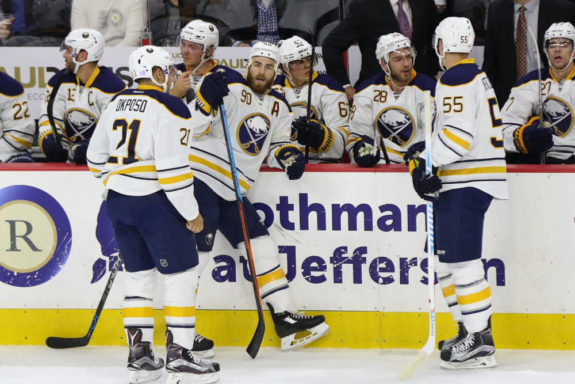 It was a sobering welcome to the bottom of the NHL for Botterill. Steaming mad and visibly irked, he vowed then to stir things up, including shaking up the team's core group of leaders. "When you finish where we were, you have to look at everything," said Botterill.
Related: Botterill Slams Door on Sabres' Season – Now What?
Losing, Losing and More Losing
For nearly a decade, the Sabres organization put forth inconsistent teams. They needed to tear it down to the ground. Then, while trying to dig out, they fell into holes and made some poor decisions. It will take time and patience to reimagine the organization.
Botterill and head coach Phil Housley have their hands full with a dressing room that has known nothing but losing for almost five years. Some of that losing was courtesy of chasing the No. 1 overall draft pick. As we've witnessed, tanking is far from a guarantee of success. Worse, it exposes young players to an atmosphere and culture of losing, often exacerbated by disgruntled veterans. It's a toxic recipe. The growing number of empty seats for most of the season was indicative of fan indifference.
Moving on from Murray's Men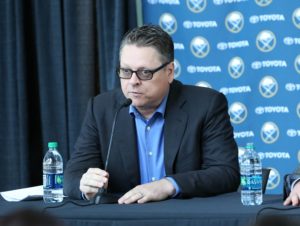 Botterill is delivering on his promise to inspire change in the organization. He's shed most of the core players who were the responsibility of former Sabres GM, Tim Murray. Center Ryan O'Reilly, winger Evander Kane and goaltender Robin Lehner, all prominent acquisitions made by Murray, are no longer with the team. All three had become polarizing figures, lightning rods for criticism and poster children for the sorry Sabres.
Ryan O'Reilly
O'Reilly began his tenure with the Sabres by making an immediate impact. His extended mini "O'Reilly practices" were a hit, helping younger players after practice with creative drills that focused on stick-handling, shooting and improving reaction time. He also played a solid two-way game while chipping in on the power play. He logged huge minutes and took every important faceoff.
As time went by and as the losses piled up, O'Reilly became a broken record of "we gotta be better" and "it starts with me" excuses. He was hard on himself and rarely satisfied with his game. Nothing was ever good enough. While honest to a fault, his admission on locker cleanout day that he had "lost his love of the game" was almost writing his ticket out of town. The reality is, many had lost their love of him as well. He was one of the franchise's most heavily used players during a period where the team was mostly a failure.
Ryan O'Reilly with some pretty powerful comments. "It's sad, I feel throughout the year I've lost the love of the game multiple times…" @WKBW #Sabres pic.twitter.com/rzqBdcHltt

— Matthew Bové (@Matt_Bove) April 9, 2018
Robin Lehner
Lehner was burdened with the baggage of being traded for a first-round draft pick by Murray. Over his tenure with the Sabres, he had moments of goodness–not greatness. He had the misfortune of playing behind a pathetic offense–the lowest scoring squad in the league–and an even worse defense. In the end, he didn't make enough saves and win enough games; Botterill chose not to re-sign him.
He suffered an injury in his first game, likely contributed by the excess weight he carried and his inability to condition due to concussion recovery.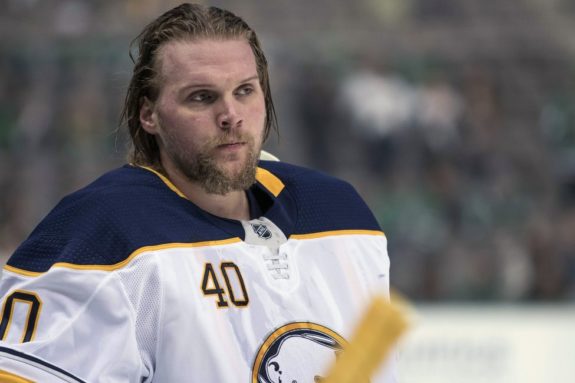 Evander Kane
Kane was no stranger to controversy. His outgoing, brash and hubristic personality rubbed some the wrong way. He was reluctant to practice hard and relied on his gifted athletic ability to get by. By definition, he was opposite of the kind of player that blue-collar, earn-your-paycheck fans of Western New York demand.
Though he learned to stay out of the news and his off-ice antics quieted, the Sabres were never going to sign Kane long term. Knowing that, it was obvious that he became absolutely invisible and didn't hustle for big chunks of action last season.
The Culture Club of Poison
Only the players in the dressing room every day know who the problem players were. Even members of the media who are in the locker room for interviews don't see or hear everything. Anyone who tells you they know is full of… speculation. The fact that O'Reilly, Kane and Lehner were moved doesn't automatically point them as poison or the only poisons.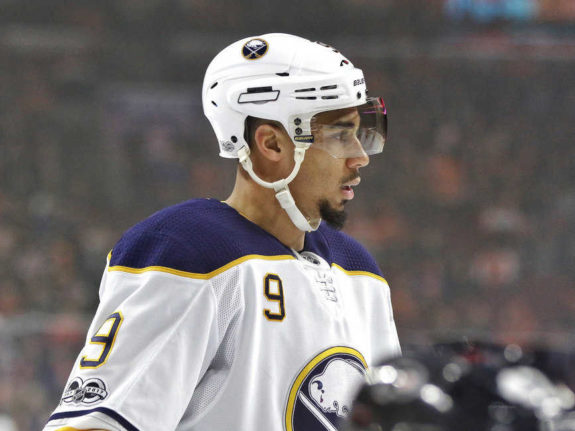 "We felt, as a management group at the end of the season, we had to change the dynamic," said Botterill. "The bottom line was there's a lot of great people in that locker room but when you finish 31st, you have to look to make changes."
O'Reilly was shipped off to St. Louis with five years remaining on his seven-year, $52.5 million contract. He'll likely be remembered for admitting, "We're stuck in this mindset of just being OK with losing." Kane, moved at the trade deadline last season, has a shiny new seven-year, $49 million contract with the San Jose Sharks. This summer, Lehner inked a one-year, $1.5 million deal with the New York Islanders.
Related: Sabres Fans Bickering: A Great Thing
Changing the Culture
Since taking over, Botterill has stressed the importance of bringing the right types of personalities into the organization. Rochester Americans coach Chris Taylor said he can already feel a change in the culture from at this year's development camp. "The guys seem a lot more eager and a lot more happy," said Taylor.
For example, Mattias Samuelsson, drafted with the 32nd pick in the 2018 Entry Draft, was captain with the U.S. National Team Development Program and Brandon Hickey served as captain last season at Boston University. "Culturally, these are the guys who are going to change the organization around," Taylor said. "You're not going to bring an older guy in and just all of a sudden, the room changes. It starts within and I think it all starts with the draft."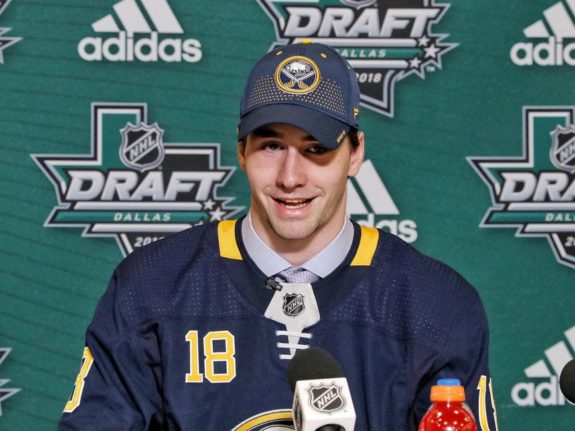 The overhauled 2018-19 roster is filled with talented, young, exciting players with an upbeat attitude. Rasmus Dahlin, the Sabres No. 1 overall draft pick and Casey Mittelstadt's positivity may help rekindle Jack Eichel's fire to dominate. Fully healed Zach Bogosian is chomping at the bit to get the season started. Rasmus Ristolainen's offseason has been spent flipping giant tires and whipping around chains to build muscle and stamina.
There's a big movement coming for the @BuffaloSabres and they're looking to show it off this year. #31in31 https://t.co/yhABPO8zQ2 pic.twitter.com/gwMxUAZZAJ

— NHL (@NHL) August 4, 2018
And of course, the nearly completely dehydrated Sabres fans are already gulping down the team's enthusiasm as evidenced by the attendance at the mini tourney right after the draft, the buzz on social media and the building excitement for training camp.
The 2018-19 Sabres should be fun to watch. That in itself is a shift of seismic proportions.