Once the World Junior Summer Showcase wrapped up in Kamloops, everybody in the hockey world turned their attention to the inaugural Hlinka Gretzky Cup under-18 tournament in Edmonton.
That included Tim Hunter, the new head coach of Canada's under-20 national team for this winter's World Junior Championship, taking place in Vancouver and Victoria from Dec. 26 to Jan. 5.
Tasked with constructing a team that is capable of defending gold on home ice — after winning the 2018 championship in Buffalo, N.Y. — Hunter has to consider all of the options available to him.
With only three potential returnees — all of them forwards and all candidates to play in the NHL this season — Hunter and his staff, including head scout Brad McEwen, have their work cut out for them in evaluating the many prospects for Team Canada, including the next wave of talent that will be eligible for the 2019 and even the 2020 NHL drafts.
Future Is Now?
It is entirely possible that a few — perhaps as many as four — under-agers could be invited to Canada's selection camp in December, with each of them having a shot at cracking the roster.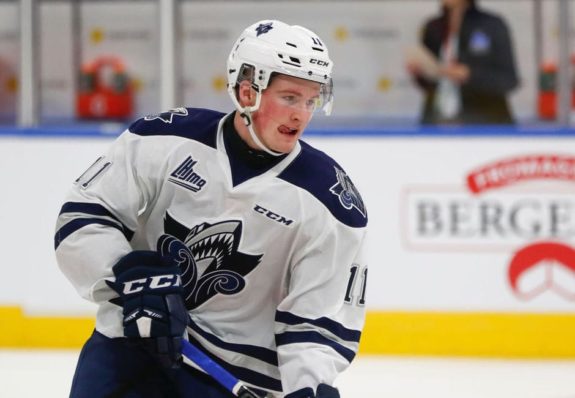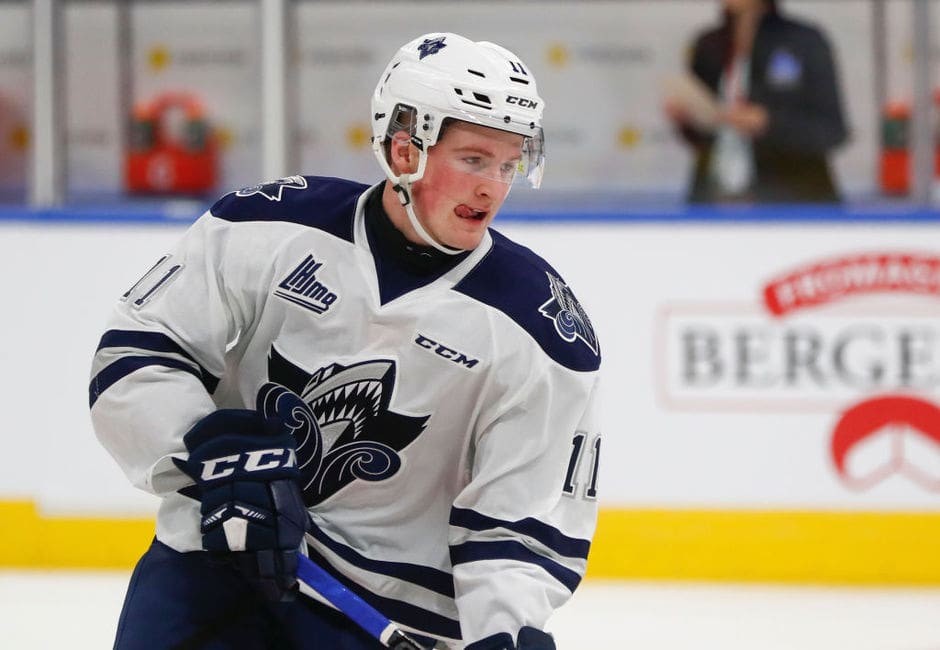 That, of course, depends on how many prospects from the Summer Showcase make the jump to the NHL this fall. That count could be as high as eight, with those names — including the three returnees — already pencilled into Canada's lineup.
If they are all back in junior or loaned to Canada for the tournament, then Hunter would be loaded with a veteran team primed to repeat and there may not be room for any under-agers.
That would be the best-case scenario, but it shouldn't be the expectation. Not with the NHL becoming more and more of a young man's game, as several teams thrust teenagers into their lineup based on both skill and affordability.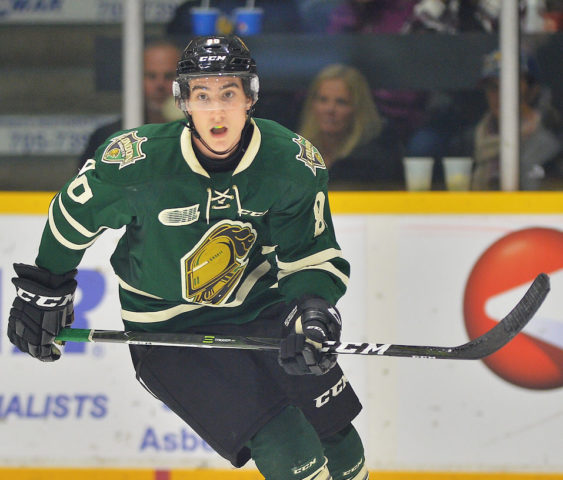 The worst-case scenario for Canada would see a mass exodus to the pro ranks, leaving Hunter without any holdovers and having to rely on younger draft-eligibles to play significant roles in a tournament typically dominated by 19 year olds.
The reality will probably be somewhere between those two extremes, with Hunter retaining a solid core and blending in a couple under-agers, providing they continue to develop and play up to their potential in the first half of the regular season.
In saying that, Hunter has evolved into a forward thinker and Canada's roster could feature more under-agers than usual if the coaching staff decides to go with the best players over the oldest players.
That isn't meant as a slight towards those auditioning at the Summer Showcase, but more so a sign of things to come from those competing at the Hlinka Gretzky Cup. Canada has a special group there, in Edmonton, and the future is bright in looking ahead to the 2019 and 2020 NHL drafts.
Conversely, the 2018 NHL draft — held this June in Dallas — was a down year for Canada, with only two prospects picked in the top 10 and the highest going fifth overall. Talent pools can be cyclical at times and the 2000 birth year wasn't great for Canadian prospects. Nor was 1999, to be honest, in looking back at the 2017 draft class.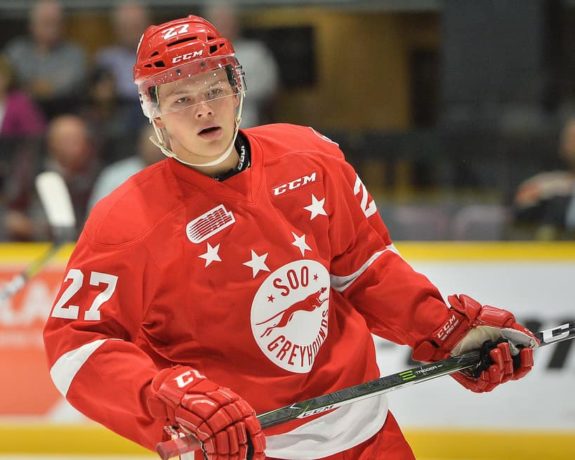 With the focus shifting to 2019 — and the 2001-born prospects — Canada appears poised to rebound in the draft, with as many as three players ranked in the top five and a handful in the top 10. It's definitely double-digits in the top 31 — in the first round. And Canada also boasts the frontrunner to go first overall in 2020.
What does that have to do with Canada's roster for the World Juniors? Well, it helps make the case that the future is now.
Having watched the Summer Showcase, mostly on television but attending Canada's finale against the United States for a live viewing, and avidly following the Hlinka Gretzky Cup from afar on a daily basis, here are a few variations of how I foresee Canada's roster taking shape for the 2019 World Junior Hockey Championship.
Best-Case Scenario: Everybody Available
Forwards
Alex Formenton-Robert Thomas-Liam Foudy/Max Comtois
Barrett Hayton-Gabe Vilardi-Owen Tippett
Michael Rasmussen-Cody Glass-Nick Suzuki
Jaret Anderson-Dolan-Ty Dellandrea-Jack Studnicka
Alexis Lafrenière/Liam Foudy
Defencemen
Ty Smith-Noah Dobson
Pierre-Olivier Joseph-Evan Bouchard
Jared McIsaac-Calen Addison/Jet Woo
Bowen Byram
Goaltenders
Michael DiPietro
Olivier Rodrigue
With all hands on deck, Line 1 could feature the three returnees as a trio, though Hunter may elect to spread their leadership out on separate lines. I like the idea of Thomas between Formenton and Comtois, but I also really like the idea of Formenton and Foudy as speed-burners flanking Thomas. Torn between Comtois and Foudy on the top line, that was one of three difficult decisions for this best-case scenario roster.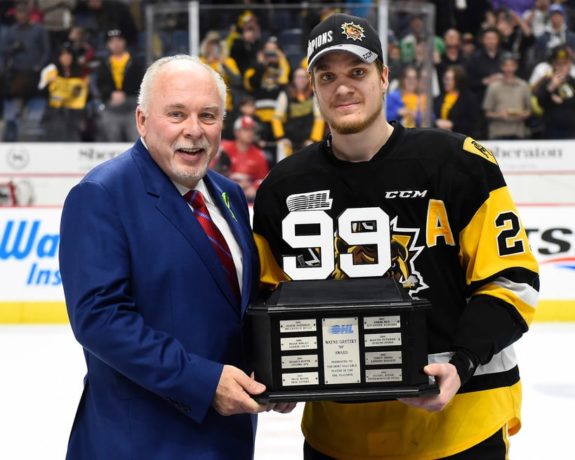 Line 2 is an all-OHL line, with good size and scoring ability from Vilardi, Tippett and Hayton.
Line 3 pairs top-10 picks from the WHL in Rasmussen and Glass as well as the top two draft picks in Vegas Golden Knights history with Glass and Suzuki.
Line 4 is a unit that I saw live at the Summer Showcase in Kamloops and came away impressed enough to keep them together for the World Juniors — or at least for the selection camp.
RELATED: Studnicka Steps Up for Canada at Summer Showcase
I have a feeling the extra forward spot will be reserved for Lafrenière, but that would mean leaving Foudy off this best-case scenario roster. Foudy's speed could be a real asset, but Lafrenière is the real deal. Tough call there, but the coin flip probably goes to Lafrenière — the French phenom who scored 42 goals in the QMJHL as a rookie.
Pairing 1 could log big minutes with Dobson the biggest standout from the Summer Showcase, while Smith showed off his 'surveyor' skills.
Pairing 2 is another near ideal fit, with Bouchard an offensive threat and Joseph more of an all-purpose type that can cover for his roving partner that reminds many of Washington's John Carlson.
Pairing 3 had me torn too since Addison was terrific alongside McIsaac in the finale of the Summer Showcase, but I'd be surprised if Hunter didn't go to bat for one of his Moose Jaw boys on the back end — be it Woo or Josh Brook, who was also invited to the Summer Showcase but didn't attend due to injury.
RELATED: Addison Makes Case for Team Canada at Summer Showcase
Woo or Brook could also make it as the extra body on defence, but I'm a big fan of Byram and he'd be playing in familiar territory since he stars for the WHL's Vancouver Giants in nearby Langley. Byram would be the only 2019 draft-eligible player on this best-case scenario roster, along with 2020-eligible Lafrenière as the youngsters.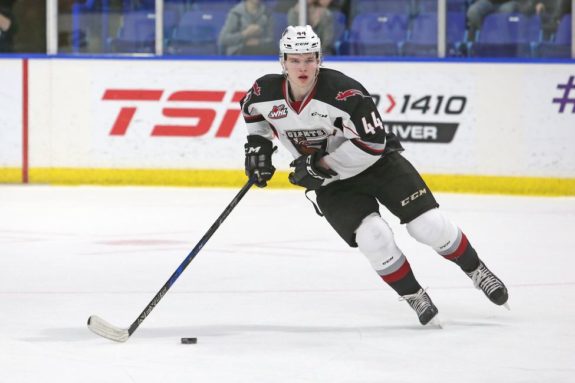 My mind is made up on the goaltending tandem of DiPietro and Rodrigue as of today, with DiPietro the starter. Rodrigue had a strong showing upon joining Canada at this spring's under-18 world championship, so I like him for the backup role over Matthew Villalta and Matthew Welsh from the Summer Showcase, though it's possible another netminder could work his way into the mix with a stellar first half.
Worst-Case Scenario: Without 8 Potential NHLers
Forwards
Nick Suzuki-Cody Glass-Kirby Dach
Barrett Hayton-Ryan McLeod-Liam Foudy
Alexis Lafrenière-Jordy Bellerive-Dylan Cozens
Jaret Anderson-Dolan-Ty Dellandrea-Jack Studnicka
Morgan Frost/Shane Bowers
Defencemen
Ty Smith-Jett Woo/Josh Brook
Pierre-Olivier Joseph-Jacob Bernard-Docker/Ian Mitchell
Jared McIsaac-Calen Addison
Bowen Byram
Goaltenders
Michael DiPietro
Olivier Rodrigue
This is the depleted lineup, without Formenton, Rasmussen, Vilardi, Thomas, Tippett, Comtois, Bouchard and Dobson — listed in order of likelihood that they start the season in the NHL and stick in the big league rather than being loaned to Canada for the World Juniors. It's unlikely that all eight will be unavailable, but Hunter has to prepare for that possibility and experiment with a worst-case scenario roster.
Without any returnees, Line 1 keeps that Vegas connection intact with the dynamic duo of Glass and Suzuki joined by 2019-eligible Dach, a 6-foot-3 forward capable of finishing off their chances.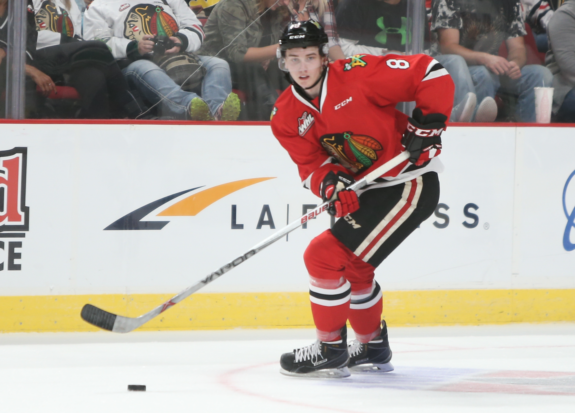 Line 2 is still an all-OHL line, with Hayton the holdover from the best-case scenario roster, while Foudy makes the cut without debate on the worst-case scenario roster and McLeod also gets his chance to represent Canada. Foudy and McLeod are both speedsters to complement Hayton's all-around ability.
Line 3 features Lafrenière with Lethbridge Hurricanes teammates Bellerive and 2019-eligible Cozens, who could be selected as high as second overall behind American centre Jack Hughes. Cozens, a rare talent hailing from the Yukon, ranks right up there with Dach and Byram among top Canadian prospects, with Finland's Kaapo Kakko another candidate for the top five.
Bellerive could emerge as this year's Drake Batherson, becoming an unsung hero for the national team as a previously undrafted prospect (Bellerive signed with Pittsburgh). That is, providing Bellerive's hands recover from burns sustained in a bonfire accident that prevented him from auditioning at the Summer Showcase.
The chemistry between Bellerive and Cozens would factor into both making the cut in this worst-case scenario, while Line 4 remains the same from the best-case scenario roster.
The extra forward spot could go to Frost, if he's not in the NHL with the Philadelphia Flyers, or to Bowers, who is headed back to Boston University for his sophomore NCAA season.
The defence would definitely be different without Bouchard and Dobson. Losing both to the NHL would be a devastating blow for Canada but, again, that seems unlikely.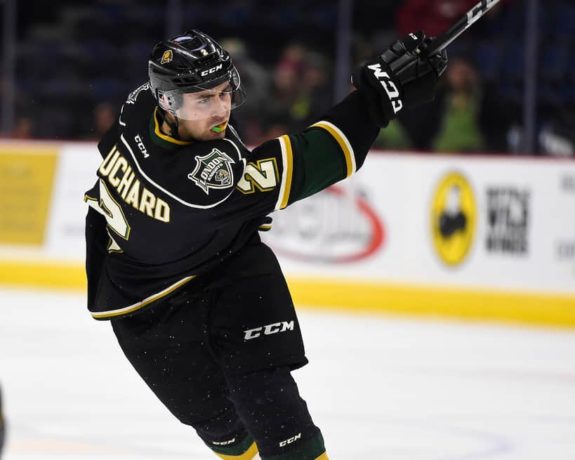 Pairing 1 would see one of Hunter's boys, Woo or Brook, slot in next to Smith, though neither could replace Dobson's presence.
Ditto for Pairing 2, where Bernard-Docker or Mitchell would attempt to replicate Bouchard's role, alongside Joseph. Easier said than done, but both Bernard-Docker and Mitchell have offensive upside as NCAA products from the Alberta Junior Hockey League — Bernard-Docker a freshman at the University of North Dakota following a standout draft year with the Okotoks Oilers and Mitchell a sophomore at Denver University after developing with the Spruce Grove Saints.
In this worst-case scenario, Hunter would have to decide between his two Moose Jaw Warriors and between the two college blueliners.
Pairing 3 stays the same with McIsaac and Addison, Byram rounds out the defence again, and there is no change in the goaltending.
Projected Roster for Team Canada
Forwards
Nick Suzuki-Cody Glass-Owen Tippett
Max Comtois-Alexis Lafrenière-Kirby Dach
Barrett Hayton-Ryan McLeod-Liam Foudy
Jaret Anderson-Dolan-Ty Dellandrea-Jack Studnicka
Dylan Cozens
Defencemen
Ty Smith-Noah Dobson
Pierre-Olivier Joseph-Evan Bouchard
Jared McIsaac-Calen Addison
Bowen Byram
Goaltenders
Michael DiPietro
Olivier Rodrigue
This is how I see it playing out, with Formenton (Ottawa), Rasmussen (Detroit), Vilardi (Los Angeles) and Thomas (St. Louis) cracking their NHL clubs, while Tippett (Florida), Comtois (Anaheim), Bouchard (Edmonton) and Dobson (New York Islanders) are returned to the junior ranks or at least loaned out for this tournament.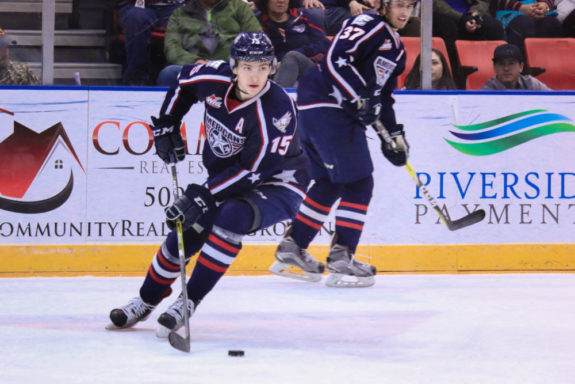 I wound up splitting the difference here, making four of my potential NHLers available to Canada and deeming the other four unavailable — rather than having all eight on or off the team, as per those best- and worst-case scenario rosters. I feel this outlook is pretty realistic, but time will tell.
Line 1 would give Tippett a golden opportunity as a sniper alongside the Golden Knights' two set-up men who should be offensive catalysts for Canada, assuming neither of them stick in Vegas.
Line 2 would have Comtois mentoring under-agers Lafrenière and Dach, who have been linemates at the Hlinka Gretzky Cup and seemed to develop instant chemistry there.
Cozens, the extra forward in this projected scenario, could also take a spin on a "kid" line with Lafrenière and Dach. That trio has taken occasional shifts together at the Edmonton tournament, looking unstoppable at that level. The Vancouver tournament would obviously be a whole other level — a substantial step up in competition, from under-18 to under-20 — but, like I said, the future is now!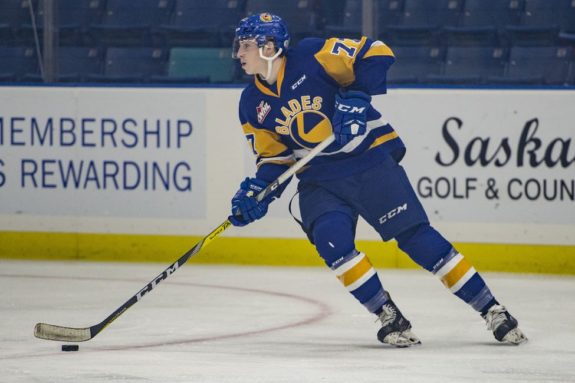 Lines 3 and 4 are familiar by now — clearly, I like the makings of that Line 4, which didn't change in any of these scenarios.
This defence reverts back to the best-case scenario roster — and that truly would be a best-case scenario for Canada, with Dobson and Bouchard crucial to the country's chances of winning gold again.
The goaltending, I'll admit, is iffy and will probably be perceived as the weak link for Canada, but DiPietro has backstopped a Memorial Cup win — for the OHL's Windsor Spitfires in 2017 — and could be capable of silencing his critics in this tournament. He's no Carter Hart, but DiPietro and Rodrigue will greatly benefit from this World Junior experience — win or lose.
Final Thoughts
Comtois would be the only returnee on my projected roster and thus the obvious choice to captain Canada. Dobson and Bouchard could serve as assistants, along with another forward — perhaps Glass as a go-to guy offensively or even Lafrenière, who is currently captaining Canada's under-18 team, but Hunter may lean towards a role player like Anderson-Dolan to lead by example.
For those keeping count, my projected roster for Canada does feature four under-agers — three of the top-10 (arguably top-five) prospects for 2019 in Cozens, Dach and Byram, plus Lafrenière, who only turns 17 in October and isn't draft-eligible until 2020. That's a lot of youth, but I'll say it once more — the future is now!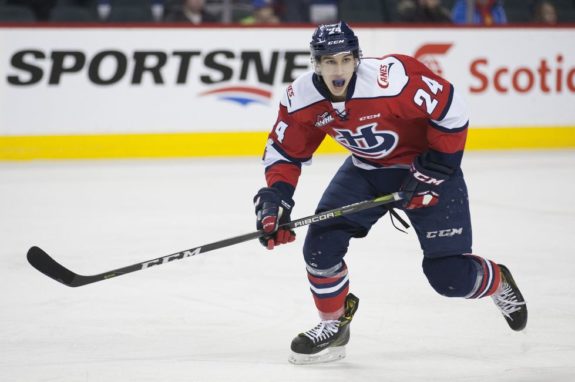 Speaking of that future, I also considered a handful of other 2019 draft-eligible forwards.
By all accounts, Raphael Lavoie boosted his stock at the Summer Showcase, attending as a late injury replacement.
Nolan Foote, like Lavoie, is a late-2000 prospect who played for Canada at last year's Hlinka tournament as the lone under-ager but didn't have a great sophomore season with the WHL's Kelowna Rockets.
Ryan Suzuki — Nick's younger brother — could be the better of the two in a couple years' time.
Peyton Krebs, the first overall pick in a stacked 2016 WHL Bantam Draft ahead of Dach and Byram (Nos. 2 and 3), is a cerebral player who reminds me a bit of Matt Barzal.
Josh Williams, the No. 5 pick in that same draft, is a real long-shot for the World Junior team, but he's a sniper and should be a big-time riser coming out of the Hlinka Gretzky Cup after missing 25 games to injury as a WHL rookie with the Medicine Hat Tigers.
The latter three — Suzuki, Krebs and Williams — have impressed for Canada on the U18 stage, alongside Lafrenière, Cozens, Dach and Byram, and winning gold together this weekend would increase all of their chances for the U20 team. However, there will be a limited number of roster spots for under-agers and four is already higher than anybody else is anticipating.
Remember those names, though, since most these under-agers will play starring roles for Canada at the 2020 World Juniors in the Czech Republic. Canada should be the favourite for gold again there, but the medal hopes for Vancouver will hinge on what happens with those eight prospects vying for NHL jobs at next month's training camps. Stay tuned!
Larry Fisher is a senior writer and head scout for The Hockey Writers, having been an at-large contributor for THW since August 2014. Fisher covers both the NHL and the WHL, specializing in prospects and NHL draft content, including his annual mock drafts that date back to 2012. Fisher has also been a beat writer for the WHL's Kelowna Rockets since 2008, formerly working as a sports reporter/editor for The Daily Courier in Kelowna, British Columbia, Canada from 2008-2019. Follow him on Twitter: @LarryFisher_KDC.